6 May 2016

James Rampton speaks to Hannah Pescod, producer of BAFTA-winning sitcom Rev.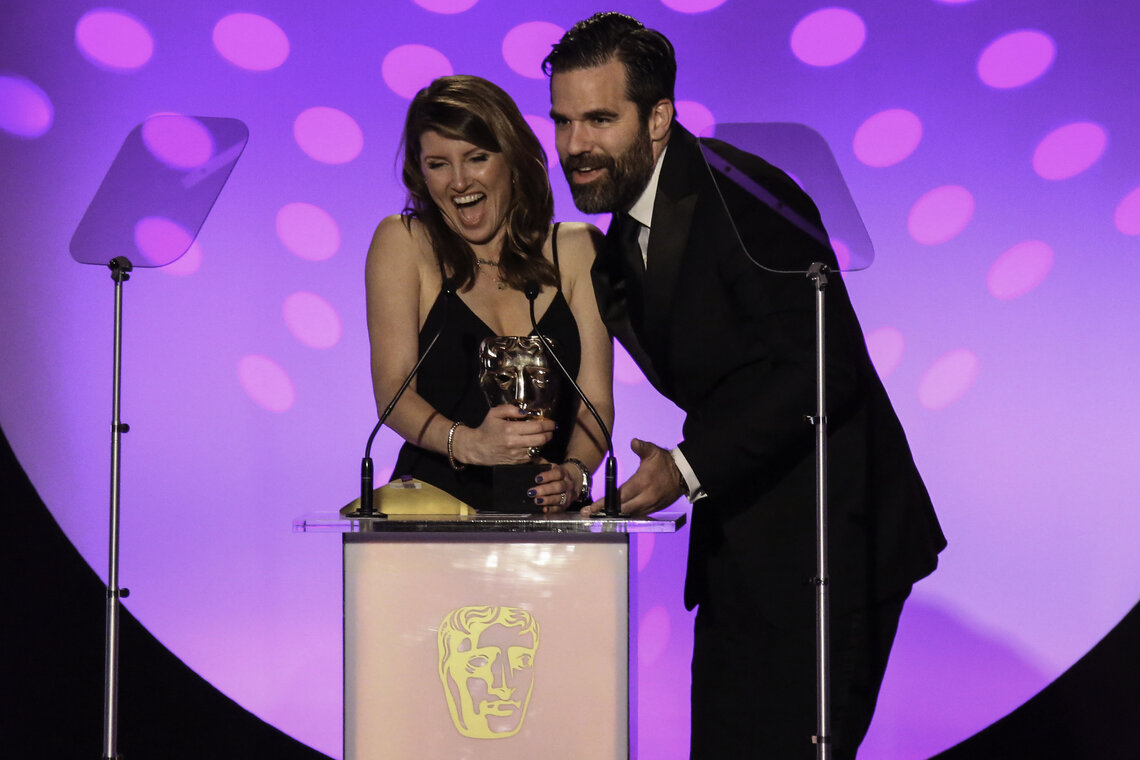 ---
Alfred Hitchcock, who was honoured with the BAFTA Fellowship, famously said that "the direction of the picture is in the script."
That view is supported by the comedy scripts nominated at this year's British Academy Television Craft Awards. Rob Delaney and Sharon Horgan won the award for their outstanding work writing Catastrophe. Hannah Pescod, producer of the BAFTA-winning sitcom Rev, was on the BAFTA jury for this category.
She explains why Catastrophe was a triumph rather than a catastrophe in the judges' eyes. Her assessment is that the writers nailed the extraordinarily difficult task of fashioning a first episode that is immediately engaging.
Pescod observes that "I love this show and watched both series religiously. We judged on the first episode of series one. First episodes are notoriously difficult as the writer has to establish the characters, the world and the situation. And in the case of comedy, it also needs to be very funny.  
This script was one of the best first episodes I've ever seen and achieved all of the above and more, in that it felt truly fresh as well as establishing very real, flawed characters who were also extremely funny and people that you wanted to spend more time with.
Although in its ninth series, Peep Show is still garnering BAFTA nods.
The writing craft on the show by Jesse Armstrong and Sam Bain has always been strong, but if anything, as the years have gone by, it has become even stronger.
Bain is proud to say that "Peep Show is original. There's nothing else quite like it. It's great fun to write because their inner thoughts give you the opportunity to make different jokes and play against their dialogue. It's a wonderful tool." He adds that the skilful editing of the show, ingenuously intercutting between the characters' perspectives, has also contributed to its great success over the years.
Pescod comments that "Armstrong and Bain draw their characters incredibly precisely, enabling them to take the show's naturally loyal audience to brilliant farcical extremes because everyone feels they know the two main characters Mark and Jeremy so well."
The exceptional craft element of Peter Kay's Car Share resides in its audaciously simple setup: two people banter as they share a car ride to and from work every day. Paul Coleman, one of the writers, explains that he "started playing with the idea of having just two characters. I thought if two colleagues were forced into a car together, there might be a lot of comedy in that. You might know a colleague from standing next to them at the photocopier, but do you really know them? Forcing two people into a tight space together when they have to do more than just give a nod in the corridor has great comic potential." Peter Kay's Car Share has also been lauded for its bravery. Pescod pays tribute to the shows marvellous sense of naturalism and "turns of phrase, which are brilliantly observed."
Sky Atlantic's Hunderby, written by Julia Davis and Barunka O'Shaughnessy, is also a superbly crafted sitcom. Pescod praises this parodic period drama as "a hugely original show, written with a wonderfully particular voice."
The writer's craft on this programme lies in creating something no one else would ever have dreamt up. O'Shaughnessy asserts that in comedy, "nothing is sacred. The morality and the sense of propriety that have dominated our thinking since Victorian times are ripe for undermining. What do we find absurd? The uptightness of the majority of British people."
O'Shaughnessy concludes by passing on some advice to aspiring comedy writers. "What I've learned is that professional writing is a real luxury – not everyone will be paid for it. Write what you love and don't compromise or fit into what's expected of you.
And keep at it. Even if no one ever sees it, it's worth it because you like it. One day they will acknowledge your unfilmed masterpiece. You may be dead by then, but they'll think you're a genius. At least that's what I tell myself!