28 September 2007
BAFTA / Richard Kendal
The full list of 2007 Television Craft Awards winners and a round up of the night's celebrations and honours.
!Small Screen, Big Talent
Words: Anne Marie-Flynn
A close encounter with Idi Amin which could have altered the course of history was just one of the anecdotal treats offered to guests at the British Academy Television Craft Awards in 2007, courtesy of its charming host Jon Snow.
Philip Glennister, Jim Broadbent, Emilia Fox, Martin Freeman, Ruth Wilson, Adrian Edmondson and Jon Culshaw were just some of the presenters who attended on Sunday 22 April at London's Dorchester Hotel, to pay tribute to the unsung heroes behind the camera. "Gathered in this room tonight are the sum total, the brightest and the best of what makes British television still the best in the world," said Snow.
Peter Morgan followed his two wins at this year's Orange British Academy Film Awards with a hat trick, winning the Writer award for Longford, which was also victorious in Editing Fiction, bringing BAFTA glory to Melanie Oliver.
An Audience With Take That... Live! was the first non-drama set to win in Production Design for Bill Laslett. Period dramas were not denied their moment of glory though; Anne 'Nosh' Oldham brought Jane Eyre recognition for Hair and Make Up and Amy Roberts took the Costume Design Award for her lavish, Elizabethan wardrobe in The Virgin Queen.
Edmund Coulthard, who won the New Director category at these Awards in 2001, demonstrated how that talent has flourished, winning this year's Director BAFTA for urban thriller Soundproof. Writer Sharon Foster won this year's Break-through Talent Award with her first feature-length drama, Shoot The Messenger, about a black teacher accused of racism for assaulting one of his black pupils. It was a double celebration for Shoot The Messenger when David Katznelson won in the Photography & Lighting Fiction/Entertainment category.
Other winners included 9/11: The Twin Towers and Tsunami: The Aftermath for Sound Factual and Sound Fiction/Entertainment. It was a first for football, when Match Of The Day's FIFA World Cup 2006, won for its striking Titles. Another first came for Nickelodeon UK for Me:TV in the New Media Developer category, which enabled young viewers to become part of the television programmes they watched and Sky One's Terry Pratchett's Hogfather won for Visual Effects. Prime Suspect: The Final Act, brought victory to Nicholas Hooper in Original Television Music.
Veteran comedy and drama producer Sydney Lotterby was honoured with this year's Special Award presented to him by David Jason: "... if it wasn't for this man, television's Del Boy would have been very different – and so would my career – because he slipped me the pilot script of Only Fools And Horses before anyone else had seen it and pushed my name forward. And the rest, as they say, is history." Sydney's prodigious body of work in the comedy and drama field includes classic hits such as Porridge, Yes Minister, Butterflies and As Time Goes By.
Thanks go to the television committee, to Hilary Bevan Jones and her tireless enthusiasm for these awards, to all those jurors who gave so generously of their time and expertise, to both our loyal and new sponsors and lastly to Clare Brown and the Awards team, and particularly Lisa Prime, Craft Awards Officer, for her unstinting commitment.
---
2007 Nominees & Winners List:
Winners are highlighted in bold.
THE SPECIAL AWARD
Sydney Lotterby
---
BREAK-THROUGH TALENT
sponsored by HBO Films
NEIL BISWAS - Bradford Riots (Oxford Film & Television/Great Meadow Productions/Channel 4)
BRIAN FILLIS - Fear Of Fanny (BBC/BBC Four)
SHARON FOSTER - Shoot The Messenger (BBC/BBC Two)
NICK HOLT - Guys And Dolls (North One TV/Five)
---
COSTUME DESIGN
DAVID BLIGHT - A Harlot's Progress (Touchpaper Productions/Hardy & Sons/Channel 4)
EMMA FRYER - Fear Of Fanny (BBC/BBC Four)
JAMES KEAST - The Ruby In The Smoke (A BBC Drama/WGBH Boston co-production/BBC One)
AMY ROBERTS - The Virgin Queen (A BBC Drama/Power co-production/BBC One)
---
DIRECTOR
sponsored by Sony Pictures Television International
EDMUND COULTHARD - Soundproof (BBC Drama co-production in association with Blast!/BBC Two)
TOM HOOPER - Longford (A Granada Production for Channel 4 in association with HBO)
BHARAT NALLURI - Life On Mars (Kudos Film & Television/BBC One)
ADRIAN SHERGOLD - Low Winter Sun (Tiger Aspect Productions/Channel 4)
---
EDITING FACTUAL
GREGOR LYON - Breaking Up With The Joneses (betty/Channel 4)
BEN GILES - Nuremberg: Nazis On Trial (BBC/BBC Two)
DAVE KING - Rain In My Heart (BBC/BBC Two)
PETER PARNHAM - 9/11: The Twin Towers (Dangerous Films Ltd/BBC One)
---
EDITING FICTION/ENTERTAINMENT
sponsored by Pepper Post Production
CRISPIN GREEN - Doctor Who (BBC Wales/BBC One)
MELANIE OLIVER - Longford (A Granada Production for Channel 4 in association with HBO)
BARNEY PILLING - Life On Mars (Kudos Film & Television/BBC One)
TREVOR WAITE - Prime Suspect: The Final Act (ITV Productions/ITV1)
---
INTERACTIVE INNOVATION
MAGIC LANTERN PRODUCTIONS - Four Docs (Magic Lantern Productions/Channel 4)
CHANNEL 4 WAR TORN PRODUCTION TEAM - War Torn (Dispatches) (Channel 4)
MARTIN PERCY - A Conversation With Sir Ian (NT Stagework/BT Sponsorship/BT Design & Media Studio)
PRELOADED/BBC HISTORY - CDX (Preloaded/BBC)
---
MAKE-UP & HAIR DESIGN
CAROL COOPER - Housewife, 49 (ITV Productions/ITV1)
ANNE 'NOSH' OLDHAM - Jane Eyre (BBC/BBC One)
EMMA SCOTT - A Harlot's Progress (Touchpaper Productions/Hardy & Sons/Channel 4)
VANESSA WHITE, NEILL GORTON - The Catherine Tate Show (Tiger Aspect Productions/BBC Two)
---
NEW MEDIA DEVELOPER
BBC SPORT PRODUCTION TEAM - BBC Sport (BBC Sport)
DAVIE MCGIRR AND PRODUCTION TEAM - Breaking The News (Illumina Digital Ltd/Channel 4)
BBC FOOD AND ILLUMINA DIGITAL LTD - Get Cooking (Illumina Digital Ltd/BBC Food)
PETER DRAKE, JON DONALDSON, MARK OWEN - Me: TV
Nickelodeon UK/Nickelodeon UK
---
ORIGINAL TELEVISION MUSIC
sponsored by Sebastian McLean International Ltd
GEORGE FENTON - Planet Earth (BBC/BBC One)
ALEX HEFFES - Tsunami: The Aftermath (Kudos Film & Television/HBO Films/BBC Two)
NICHOLAS HOOPER - Prime Suspect: The Final Act (ITV Productions/ITV1)
ROB LANE - Jane Eyre (BBC/BBC One)
---
PHOTOGRAPHY FACTUAL
CAMERA TEAM - Planet Earth (BBC/BBC One)
TIM CRAGG - Simon Schama's Power Of Art (BBC London Arts/BBC Two)
URSULA MACFARLANE, SASKIA WILSON - Breaking Up With The Joneses (betty/Channel 4)
CAMERA TEAM - Galapagos (BBC/BBC Two)
---
PHOTOGRAPHY & LIGHTING FICTION/ENTERTAINMENT
sponsored by Hotcam
DANNY COHEN - Longford (A Granada Production for Channel 4 in association with HBO)
JOHN DE BORMAN - Tsunami: The Aftermath (Kudos Film & Television/HBO Films/BBC Two)
GAVIN FINNEY - Terry Pratchett's Hogfather (Mob Films/Sky One)
DAVID KATZNELSON - Shoot The Messenger (BBC/BBC Two)
---
PRODUCTION DESIGN
sponsored by Men-From-Mars
GRENVILLE HORNER - Jane Eyre (BBC/BBC One)
BILL LASLETT - An Audience With Take That...Live! (ITV Productions/ITV1)
MICHAEL PICKWOAD - Longford (A Granada Production for Channel 4 in association with HBO)
BRIAN SYKES - Life On Mars (Kudos Film & Television/BBC One)
---
SOUND FACTUAL
PETER BALDOCK, TIM WHITE, CLIFF JONES - 9/11: The Twin Towers (Dangerous Films Ltd/BBC One)
DANNY FINN - The Somme: From Defeat To Victory (BBC/BBC One)
BEN BAIRD, URSULA MACFARLANE, SASKIA WILSON - Breaking Up With The Joneses (betty/Channel 4)
ANDREW WILSON, KATE HOPKINS, TIM OWENS, GRAHAM WILD - Planet Earth (BBC/BBC One)
---
SOUND FICTION/ENTERTAINMENT
GARY CLARKE - Strictly Come Dancing (BBC/BBC One)
MIKE FELTON - Later With Jools Holland (BBC/BBC Two)
SOUND TEAM - Life On Mars (Kudos Film & Television/BBC One)
SOUND TEAM - Tsunami: The Aftermath (Kudos Film & Television/HBO Films/BBC Two)
---
TITLES
RICHARD NORLEY, RUSSELL MANN - Hotel Babylon (Carnival Films/BBC One)
ALAN O'BRIEN, ANTHONY SCOTT, LYNN NEALON - Suburban Shootout (Feelgood Fiction/Five)
MARK WALTERS, CHRIS GRUBB, LOUISE BRAHAM - Match Of The Day FIFA World Cup 2006 (Red Bee Media/BBC One/BBC Two)
CHRISTOPHER WILCOCK, RICHARD VOWLES, ANDREW PARASKOS - England One Day Internationals (BSkyB Creative Services/Sky Sports)
---
VISUAL EFFECTS
sponsored by Autodesk
LOLA - Death Of A President (Borough Films/More4)
THE MILL - Doctor Who (BBC Wales/BBC One)
LOLA/MODEL UNIT - Krakatoa: The Last Days (BBC/BBC One)
SIMON THOMAS, OLIVER MONEY - Terry Pratchett's Hogfather (Mob Films/Sky One)
---
WRITER
FRANK DEASY - Prime Suspect (ITV Productions/ITV1)
RICKY GERVAIS, STEPHEN MERCHANT - Extras (BBC Comedy/BBC Two)
MATTHEW GRAHAM - Life On Mars (Kudos Film & Television/BBC One)
PETER MORGAN - Longford (A Granada Production for Channel 4 in association with HBO)
---
The Official Winners Photo: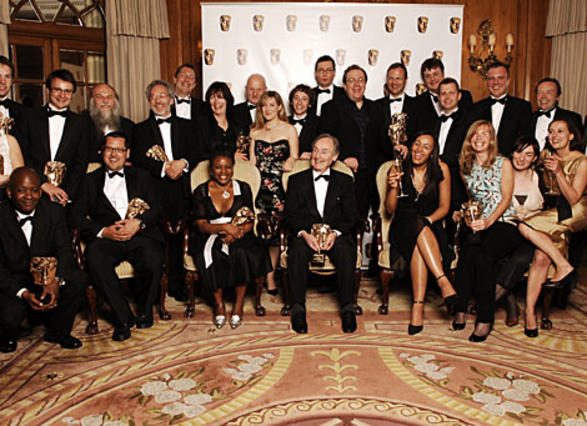 BAFTA / Richard Kendal