20 June 2007
BAFTA / Richard Kendal
A round up of the 2007 BAFTA Television Awards, what the night entailed and who were the big winners.
Words: Quentin Falk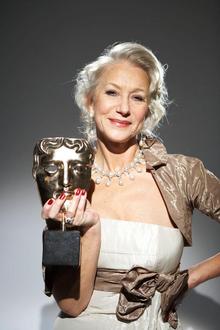 Ian Derry / BAFTAAnyone with a keen sense of television history will recall that the very idea of 'Sunday Night at the London Palladium' has always been synonymous with glamour, glitz and performing excellence.
Right on cue, the past and present collided in time-honoured fashion with the roll call for the latest Sunday night extravaganza from Argyll Street – this year's British Academy Television Awards, sponsored by Pioneer.How fitting then that the sponsor's own Audience Award, the only gong voted for by the public, should go to that time-hopping series, Life On Mars.
Variety was famously the byword of those weekly TV shows from the Palladium and that also translated here to the BAFTA ceremony along with some exciting elements of surprise and unpredictability as the awards were nicely spread across the BBC, ITV (who came out on top), Channel 4 and Sky.
ITV1's oft-criticised drama output certainly got a considerable fillip from two awards – Single Drama and Actress – for Housewife, 49 Victoria Wood's affecting adaptation of a Mass Observation tale from the Forties, and Drama Serial for the Moors Murders recreation, See No Evil. The former also marked Wood's sixth and seventh Academy wins.
It was also seventh time lucky for Ricky Gervais who wasn't on hand – although his fellow nominee, and Extras collaborator, Stephen Merchant amusingly was – to collect the mask for Comedy Performance.
There were some significant firsts this year including the introduction of an International category – HBO's Entourage, aired by ITV2, was the inaugural winner - while Casualty enjoyed its first-ever win for Continuing Drama. There was also a major breakthrough for regional news with the News Coverage award to Granada Reports for its Morecambe Bay tragedy exposure.
Another significant 'first' was the innovative and entirely breathtaking choice of venue for the post-Awards dinner, the Natural History Museum in South Kensington.
A number of the awards are given each year in honour of legendary names in that field – Single Documentary (Robert Flaherty), Entertainment Programme (Lew Grade) and Specialist Factual (Huw Weldon).
Gary Moyes | BAFTATo programme controller and producer Andy Harries went this year's Special Award for Outstanding Creative Contribution to TV, in honour of Alan Clarke.
The show was expertly hosted with his trademark mix of camp and cheeky wit by Graham Norton – chauffeured to the gig in, yes, that battered Ford Cortina by Life On Mars' grumpy Detective Inspector Gene Hunt (Philip Glenister) – who joked he was only on duty because Jonathan Ross wasn't available.
Guest presenters included Catherine Tate, Ant & Dec, Barbara Windsor, Lacey Turner, Alan Yentob, Janet Street Porter, Ray Mears, Claire Goose, Colin Jackson, Richard Hammond, James Nesbitt, Philip Glenister, Brenda Blethyn, Robson Green, Ashley Jensen,Victoria Smurfit,Moira Stuart, Tara Palmer-Tomkinson, Jason Donovan, Joan Rivers, Kris Marshall, Kelly Osbourne, Richard Armitage, Rupert Penry-Jones and Freema Agyeman.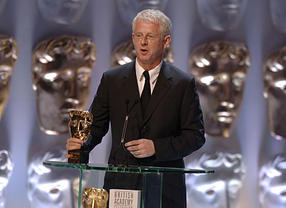 Gary Moyes | BAFTAStephen Fry, one of the evening's nominees, presented the final and most prestigious accolade of the evening – The BAFTA Fellowship – to writer/director and Comic Relief founder, Richard Curtis.
On a night devoted to the very best in TV – which was aired that evening across two hours of primetime on BBC One – Curtis underlined both his admiration for, and commitment to, the medium when he urged: "I do believe television can actually change the world."
Explore the BAFTA Awards Database to search the list of winners for any year.