6 May 2013
Recreate the look donned by the dashing men in Parade's End; with hair, make-up and fashion tips from BAFTA's official style partners.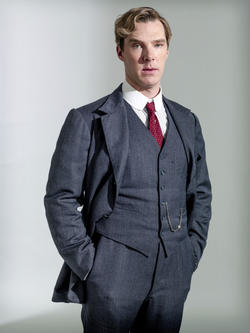 Parade's End is an Edwardian period drama about protagonist Christopher Tietjens' destructive marriage to the beautiful but cruel socialite Sylvia.
Across the Television and Television Craft Awards in 2013 the show has accumulated seven BAFTA-nominations, winning one for Costume Design.
The production summons up a time of aristocracy, of glorious interiors, picturesque landscapes and sumptuous gentleman's and ladies costumes. The character of Christopher (played by Benedict Cumberbatch), is an English aristocrat clinging to Edwardian values as the world around him rapidly transforms.
BAFTA-winner Sheena Napier designed the costumes for Parade's End. Here she explains the process involved with creating the look and feel of the time...
---
Costume Designing for Parade's End by Sheena Napier
"I was very excited to be asked to the design the costumes for Parade's End. I think it is a great period for both men's and women's costume. The end of an era before WW1. I love the long line & high button style of men's jackets, and elegant slim line trousers.
"It's fascinating to research a period where we have access to photographs of real people in their surroundings, not just posed family groups wearing their best clothes. By this means we can also see the overlap of styles outside of the 'uniform' of the city, white & black tie events, country pursuits, etc.
Fashion does not change for everyone on a given date and we can highlight character through the clothes. For example the difference between the 2 friends in Parade's End, the serious & correct Christopher and more flamboyant Macmaster."
---
Recreate the Look
Here we recreate the look of the aristocrat Christopher Tietjens, on Radio Times journalist James Gill. Styling took place at London's Corinthia hotel where BAFTA's official style partners were on hand to transform James into Mr Tietjens.
---
Make-Up
One of MAC's professional make-up artists applied a range of natural looking cosmetics, explaining that for men's make-up; "it's more about what you leave out than what you put on."
To start, she applied a skin finish powder to give a natural-matte finish and blot powder to reduce any additional shine. Then a concealer palette was used to clear up any blemishes. Finally, she used Brow Set gel to shape and define James' eyebrows.
Mineralise Skin Finish Natural - £21.00
Blot Powder - £20.00
Brow Set clear - £12.50
Conceal and correct palette - £35.00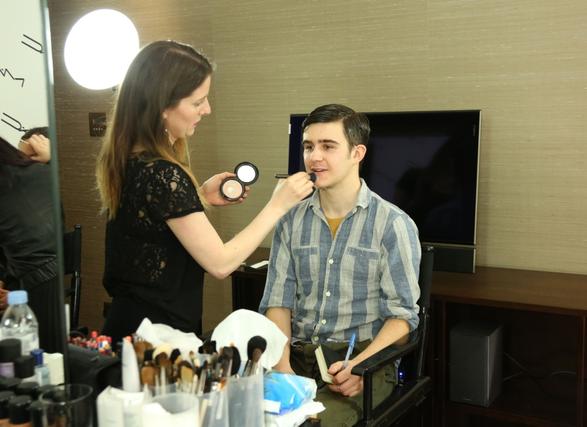 ---
Clothes

Styling was looked after by House of Fraser, official menswear and womenswear partner to the BAFTA Television Awards. To create Christopher's aristocratic Edwardian look, they used a selection of pieces from their Howick Tailored range.

These included a tailored suit jacket, a grey waistcoat and matching grey Georgetown Twill suit trousers. A crisp white evening shirt was teamed with a thick stripe slick tie and a pair of weaved vamp, tan loafters by Dune completed the look.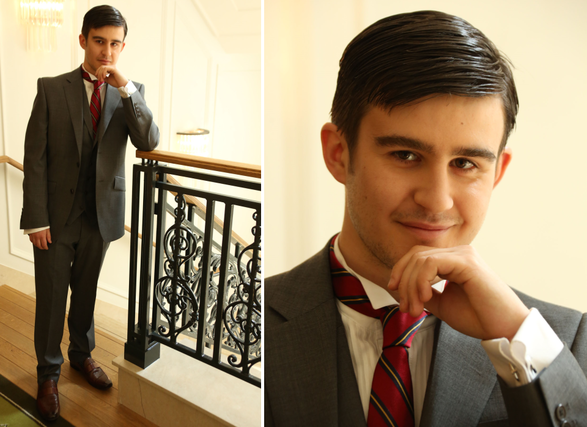 ---
Read James' article about the experience:
---
Get Social