12 November 2013

Writing duo Tony Cooke & Brona C. Titley travelled to New York to showcase their script Nannies at the NYTV Festival.
---
The Script: Nannies
Synopsis: Maisie and four other under paid, overworked child minders on her exclusive London street, are paid to parent the next generation of the ridiculously rich.
---
Meet Tony Cooke
How did it feel to be shortlisted for Rocliffe?
To be shortlisted is an exciting, surprising buzz, with none of the risk of arrest or imprisonment. When we were writing the script, Brona and I laughed a lot, but we never really knew if that was just too much coffee and sugar. To have legends of the industry say what we did was funny is hugely encouraging.
What are you most looking forward to about attending the BAFTA Rocliffe New Writing Forum event in New York?
The chance to hear actors perform our script, and very wise people talk about our script, are probably the most valuable things we can get as writers. Also, haggis, hot dogs, and expanding my international cultural references.
When did you get involved in writing comedy?
I think the first time comedy got serious for me was at university. I co-wrote and performed with five friends in a sketch group, and we managed to win a Radio 1 Student Radio Award for comedy. That led to my first paid sketch writing for BBC digital TV – I think I got about £17.50, which as a student probably fed me for about three months.
What inspired you to write comedy for the screen?
Growing up, I never missed shows like Blackadder, Cheers, and re-runs of Steptoe and Son. Then there was Friends, Peep Show, Modern Family… Actually, I've probably watched too much TV.
Which part of the writing process do you find most difficult and which come most easily?
Plotting is always a bit painful for me – when you get the story right it always looks simple, but breaking it can be frustratingly fiddly. The nicest part of the process is probably writing jokes; if the characters and story are sound, funny stuff should, in theory, start to flow.
---


On the 20th October I took off from London along with four other Bafta Rocliffe comedy winners for a week at the New York TV Festival….
The build-up
Sitting on the 9am New York flight from Heathrow, I'm locked in a silent 'war of the centre armrest' with a generously sized American man next to me. And losing. He's clearly a loose cannon – when the food arrives, he eats the strawberry cheesecake first, THEN the chicken curry. Who does that?! This guy does.
Even since before the elbow jousting started, I've been anxious. In three days, the 11 pages of script stuffed into my hand luggage are going to be performed by a professional cast of actors and given live script notes by co-creator of the American 'The Office' and 'Parks and Recreation', Greg Daniels.
I start to wish those pages were much funnier. That we'd never written it about nannies. That I'd followed my English teacher's advice all along, and opened a dog grooming salon.
I turn on the in-flight entertainment to relax. The TV comedy choices flash up: the American 'The Office' or 'Parks and Recreation'. My mouth goes dry. The man next to me stretches his foot into my foot well…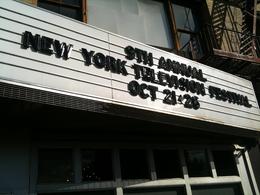 The showcase
Wednesday night at the SVA Theatre. The Bafta Rocliffe showcase starts, the lights dim, the ridiculously talented actors take their places. Seeing Nannies performed is priceless; not in a cheesy, credit card advertisement kind of way, but as a brilliant reminder that a script is never there to be read, but read out.
Some jokes actually get big laughs, and remind me they WERE funny first time around. Others are greeted by a powerful, vortex-like silence that reminds me to work harder. In a blink, it's done, and Greg, Farah, myself and Brona are ushered onto the stage for our live notes session…
Greg calls our script professional. He says it feels viable and commercial. He even likes the ideas we've submitted for further episodes, and gets more laughs when he reads some aloud. I wonder why nothing bad has happened yet, and quickly check all the sections of my trousers are fastened correctly.
Not surprisingly, his advice hones in on exactly those weaknesses we've brushed under the carpet: Yes, our villain is a bit too… villainous. Yes, our family show's lead character probably shouldn't look like such a home-wrecker by page ten! Equally inspiring is his generosity, scrupulousness, and sincerity with a group of grinning British writers he's only just met.
The deal
With a show at the festival, we are also lucky to be deemed 'official artists' (never gets tired), and are eligible to enter the official NYTVF Development Deal competitions. We manage to get through stage one, and secure a pitch meeting with network VH-1, giving us ten minutes to sell for our lives.
Our idea 'Teen Time Machine' is a nostalgia reality format, a genre we hastily dub 'nostality', and instantly regret it; the execs don't flinch, I skip two slides on the Powerpoint, and things suddenly look very shaky. Somehow, though, come awards night, we win the deal. Nostality has taken a step closer to reality. We consider re-dubbing it 'Renostality'.
Two days later, as we fly back into the UK at the height of the hurricane, I wonder what striking metaphor for the week there could be in our aborted first landing. But I'm too tired to think of it. A huge thank you to all the NYTVF and Bafta Rocliffe teams – it was, as they say, super awesome.