19 June 2017
BAFTA/Grainne Quinlan
VIP afternoon tea event welcomes leading figures from the Chinese film industry
Chinese mentors announced for promising British filmmakers
The British Academy of Film and Television Arts (BAFTA) and the British Council introduced promising British film talent to leading figures in the Chinese film industry on Sunday (18 June) at an afternoon tea reception at The Peninsula Shanghai. The event, held during the Shanghai Film Festival (SIFF), featured four British filmmakers who were identified through BAFTA's talent discovery programme, and who have now been matched with an industry mentor from China who will advise them during their visit.
The four Britons are:
Actress Katie Leung, who first came to prominence in the Harry Potter series of films, and was named a BAFTA Breakthrough Brits in 2014. Katie Leung will be mentored in China by actress Celina Jade (Arrow, Legendary Assassin)
BAFTA-winning and Oscar-nominated producer Brian J Falconer, who received both recognitions in 2015 for his short film Boogaloo and Graham. Brian J Falconer will be mentored in China by Jennifer Dong, CEO and founding partner of Meridian Entertainment (Mojin – The Lost Legend, Feng Shui).
BAFTA-winning screenwriter Jennifer Majka, whose short film The Bigger Picture was also Oscar-nominated in 2015. Jennifer Majka will be mentored in China by screenwriter and novelist Xu Zhanxiong (Kung Fu Yoga, 1983).
Producer Lauren Dark, who was named a BAFTA Breakthrough Brit in 2015 for her work of films such as War Book, written by BAFTA-winning writer Jack Thorne and BAFTA-nominated director Tom Harper. Lauren Dark will be mentored in China by producer Philip Lee (Assassin's Creed and Crouching Tiger, Hidden Dragon).
Tim Hunter, Director of Learning and Events at BAFTA, said: "It's such a pleasure to bring these talented Brits to Shanghai to meet their Chinese peers and learn more about China's film industry, with generous support from esteemed mentors. We're grateful to the Shanghai International Film Festival for making us so welcome and we look forward to growing our relationship with this vibrant, creative city and with film professionals across China."
Nick Marchand, Director Arts and Creative Industry, British Council China said: "As a partner, we are delighted to support BAFTA and its new talent on this trip to Shanghai during Shanghai International Film Festival. We hope this trip opens new opportunities for UK-China film exchange, and creates a long-term impact for both."
Also at the event was British filmmaker Tian Macleod Ji, now living in Beijing, who was awarded a BAFTA Scholarship to study in Hong Kong in 2014.
BAFTA's activity in Shanghai is supported by The Peninsula Shanghai and Champagne Taittinger.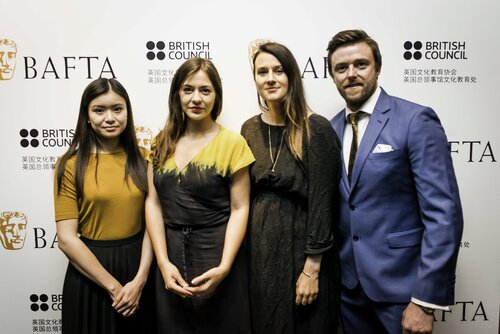 BAFTA/Grainne Quinlan
(From L-R): Katie Leung, Jennifer Majka, Lauren Dark and Brian J Falcone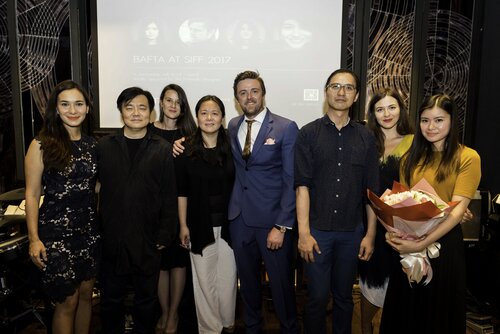 BAFTA/Grainne Quinlan
(From L-R): Celina Jade, Philip Lee, Lauren Dark, Jennifer Dong, Brian Falconer, Zhanxiong XU, Jennifer Majka and Katie Leung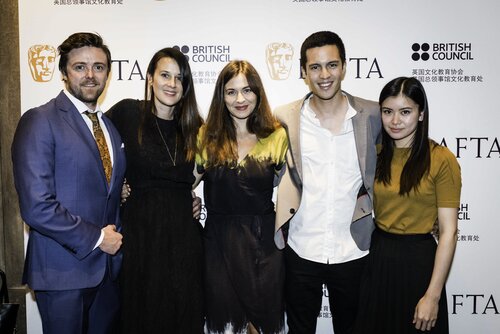 BAFTA/Grainne Quinlan
Brian J Falconer, Lauren Dark, Jennifer Majka and Katie Leung with BAFTA Scholar Tian Macleod Ji (second from right)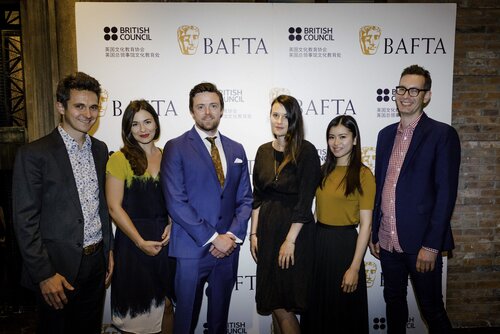 BAFTA/Grainne Quinlan
(From L-R): Matt Knowles (East China Area Director of the British Council), Jennifer Majka, Brian Falconer, Lauren Dark, Katie Leung and Nick Marchand (Director of Arts and Creative Industry for the British Council China)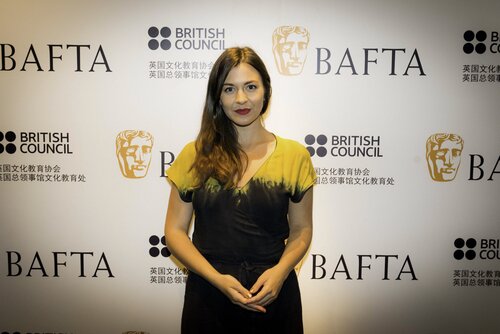 BAFTA/Grainne Quinlan
BAFTA-winning screenwriter Jennifer Majka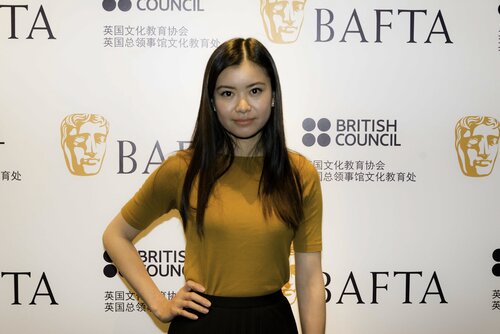 BAFTA/Grainne Quinlan
Actress and BAFTA Breakthrough Brit Katie Leung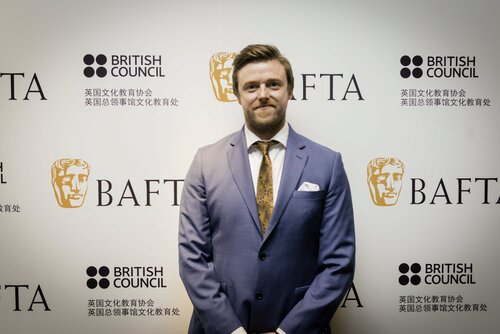 BAFTA/Grainne Quinlan
BAFTA-winning producer Brian J Falconer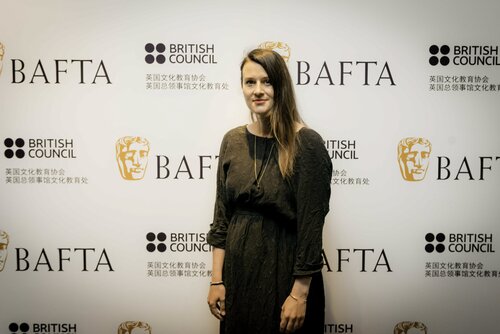 BAFTA/Grainne Quinlan
Producer and BAFTA Breakthrough Brit Lauren Dark
For high resolution photos, please download at link or visit www.bafta.org/media-centre
For further information, please contact:
Monica Qu at Strategic PR Group (China)
T (86) 10 8580 4258  x251
E [email protected]
Eleanor Pickering at BAFTA (UK)
T +44 (0) 20 7734 0022
E [email protected]
About BAFTA
The British Academy of Film and Television Arts is an independent charity that supports, develops and promotes the art forms of the moving image by identifying and rewarding excellence, inspiring practitioners and benefiting the public. In addition to its Awards ceremonies, BAFTA has a year-round programme of learning events and initiatives – featuring workshops, masterclasses, scholarships, lectures and mentoring schemes – in the UK, USA and Asia; it offers unique access to the world's most inspiring talent and connects with a global audience of all ages and backgrounds. BAFTA relies on income from membership subscriptions, individual donations, trusts, foundations and corporate partnerships to support its ongoing outreach work. To access the best creative minds in film, television and games production, visit www.bafta.org/guru. For more, visit www.bafta.org.
About BAFTA in Asia
Since 2013, BAFTA has worked with partners in mainland China and Hong Kong to deliver masterclasses and international scholarships and engaging world-renowned, award-winning filmmakers, actors and craftspeople to take part, including Johnnie To, Zhang Yimou, Duncan Kenworthy, Eddie Redmayne, Lois Burwell, Lindy Hemming and Nina Gold. Through such events and initiatives, BAFTA promotes a spirit of open, creative collaboration between the UK and China and encourages cross-cultural exchange.
About The British Council
The British Council is the UK's international organisation for cultural relations and educational opportunities. We create friendly knowledge and understanding between the people of the UK and other countries. Using the UK's cultural resources we make a positive contribution to the countries we work with – changing lives by creating opportunities, building connections and engendering trust.
We work with over 100 countries across the world in the fields of arts and culture, English language, education and civil society. Each year we reach over 20 million people face-to-face and more than 500 million people online, via broadcasts and publications.
Founded in 1934, we are a UK charity governed by Royal Charter and a UK public body. The majority of our income is raised delivering a range of projects and contracts in English teaching and examinations, education and development contracts and from partnerships with public and private organisations. Eighteen per cent of our funding is received from the UK government.
We operate as the Cultural and Education Section of the British Embassy in Beijing and Cultural and Education Section of the British Consulate-General in Shanghai, Guangzhou, Chongqing and Wuhan. Our Exams work across China operates as a Wholly Foreign Owned Enterprise.