19 May 2011
Celebrating the work of Production Designer Sir Ken Adam whose 70 year career includes the Bond films of the 1960s and 70s.
Learn about the challenges Adam faced while working on the Bond films & why he enjoyed them.
Hear him describe his greatest artistic influences & how he developed his signature technique.
Colleagues share memories of their experiences working with Adam and what they learnt from him.
Watch the Event Video
---
About the Event
On 4 April 2011, friends, family and devoted colleagues of Sir Ken Adam gathered at the RIBA for an evening of tribute speeches in celebration of the esteemed production designer's 90th Birthday. This BAFTA event was hosted by Matthew Sweet with the likes of Lewis Gilbert, Michael H Wilson and Christiane Kubrick, all sharing their memories and admiration for Adam's work.
Adam's career started in the studio era of the late 1940s and has flourished for well over half a century. Over the course of this time he has been responsible for some of the grandest illusions in the history of cinema. In his tribute to Adam, Roger Moore a likens walking into one of Adam's sets to "walking into a dreamland of visual opulence"
When you do a scribble and everything seems to work…that is the most exciting part. That is when you know you've done something interesting.
Sir Ken Adam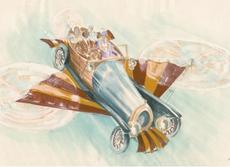 Ken Adam's original sketch of Chitty Chitty Bang BangSome of the most memorable and inspired of his grand illusions include; the antique and modern villain's headquarters in Dr No (1962) and the ship's body of an early Rolls-Royce combined with the front of a Bugatti, which turns into a hovercraft and a flying machine, in Chitty Chitty Bang Bang (1968).
For Adam though, it is the huge triangular Pentagon War Room with its giant poker table and light ring in Dr Strangelove (1964); that he is most proud of.
At the close of the celebration both Adam and his wife Lady Letizia Adam were invited onto the stage where upon he was presented with a special BAFTA award in recognition of his outstanding career in film.
Speaking of the evening as a whole Adam said; "it made me want to do more films".

This event was supported by the Albert R. Broccoli and Dana Broccoli Foundation