17 October 2007
Jake Gavin/BAFTA Publishing 2007
A tribute to Bryan Forbes, one of British Cinema's most prolific and remarkable filmmakers.
---
With a multi-faceted career in film that spans six decades and encompasses acting, writing, directing and executive producing, Bryan Forbes prolific work resulted in some of British cinema's most memorable moments.
He clocked up four more BAFTA nominations for his work on coming-of-age drama Whistle Down The Wind (1961, and his first directing job), kitchen sink comedy Only Two Can Play (1962), crime drama Séance On A Wet Afternoon (1964) and WWII drama King Rat (1965), before running MGM Studios at Elstree between 1969 and 1971, overseeing successful films like The Go-Between (1970), The Railway Children (1970) and The Tales Of Beatrix Potter (1971).
From the poignant drama of The Angry Silence (1960) to the eerie science fiction of the Stepford Wives (1975), Forbes's dexterity across several disciplines was complemented by his courage in embracing new ventures.
I was a writer who became an actor who became a screenwriter who became a director...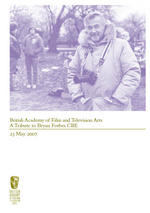 BAFTA Publishing 2007The Academy's Tribute to Bryan Forbes celebrates a career of outstanding achievement in filmmaking. A host of stars from the world of film gathered at the Academy headquarters to share memories and pay homage to an icon of the British film industry.
Introduced by actor Simon Callow, tributes were given by Forbes' friends and colleagues, including actress Nanette Newman, Sir Michael Caine, Kenneth Brannagh, Sir Roger Moore and Academy President Lord Attenborough who presented Bryan with a special BAFTA.
A Tribute to Bryan Forbes CBE