17 October 2007
Jake Gavin/BAFTA Publishing 2007
A host of stars from the world of film pay tribute to Bryan Forbes, one of British Cinema's most prolific and remarkable filmmakers.
---
With a multi-faceted career in film that spans six decades and encompasses acting, writing, directing and executive producing, Bryan Forbes prolific work resulted in some of British cinema's most memorable moments.
From the poignant drama of The Angry Silence (1960) to the eerie science fiction of the Stepford Wives (1975), Forbes's dexterity across several disciplines was complemented by his courage in embracing new ventures.
I was a writer who became an actor who became a screenwriter who became a director...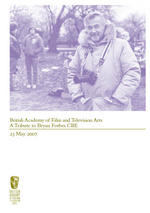 BAFTA Publishing 2007The Academy's Tribute to Bryan Forbes celebrates a career of outstanding achievement in filmmaking. A host of stars from the world of film gathered at the Academy headquarters to share memories and pay homage to an icon of the British film industry.
Introduced by actor Simon Callow, tributes are heard from friends and colleagues, including Bryan's wife - the actress Nanette Newman, Sir Michelle Caine, Kenneth Brannagh, Sir Roger Moore, and Academy President Lord Attenborough who presents Bryan with a special BAFTA mask.
CONTENT:
Introduction by Simon Callow / Nanette Newman / Sir Michael Caine / Leslie Carron / Sir Roger Moore / Hayley Mills / James Fox / Kenneth Branagh / Tony Imi / Richard Goodwin / John Barry / Sir David Frost / Simon Relph / Lord Attenborough / Bryan Forbes
A Tribute to Bryan Forbes CBE