Portrayed on screen by Sean Connery, George Lazenby, Roger Moore, Timothy Dalton, Pierce Brosnan and Daniel Craig, the actors may have changed but the man did not. 007 is consistently stylish, accompanied in the field by fast cars, beautiful women, an array of handy spy gadgets and, of course, an unwavering loyalty to Queen and country. In celebration, we bring together here some BAFTA past events featuring Bond content...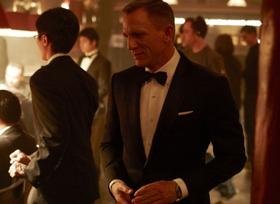 Daniel Craig as Bond in Skyfall, 2012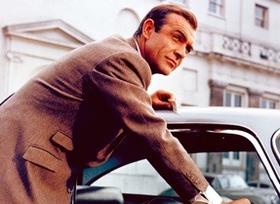 Sean Connery as Bond in Goldfinger, 1964
---
Behind the Scenes of Skyfall

In celebration of Bond's 50 year anniversary, BAFTA presented an exclusive exhibition of photography by Greg Williams, official behind the scenes photographer on the set of 2012 Bond film, Skyfall. Williams has a strong relationship with BAFTA having been the official backstage photographer at the British Academy Film Awards since 2005. We have made a selection of this photography available to view online in our photography showcase, giving you a taster of Williams' work and to highlight the visually rich scenes that we can expect from Bond in 2012.
BAFTA's Bond Features:

REX FeaturesWithin the BAFTA portfolio of content we are proud to present composer David Arnold talking about his award-winning back catalogue that includes five James Bond scores, director Guy Hamilton recounting memories of working with both Roger Moore and Sean Connery and the challenges production designer Sir Ken Adam faced while working on films Dr. No and Goldfinger. From deep within the BAFTA archive we have also uncovered an article from the Journal of the Society of Film and Television Arts in 1966 which discusses the use of Gimmicks in Bond.

Browse BAFTA's Bond features: 007 at 50 >
007 Unusual facts about Bond

Bond was born to a Scotsman, Andrew Bond and Swiss mother, Monique Delacroix
When James Bond was 11, his parents died in a mountain climbing accident in the Aiguilles Rouges. After the death of his parents, Bond went to live with his aunt.
Bond's code number "007" was inspired by the bus route that still runs from Kent to London and was a regular journey taken by author Ian Fleming.
Bond is known for ordering vodka martini "shaken, not stirred". The first time the line "shaken, not stirred" appeared was in the novel Diamonds Are Forever in 1956. And Sean Connery utters them for the first time in Dr. No, though he says, "Shaken and not stirred."
There have been a number of theories on where Ian Fleming got the name "James Bond" .Shortly before his death revealed the origin. In 1952, on Fleming's estate in Jamaica, the author was trying to find a name for his character that sounded "mundane as possible" he took the name from a bird watching guide he happened to have on hand, naming the character after American Ornithologist Dr. James Bond.
Casino Royale movie was the first James Bond film approved by Chinese censors
Across the film plots we learn that 002, 003, 004, and 009 have all been killed. Agent 006, believed killed, returns as the villain in GoldenEye before he's disposed of. 008 is mentioned several times as Bond's replacement should he die or be taken off a mission. However, 001 and 005 have never been mentioned.
Preserving Bond

The history of Bond is rooted in British film heritage and it is important that it be preserved and celebrated. Preserving audiovisual heritage involves more than the preservation of actual titles, cultural conservation significantly contributes to preserving the legacy of screen treasures. Capturing current activities will provide our future archive.

UNESCO World Day for Audiovisual Heritage is observed every year on 27 October and our celebration of Bond heritage is a celebratory showcase of UNESCO and thier work. The aim of the day is to raise awareness of the issues and significance of preserving audiovisual material. The first World Day for Audiovisual Heritage was held in 2007.
Eon Productions

EON Productions, is the UK-based production company which makes the James Bond films the company is an affiliate of Danjaq.

The 007 franchise is the longest running in film history with twenty-three films produced since 1962. Michael G Wilson and Barbara Broccoli took over the franchise from Albert R 'Cubby' Broccoli in 1995.