2 August 2013
Your chance to win a set of exclusive BAFTA placemats as seen at the 2013 Film Awards post ceremony dinner.
THIS COMPETITION IS NOW CLOSED. WE WILL CONTACT THE WINNERS SHORTLY. MANY THANKS TO EVERYONE WHO ENTERED!
Planning a dinner party soon? Want to impress your guests with some exclusive BAFTA memorabilia? We're offering you the chance to win five limited edition placemats from the EE BAFTA Film Awards in 2013! All of the Best Film nominees are featured, including the winner Argo, Les Misérables, Life of Pi, Lincoln and Zero Dark Thirty.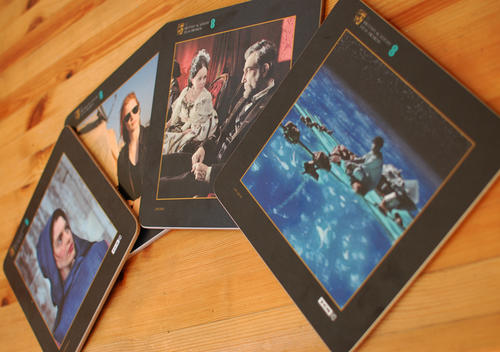 This is a sample of the placemats, and not necessarily the ones you would win
For your chance to win a selection of five, answer this question:
Which fictional film character would you most like to have dinner with and why?
Simply write the name of your chosen guest and a reason why you would choose them. Here are some examples to get you going:
"I would invite Lord of the Rings' Legolas to be my #BAFTADinner date because he'd have lots of great stories to tell from his Middle Earth adventures and we could swap tips on conditioner!"
"My #BAFTADinner date would be SATC's Samantha Jones, for an evening of cosmos, sushi & some lessons in life from a frank talking New Yorker."
"I would like to go to dinner with Edward Scissorhands, as I've heard he's quite nifty carving food!"
Small print: we are only able to deliver within the United Kingdom, so only enter if you have a UK address we can send the prizes to! For more information, read the Terms and Conditions in full here.
---
The Rules
The competition will close 12pm 16 August, with the 5 winners told soon after.
We will only accept entries made on the entry form below, BAFTA's Facebook page or via Twitter using the hashtag #BAFTADinner.
The photograph is a sample of the placemats, and not necessarily the ones you would win.
You must read thecompetition terms of entry >

[[MEDIA:{"IMAGE":"http:\/\/static.bafta.org\/images\/width180\/ee-bafta-film-awards-rgb-pos-sml-19741.png","WIDTH":"180","ALT":"EE Film Awards Logo [pos - thin]","CREDIT":null}]]