20 December 2011

The composer of scores for Independence Day, Little Britain and recent James Bond films talks about his music for film in this BAFTA Guru video.

The full length David Arnold interview video is available to watch now on BAFTA Guru.
---
In this video, available to watch in full on BAFTA Guru, composer David Arnold joins BAFTA to discuss the secrets behind his acclaimed series of film scores in an event with PRS for Music.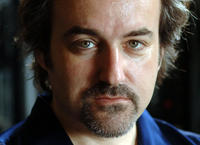 Talking to producer/director Stephen Woolley – who worked with Arnold on Stoned – the composer provides a unique insight into an award-winning back catalogue that includes Hollywood blockbusters, five James Bond films and TV comedy Little Britain.
Arnold reminisces about making compositions at the foot of his bed at the start of his career before discussing his passion for James Bond and the pressure of landing his dream job on the global franchise with Tomorrow Never Dies.
Using clips from his major works Arnold talks about the process of writing music for different genres – from working with Ben Stiller on Zoolander and scoring aliens in Independence Day to sci-fi series Stargate and his score for Little Britain.
He goes on to take questions from the BAFTA audience providing insight into his methods of composition and offering advice about breaking into the industry.

An Evening with David Arnold was held on 27 April 2009 at BAFTA headquarters in association with PRS for Music.