The EE Rising Star Award honours a young actor or actress who has demonstrated exceptional talent and ambition and has begun to capture the imagination of the British public. Previous winners have included Tom Hardy, Kristen Stewart, Noel Clarke, Eva Green and James McAvoy, with 2012's nominees including Chris Hemsworth, Chris O'Dowd, Eddie Redmayne, Tom Hiddleston and winner Adam Deacon. The award is the only one at the ceremony voted for by members of the public, and is a hotly-contested accolade for up-and-coming film talent.
The Rising Star Award is designed to recognise rising talent, however it is not intended as a true 'beginner's award', nor is it intended to be for child actors. In exceptional circumstances, a star-making debut will be considered. Nominees will usually be aged between 18 and 32.
2013 marks the first year of the EE Rising Star Award, following the announcement in November 2012 that EE is the new title sponsor of the EE British Academy Film Awards, replacing sister brand Orange. The EE Rising Star Award was previously known as the Orange Wednesdays Rising Star Award.
---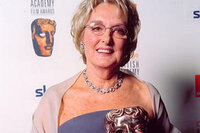 The first Orange Rising Star Award was presented in 2006, replacing the Orange Film of the Year Award. The original Orange Rising Star Award was dedicated to the memory of Mary Selway (pictured), the highly-respected, BAFTA-winning British casting director who died in 2004. In a career spanning three decades, she worked closely with directors such as Steven Spielberg, Roman Polanski, Clint Eastwood and Ridley Scott. Mary was involved on some of the biggest movies of the 20th century, including  Return Of The Jedi, Indiana Jones, Withnail & I, Aliens and recent box office hits Love Actually, Master & Commander and Harry Potter & The Goblet of Fire. Casting for over 90 films, she helped create some of the silver screen's most memorable characters and launched the careers of many stars.
In 2011, the award was renamed the Orange Wednesdays Rising Star Award in order to reflect the level of involvement that Orange Wednesdays customers played in deciding upon the final five nominees that went up for the public vote. Orange Wednesdays customers voted on the longlist of eight candidates, drawn up by the jury, to decide on the final five that then went up for the public vote. 
---
---
Click on the past winners' names to find out more: