11 February 2012
Tinker Tailor Soldier Spy: No-one can be trusted as paranoia and suspicion permeate the ranks of MI-6. Craig Bloomfield takes a ringside seat at the Circus.
Words by Craig Bloomfield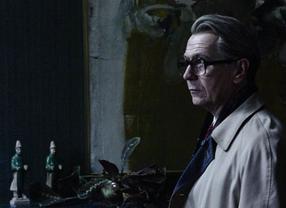 Mystery, suspicion and the dubious machinations of deceit are deeply embedded within Tinker Tailor Soldier Spy, a riveting echo-chamber piece based on John le Carré's celebrated novel.
An antiquated air of subterfuge fills every environment; homes, workplaces and the long, slow shuffle between them are permeated with the unnerving hush of threat and paranoia. This is early 1970s Britain, grasped by the hands of insidious espionage. There's rot in the house of MI-6 and retired intelligence expert George Smiley (played with staunch yet wizened acquiescence by Gary Oldman) is recalled to duty to draw out the "mole at the top of the Circus."
The job of turning the first instalment of le Carré's much-loved series (the first in his 'Karla trilogy') was given to director Thomas Alfredson on the strength of his 2009 vampire film Let The Right One In. In accordance with Tinker's enigmatic subject matter, Alfredson often shoots from afar, surveilling each suspect. He minutely observes the cast, gingerly zeroing in on them with the caution of an eavesdropping eyewitness. His use of shallow focus creates a shifting sense of dislocation; it highlights characters for closer scrutiny, displacing the surety of their surroundings. The mole could be him, or him, or even him. No one is exempt; everyone is suspect.
As Alfredson says of the novel, "the book is like a maze, and it jumps back and forth in time. We had to distribute it in a different way." BAFTA-nominated scriptwriters Bridget O'Connor and Peter Straughan judiciously adapted their source, crucially excising some of its weight. New scenes were added for further dramatic effect, streamlining it into a svelte yet multifaceted two-hour exercise in prolonged suspense. The plot's intricate strands spread unease as the risk of treachery intensifies.
The filmmakers' attention to the minutiae of the era is pin-sharp and pertinent; worthy of Smiley himself.
Tinker is a film of refined craftsmanship and dedication to detail. The filmmakers' attention to the minutiae of the era is pin-sharp and pertinent; it's worthy of Smiley himself. Maria Djurkovic and Tatiana MacDonald's production design expertly sets the stage for a vast international spy game; its players all dressed down in appropriately dour garments by Jacqueline Durran. Alberto Iglesias scores their shifty shenanigans with spare, dramatic elegance and cinematographer Hoyte van Hoytema fills the shadows with a sulphurous air, painting gaunt faces and drab surroundings from the same muted palette.
Tinker is an uncommonly vigorous work, with artistic kinship to the likes of The Conversation (1974), The Conformist (1970) and The Lives Of Others (2006). Set during a time before the internet, mobile phones and swift communication, the film is a tapestry of well-fingered documents, contrived meetings and lying low on high alert; all played out with the grey slog of a hundred long, bad days. Alfredson and his skilled team of filmmakers have boldly reconfigured this sublime spy story for a new century. Its themes continue to resonate: it's still compelling, still essential. It makes art of the archaic and proves that there's always rich drama in the question of who we know and who we don't.
---
Related Content