11 February 2012
The Help: Ordinary women take extraordinary action in civil-rights-era Mississippi. Siobhan Synnot shows some love for The Help.
Words by Siobhan Synnot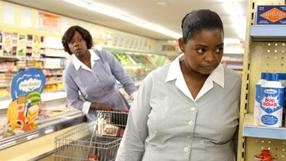 Boldly venturing into a complex social and historical narrative, Tate Taylor's adaptation of Kathryn Stockett's best-selling novel navigates a tough subject with a superbly-cast recreation of racial tensions simmering in Jackson, Mississippi during the most turbulent days of the civil rights era.
From within their immaculate homes, privileged white housewives spar with each other over social status, bridge clubs and charity balls. Meanwhile their black maids who take the bus in every morning from the poorer side of town, seethe at careless insults delivered almost daily.
A fledgling writer (Emma Stone) wants to tell their story in a book to be called The Help, but this is a potentially deadly enterprise at a time when activist Medgar Evers is murdered, and violence against black people increases as a community painfully awakens to the demise of a discriminatory system.
This film's multi-generational and predominantly female cast members deliver powerhouse performances, with Viola Davis, BAFTA-nominated for Leading Actress, giving an uncompromising portrait of Aibileen Clark, a housekeeper long accustomed to absorbing barbs and raising other people's children, empowering them with her tender convictions ("You are good; you are smart; you are kind").
It's a rare treat to see a film showcase such a strong female ensemble.
By contrast, Aibileen's best friend and fellow maid Minny is a firecracker who finds it impossible not to speak out. Octavia Spencer, a nominee for Supporting Actress, gives Minny a sharp tongue, a fiery basilisk stare, a nuanced sense of outrage, and some of the film's best comic moments. And of course it is Minny who suggests that revenge is not just a dish best served cold, but with a blob of cream and an unspeakable additional ingredient.
Jessica Chastain, also nominated for Supporting Actress, offers a portrait of vulnerability as a nickle and dime Marilyn Monroe whose relationship with Minny forges new ground and blossoms into another kind of heroism. It's a rare treat to see a film showcase such a strong female ensemble.
It would be easy to regard The Help as a nostalgic portrayal of dignity in the face of casual pervasive racism, but this film is far more searching and morally audacious than that. Generations of rich white southern children were brought up by strong black women, a closeness at odds with the official dogma of separate bathrooms and water fountains, and their insinuations of uncleanliness and unworthiness. White men are deliberately marginalised in this story, but the effect of their chauvinism is explored; the treatment of wives, daughters and girlfriends sets up a systematic response where white women take their doubts and humiliations out on the help.
In examining how people handled conflicting loyalties and resentments, The Help gives history the context of day-to-day living. It's a work of popular entertainment, one which takes some familiar stereotypes – the undervalued servant, the ice-queen villainess, the dogged journalist – and makes them surprising again. Its resourceful empathy gets under the skin of its characters, and under ours. This is a truly radical film because its best moments lie not in big revelations but in the intimacy of its details.
---
Related Content