11 February 2012
The Descendants: A family deal with heartbreak and growing pains in paradise. Nev Pierce dons a flower lei and says Aloha to The Descendants.
Words by Nev Pierce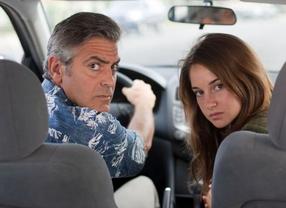 "I'm just trying to somehow capture the reality I see around me." Filmmaker Alexander Payne discovered cinema in the '70s and it shows. It's unusual to hear a film described and think it might have appealed to, say, Hal Ashby. But so it is with The Descendants, the story of a man who tries to track down the lover of his comatose wife, to let him say goodbye before she dies.
It's often observed that in each of Payne's films – Citizen Ruth (1996), Election (1999), About Schmidt (2002) and Sideways (2004) – the lead characters are failures. But so are we all – at something, if not the lot. These people are just like us, but in extraordinary or odd circumstances.
The Descendants' main character, Hawaiian lawyer Matt King, is actually ostensibly successful: monied, smart and with the looks of George Clooney. It takes the shock of his wife's accident to make him understand how empty his life has been, with his marriage quietly dying and his two daughters drifting away. He's been working blindly towards death, without realising what he has.
It's a film about appreciating every moment and, simply, real life. We don't make too many movies about that any more. "Maybe we used to," says Payne. I was a teenager in the '70s and that's what movies were like. Sorry if this sounds self-serving but I'm just trying to make '70s movies. Because that's what I was told an adult, commercial, Hollywood film was. It's part of why I wanted to get into filmmaking: the films I saw when I was a teenager. I just haven't changed."
"It's a film about appreciating every moment.We don't make many movies about that anymore."
Clooney is of the same generation – both star and director were born in 1961 – and since he rose to stardom has consistently tried to support films with that throwback sensibility, from Out Of Sight (1998) through Three Kings (1999) and Syriana (2005). He's perhaps never been this normal before, with no crime, combat or political backdrop – just domesticity. Yes, King lives in Hawaii, but that plays to one of the themes in the picture: how perception can be deceiving. The islands can be beautiful but also drab: as everyday as Hackney.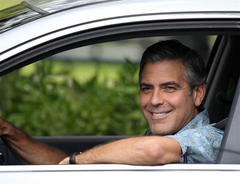 The film takes its name from the culture's aristocracy, of sorts: the descendants of those native Hawaiians who had married wealthy European settlers. These are people who have it all, but King comes to realise something is missing. Here, Clooney is superb, playing a man slowly stumbling out of sleepwalking, into the painful light. He was always in the mind of Kaui Hart Hemmings, whose novel Payne adapted with Nat Faxon and Jim Rash, and whose recommendation on casting Payne agreed with, having once considered working with Clooney on Sideways.
The wait of a few years was worth it. Clooney is now 50 and The Descendants is a coming of age story for the middle aged, in a way. It's not only the young who need to wake up. "That's true," says Payne. "She dies in order that he might wake up. He says early in the film, 'Wake up, Liz, wake up!' He's sort of saying that to himself. Later he tells the daughter, 'Grow up!' She does." Will we?
---
Related Content