21 November 2013
BAFTA/ Jonathan Birch
In the run-up to the BAFTA Children's Awards in 2013, we held a showcase event to highlight the talent behind some of this year's nominations.
On the 17 November, BAFTA held a Children's Awards showcase event at the Barbican, with a selection of this year's nominees revealing the secrets behind their work. Presented by Shannon Flynn (Dani's Castle, Friday Download) and Bobby Lockwood (Wolfblood, House of Anubis), the young audience were treated to a mix of live demonstrations, on-stage interaction and exclusive video interviews.
Ben Bocquelet and Antoine Perez from The Amazing World of Gumball explained the process of making an animation series step-by-step. From the initial ideas, storyboards, animatics through to the final show, they showed exactly what it takes to create Gumball. The audience were then asked to design and draw their own ghost hamburger, with Ben and Antoine selecting their favourites at the end of the show!
The audience was also invited to contribute to the Awards night itself by suggesting questions to ask the stars on the red carpet. The winner was Anouk, age 11, who's question; "Do you have a victory dance if you win a BAFTA?" will be asked to attendees as they arrive at the glittering Children's Awards ceremony.
Sam Watts, the composer of Wizards vs. Aliens, played a grand piano on stage and explained why certain melodic lines are used for particular characters or scenes in the show, and why a rather dissonant chord he came across was the perfect fit for the aliens. He then played several musical phrases and asked the audience what they thought the music was trying to evoke.
---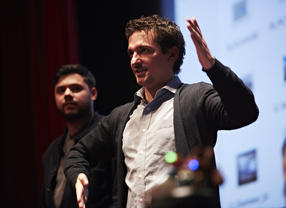 BAFTA/ Jonathan Birch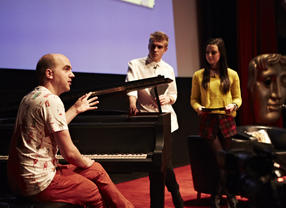 BAFTA/ Jonathan Birch
---
Next was a Skylanders Giants battle on the stage between two audience members, with games critic Cara Ellison on hand to referee the match (both competitors walked away with prizes!).
Several exclusive behind-the-scenes films were shown from a range of this year's nominees. Debbie Moon, the writer of Wolfblood, revealed how she came up with the title of the series when the words 'wolf' and 'blood' popped up in front of her in a second hand bookshop. Director of Photography Tristan Oliver discussed his work on ParaNorman, and while animation may be a long process, it doesn't necessarily make it a slow one.
There were also two films looking at how games and television programmes are produced: one was a behind the scenes look at Mind Candy, the company behind Moshi Monsters, the other a sneaky peep into the making of CBBC's Sam & Mark's Big Friday Wind-Up.
The show ended with Bobby and Shannon taking question from the audience about how to get into acting, before posing for several photographs!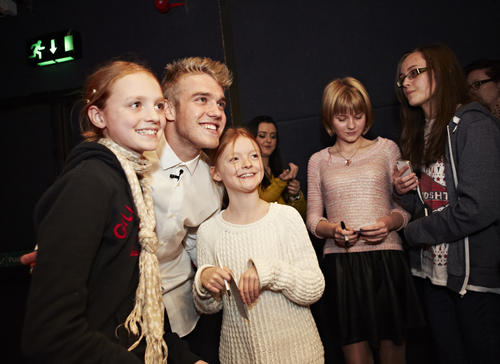 BAFTA/ Jonathan Birch