13 December 2016

Find out more about the past year of BAFTA Kids activities. 

Each year, the British Academy Children's Awards celebrates the very best in children's media, so it seems only fitting that the day should begin with an event designed solely for the target audience. This year's BAFTA Kids Red carpet experience took place on the day of the British Academy Children's Awards and provided the children with a presenter and a red carpet masterclass, hosted by CBBC presenters Ben Shires and Katie Thistleton

Throughout the year, BAFTA Kids hold multiple events and workshops across the country to encourage and inspire children to discover more about film, TV and games. We asked Ben and Katie to look back at some of their highlights from the BAFTA Kids programme from the past year, and to talk about what BAFTA Kids means to them.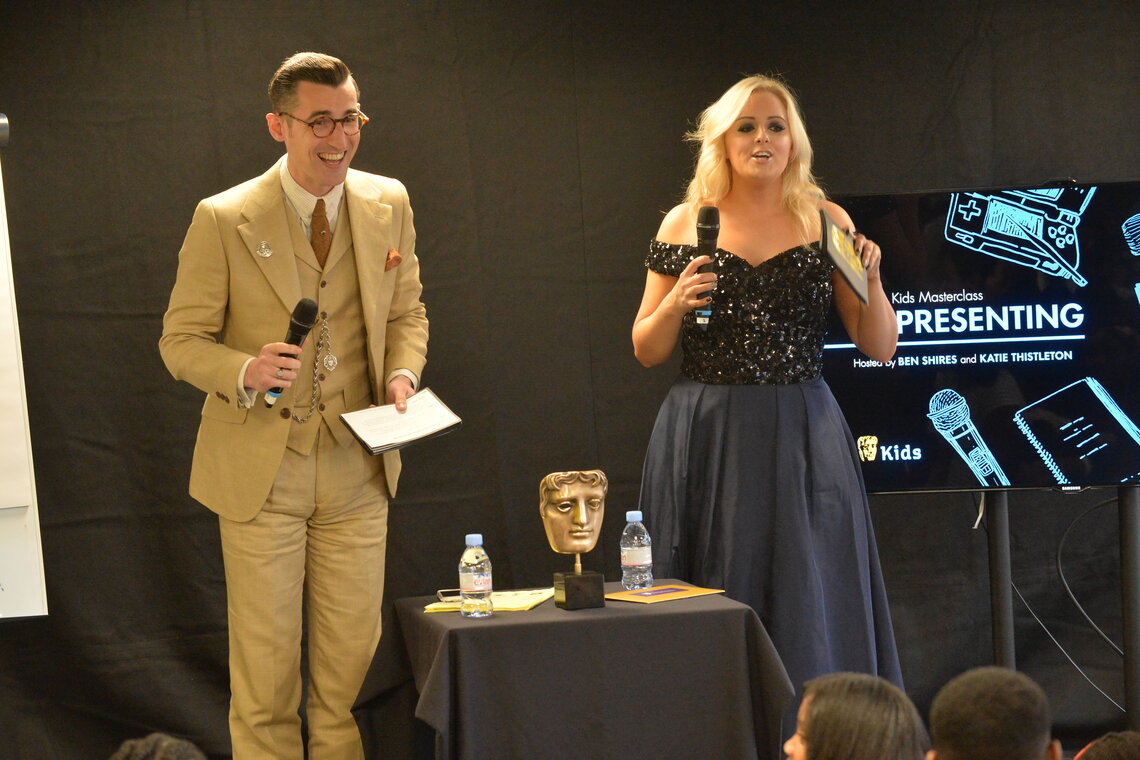 Ben Shires 
"Having grown up in a sleepy market town in East Yorkshire, the nearest I got to 'the biz' was once spying Wayne Sleep in our local branch of Clarks. He left empty handed, (and footed for that matter) presumably after realising they don't stock ballet pumps, and with him danced any dreams I might have had of making it in the entertainment industry. It was only a move down to London in my mid-twenties to become a solicitor that reignited my passion, but I often wonder how different life might've been if I'd asked Wayne how to get on in telly rather than peered at him from behind a brogue display rack, or better still experienced the sort of events BAFTA Kids is now able to offer.
Over the past two years, we've been fortunate enough to become part of BAFTA Kids' live programme across the UK, from Belfast to Brynmawr, offering children who wouldn't normally receive such opportunities the chance to experience first-hand the exciting work BAFTA Kids provides, as well as meeting the stars of their favourite shows, learning the skills it takes to be a TV presenter and winning prizes along the way (although not, as is often hopefully asked, a BAFTA statue!)
I first met Lisa Prime, our multi-talented and incredibly perceptive events organiser, at the Children's BAFTAs in 2013, and instantly warmed to her (she was very complimentary about my presenting skills, after all). When she suggested that Katie and I spearhead a new BAFTA Kids initiative to bring BAFTA closer to its young audiences, we both felt it was a fantastic idea, and ever since our first event as part of the Leeds Young Film Festival in 2014 we haven't looked back."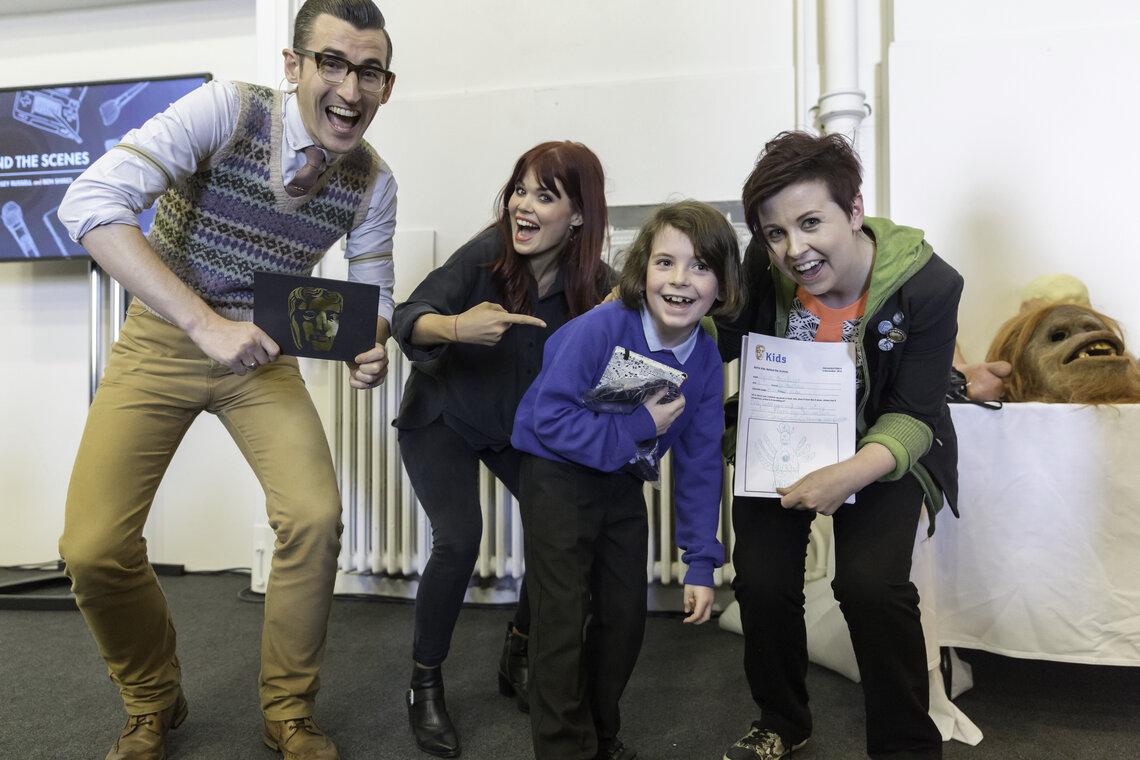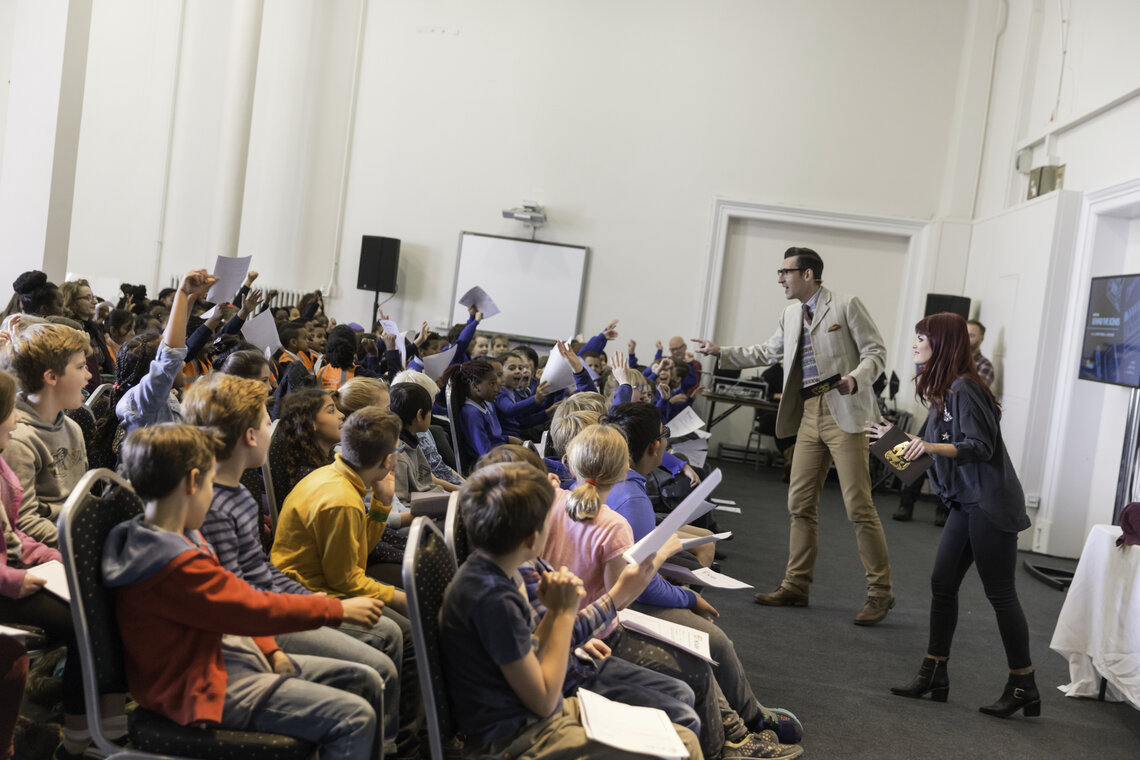 BAFTA Kids Behind The Scenes provides an interactive seminar where the role of the Academy in nurturing and encouraging success is placed at the forefront, and it's an absolute joy to be a part of. Children who have never before dreamed that jobs such as 'animator' or 'computer game inventor' even exist, let alone are achievable aspirations, are given their first experience of a world they could barely have imagined before, and that moment of epiphany never ceases to amaze. 
Similarly, despite us often visiting areas facing social and economic challenges, we're always left inspired by the incredible enthusiasm, creativity and, above all, humour that all children possess; there's yet to be a Q&A session go by without one of us being asked, quite earnestly, how much we earn…but we wouldn't have it any other way!
A particular highlight from the past year for me has been the tie-in event we hosted at Alexandra Palace in November to coincide with the 80th anniversary of the first ever television broadcast. As a history buff, knowing that we were helping to inspire the next generation of creatives from the very spot TV originated was a special thrill, despite the 200 nine year olds in attendance having difficulty comprehending a world without YouTube (or dabbing, as I later learned).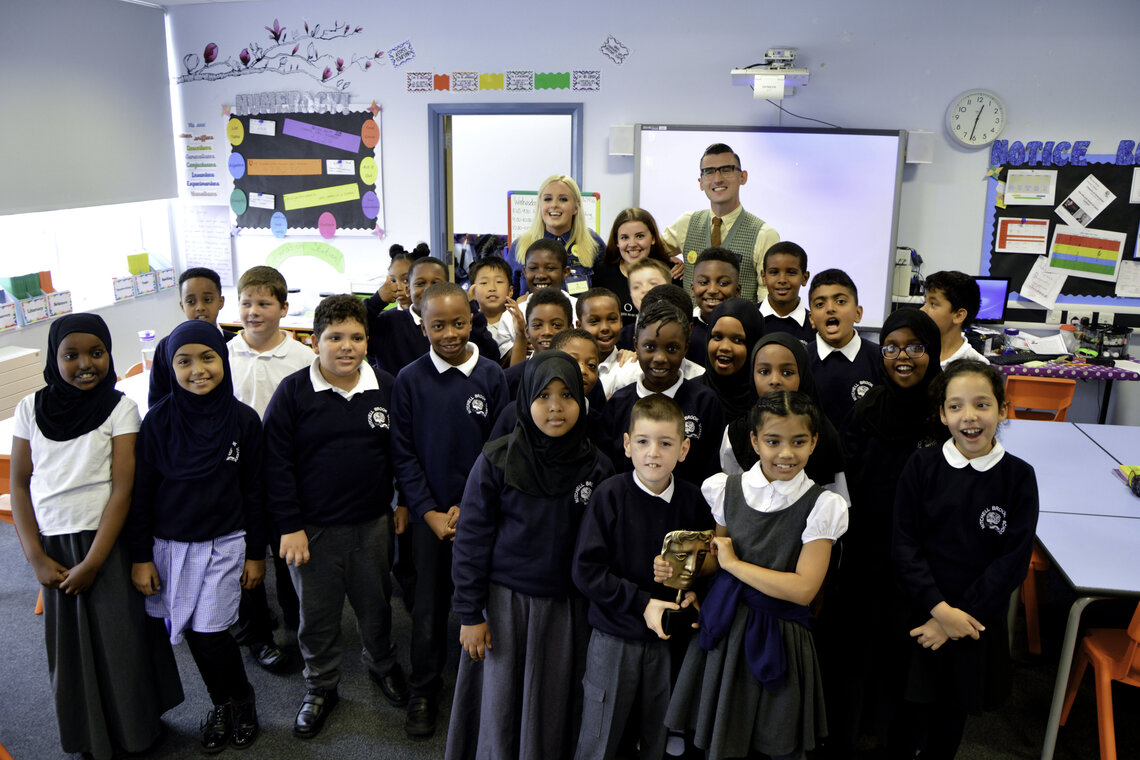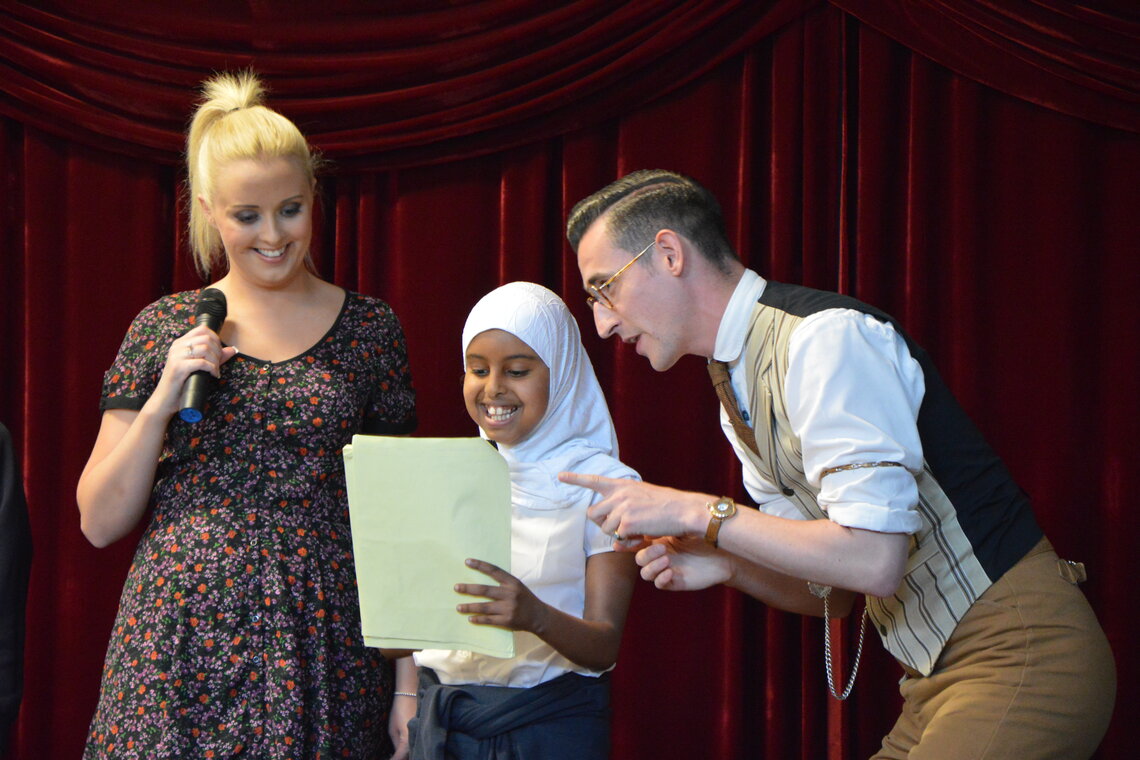 Finally, perhaps our greatest success has been the development of the 'How To Be a TV Presenter' masterclass. Working with smaller groups than the 'Behind the Scenes' events, what began as a fun way to teach kids the skills it requires to become a presenter (spoiler alert: there aren't many), has since evolved into a series of fun, confidence building exercises that seem to strike a chord with almost every child, even those usually deemed shy, disruptive or challenging. There's no greater feeling of accomplishment than being told the child who's just spoken so eloquently in front of their whole class has never done anything like that before, and I think I speak for both myself  and Katie when I say that as long as they don't one day grow up to steal our jobs, we couldn't be more delighted.
Katie Thistleton 
"There's nothing more important to me than positively influencing the next generation. As I like to say, I believe the children are our future (or is that from a song?).
BAFTA Kids is much more than the swanky evening many of us get to enjoy at the end of November each year in which so much very important and well deserved children's content is celebrated. The BAFTA Kids team, particularly Lisa Prime, work tirelessly all year round reaching out to children all around the UK and providing outreach which I believe genuinely does leave them feeling inspired and more confident.
Ben and I, along with Lisa, created the presenting masterclasses which we now take to schools and events around the country on a regular basis following  the success of our 'behind the scenes' masterclass showcasing BAFTA nominated and award winning TV, film and games. Now, alongside sharing brilliant kids content directly with the audience and letting them hold the big shiny BAFTA mask, we also get the opportunity to build their confidence and develop their dreams and aspirations. My favourite exercise involves us splitting into small groups to chat about the things we're good at. I always feel particularly satisfied when a child says to me at first that they're not 'good at anything' but leaves the room with a list of their brilliant traits mentally to hand.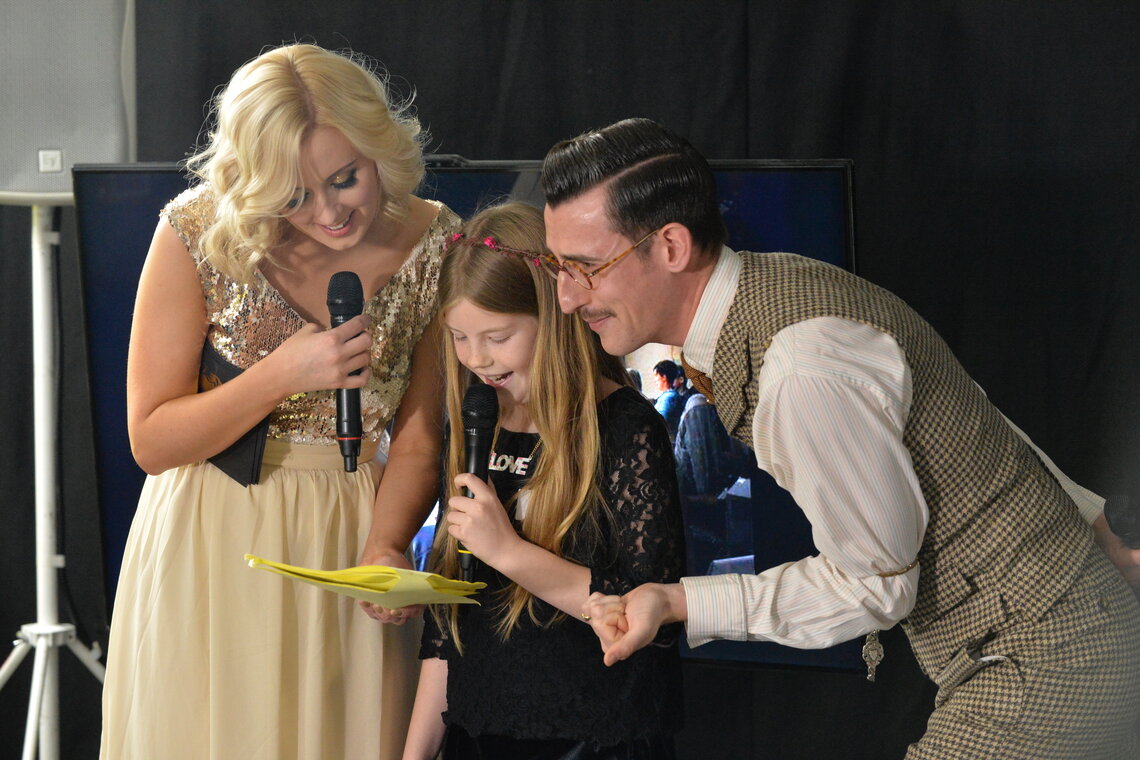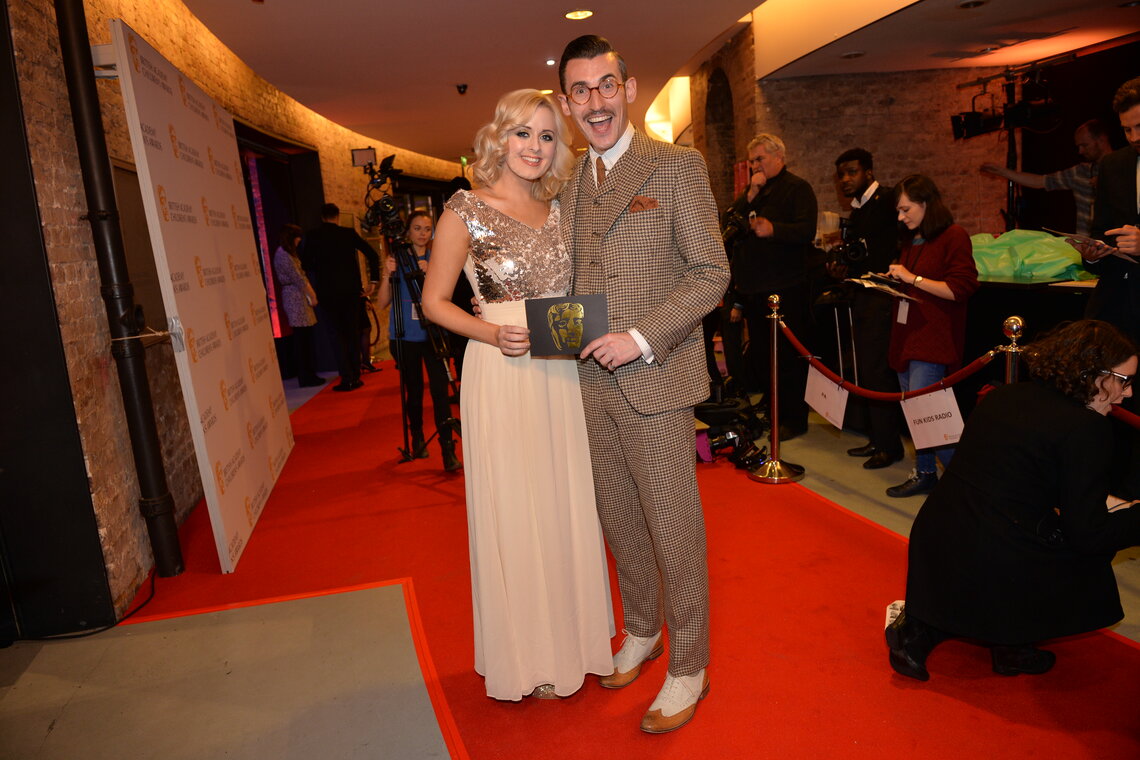 I always enjoy reaching those areas of the UK where young people perhaps feel as though the media and the dream of possessing a BAFTA is a million light years away. Alongside the charity Place2be, which does phenomenal work in schools to support children's emotional wellbeing, we are able to meet these children and show and tell them that they can be anything they want to be. This partnership is, I believe, incredibly important. While Place2be provides counselling and training, BAFTA shows children what goes on behind the scenes of their favourite TV shows, films and games, and together, children who may have low self-esteem or complicated home lives can have a bit of time out, laughing and joking with their friends, exploring their talents and skills and feeling good about themselves, whilst hopefully being inspired to go forward and use the skills we've taught them to shape their futures - whether they want to work in the media or not. I do like to think that we are training up the next generation of BAFTA winners, who will hopefully employ me to present their shows (I do tell them that this is part of the deal).
Alongside these two outreach shows which we regularly take to schools, I've been lucky enough to also host screenings of brilliant Children's TV shows and films - from Operation Ouch to Stickman. It's great to meet the people behind the masterpieces, people like yourselves who are passionate about shaping the ideas of those who haven't yet made their minds up about this often turbulent and confusing world yet.
I presented an award for Learning - Primary this year at the Children's BAFTAs and said that children are supremely honest - often too honest. Being able to receive feedback straight from the audience is a very useful tool for those of us striving to give them what they want. I may be biased - but I hope BAFTA Kids continues to grow and grow. Its work is very important - long may it continue!"