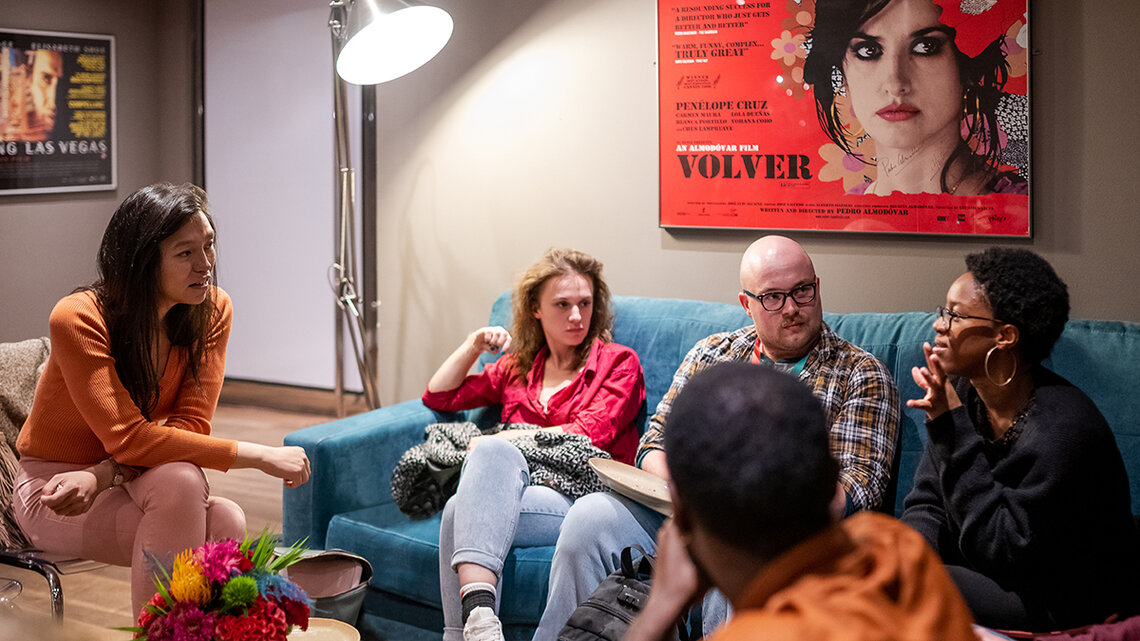 BAFTA/Alecsandra Raluca Dragoi
About the programme
BFI Flare x BAFTA Crew in partnership with BFI NETWORK, showcases and supports the next generation of LGBTIQ+ filmmakers working across film and television, with year-round mentoring and development opportunities.
Since its pilot in 2015 by Creative Skillset and BFI Flare, the programme has supported 36 LGBTIQ+ filmmakers working towards their first feature or major broadcast / online commission. Selected participants are matched with a senior industry mentor, based on their individual needs and ambitions, alongside additional support from BAFTA on how to get the most out of the experience. This programme aims to strengthen professional networks, create new pathways to industry, and offer a space for discussion and better understanding of opportunities and challenges for LGBTIQ+ filmmakers, both in the UK and the global marketplace. 
The programme begins at BFI Flare: London LGBTIQ+ Film Festival (17-28 March 2021), where selected filmmakers will participate in a series of exclusive online sessions with senior industry professionals and Festival filmmakers. Selected filmmakers are then paired with a mentor and meetings will be facilitated throughout 2021. 
Selected filmmakers receive:
At BFI Flare
Industry Accreditation for BFI Flare: London LGBTIQ+ Film Festival (17-28 March 2021), with access to online Press & Industry Screenings, virtual networking opportunities and the Festival's Digital Viewing Library
A bespoke programme of online roundtables with Festival filmmakers and senior industry figures
Throughout the year
Four one-to-one meetings with their selected mentor
Four one-to-one meetings on wellbeing and career development
Industry Accreditation for the BFI London Film Festival (October 2021)
Access to BAFTA's year-round Learning and New Talent programme including BFI NETWORK x BAFTA Crew
Criteria
To be eligible for this opportunity you must: 
Have written, produced or directed a short film which has screened at a BAFTA-qualifying festival within the last 3 years
Or, for writers only: have one piece of full-length theatre work performed professionally in the UK or one radio credit
Be working towards a debut feature film or television pilot/online commission
Be a UK resident
Please note: If your film has not screened at a BAFTA-qualifying festival, but has screened at a number of international LGBTIQ+ film festivals, we encourage you to apply.
Applications are now closed for 2021. Please register your interest here to be notified when we reopen in 2022.