BAFTA believes that all talented individuals, regardless of their backgrounds, should be given the best possible opportunity to succeed in our industries and given an equal chance to shine. We support the next generation in the following ways:
---
BAFTA/Hannah Hutchins
We nurture and support the industry professionals of the future: inspiring, educating and empowering, is at the very heart of our learning and events programme. More than 200 public events take place throughout the year in venues across the UK and US to which we welcome more than 30,000 people, from casual film, television and games fans to career starters and established industry professionals.
▪        BAFTA Rocliffe New Writing Forum
▪        BAFTA GURU - Online resources
▪        BAFTA Cymru Sinemeas - Cinema Tipi
▪        BAFTA Scotland Career Close Up
---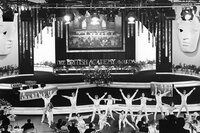 BAFTAAt the centre of BAFTA's  heritage activity, is collecting, preserving and making accessible BAFTA's Archive for the benefit of future generations of industry professionals and the general public. The archive is a unique and therefore precious history of the Academy and moving image arts. We want to see this history preserved, catalogued and made available through digital formats as a database and in exhibitions.
---
BAFTA/Richard Kendal

DAISY'S STORY
Daisy Jacobs, an animator, grew up in a single-parent household in Gosport in Hampshire.
She was awarded a BAFTA Scholarship in 2012 and developed a close working relationship with her mentor, animation cinematographer Tristan Oliver.  Then she went on to win a BAFTA for Best Short Animation and was nominated for an Oscar for her short film, 'The Bigger Picture' and now mentors younger animators.
"I couldn't have made 'The Bigger Picture' without the scholarship. It's as simple as that... When I asked BAFTA for a mentor, I never expected to get a world-class animation cinematographer like Tristan. It was like winning the lottery."