Actor, Director, Producer
28 August 1923
to
23 August 2014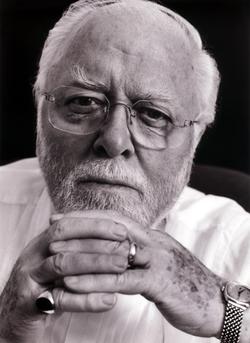 A warm familiarity with the figure of Lord Attenborough may serve to obscure the significance of his considerable achievements in film. First as an actor, later a producer and director, Attenborough was an eloquent advocate for British cinema, and served in various roles – latterly President – in the evolution of BAFTA.
As such he served as Chairman of the Academy between 1969 and 1971 and as First Vice President of SFTA/BAFTA, taking on the role of President in 2002. In recognition of his work behind and in front of the camera Attenborough was made an Academy Fellow in 1983.
His most notable acting roles were, ironically, a world away from his avuncular image. From the psychotic Pinkie in Brighton Rock (1947) to the murderous Christie in 10 Rillington Place; the cowardly submariner in Morning Departure (1950) to the shifty Sidney Cox in Private's Progress (1956); the brilliant PoW leader in The Great Escape (1963) to the tough, lovesick sailor in The Sand Pebbles (1966), he never shirked a challenging role or feared playing a potentially unsympathetic character.
On stage he had the distinction of being – along with his beloved wife, Sheila Sim – part of the original cast of Agatha Christie's The Mousetrap in 1952, appearing in the first of more than 25,000 performances of the longest running play in the theatre.
He starred in his first film as producer, The Angry Silence (1960), and the issues at the heart of this influential trade union drama hinted at a social conscience that would be explored more thoroughly in the films he would direct. Oh! What A Lovely War (1969) was adapted from the production written by Joan Littlewood, and dealt with the senseless carnage of the First World War in an imaginative, haunting and highly cinematic way.
His long cherished dream of telling the story of the iconic Indian nationalist leader Gandhi was eventually realised and released in 1982 to critical acclaim, making Ben Kingsley a star and earning Attenborough both a BAFTA and an American Academy Award for Best Director. Cry Freedom (1987) dealt with the life and death of South African political activist Steve Biko, while Shadowlands (1993) was a beautifully judged film of William Nicholson's play about C.S. Lewis's late flowering romance with the poet Joy Gresham.
He continued to act throughout, starring in Steven Spielberg's Jurassic Park (1993), among others. Over time he directed a diverse range of subjects in a wide selection of genres, his other credits being Young Winston (1972), A Bridge Too Far (1977), Magic (1978), A Chorus Line (1985), Chaplin (1992), In Love & War (1996), Grey Owl (1999) and Closing The Ring (2007).
This last was made while Attenborough was in his 83rd year, a reminder of the stamina and enduring love for the medium of film that are a hallmark of his long and successful career. A passionate filmmaker, a man of principle and – in contradiction of sometimes lachrymose image – possessing the kind of dogged determination that sees films get made after decades of toil, and serve on committees for the greater good of an industry he loved. A titan of British cinema, to say he embodied its finest qualities is to have it backwards. British film would do well to live up to the example of industry, skill and compassion set by Richard, Lord Attenborough.