Actress
27 February 1932
to
23 March 2011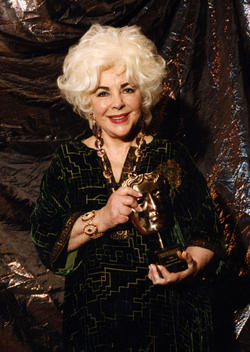 Dame Elizabeth Taylor receives the BAFTA Fellowship in 1999.
---
The Academy was saddened to learn of the passing of one of its Fellows, Dame Elizabeth Taylor.
A movie star who exuded old style Hollywood glamour but had the acting ability to underpin it and reinvent herself for successive generations, Elizabeth Taylor was an icon of modern cinema.
She was much married, twice to Richard Burton during the 60s and 70s, but it says something for the quality of her work that this biographical detail is a footnote rather than a headline. Born in London to American parents, she left for the US on the outbreak of war and began acting professionally while still a child.
After roles in films like Lassie Come Home (1943), she scored a breakout hit with National Velvet (1944). The leap from juvenile to adult roles was accomplished via popular family comedies Like With Father (1947) and Father of the Bride (1950) into more complex, sensual territory with George Stevens' A Place In The Sun (1951).
Her beauty enhanced many Technicolor adventures during this decade, but her talent made her name bigger still. She reunited with Stevens for James Dean's last film, Giant (1956), starred opposite Paul Newman in Cat On A Hot Tin Roof (1958) – for which she was BAFTA-nominated – and won her first Oscar playing a high class call girl in BUtterfield 8 (1960).
She was Cleopatra (1963), and while the film endured a troubled production it was here that she met the love of her life, Burton. They worked together several more times, most notably on Who's Afraid Of Virginia Woolf? (1966) – winning a BAFTA and another Oscar – and The Taming Of The Shrew (1967).
She remained a star in demand, a throwback to an earlier generation of Hollywood glamour, yet still seemed young and vital into her later years. A BAFTA Fellow since 1999, she was named Dame Commander of the British Empire the following year.
---
- Read Dame Elizabeth Taylor's BBC obituary.
- Read Dame Elizabeth Taylor's LA Times obituary.
- Read Dame Elizabeth Taylor's New York Times obituary.
- Read Dame Elizabeth Taylor's Independent obituary.