We searched for people across the country whose passion for film makes them legendary in their communities.
Perhaps they'd saved their local cinema from closure, spent a lifetime serving popcorn or run a mobile film club bringing the big screen to people in remote areas. We asked the nation to nominate people they knew had gone above and beyond purely for their love of film.
We had an overwhelming number of responses and heard incredible stories of people who had done extraordinary things to benefit others and enrich their experience of film. Thank you to everybody who nominated someone, our judges found it extremely difficult to narrow down the submissions but ultimately there could only be 2 winners.
The winners were Iain MacColl of Screen Machine and Dan Ellis of Jam Jar Cinema, pictured below on the red carpet.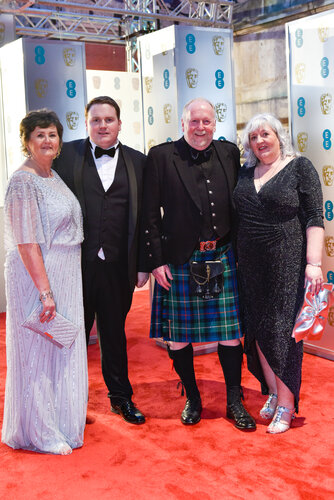 BAFTA/Ricky Darko
Dan Ellis opened Jam Jar Cinema in his home town of Whitley Bay to bring films to his community. Named after the historic Tyneside tradition of being able to get into the pictures with a Jam Jar, it was established as a social enterprise to be affordable and to help bring about change to the town.
Iain MacColl has been the Senior Operator at Screen Machine for over 20 years, bringing films to the Highlands and Islands with the Screen Machine, a truck that converts into an 80-seat cinema when expanded.
As a thank you for their passion for film, BAFTA treated Dan and Iain to the full film star treatment at the 2019 EE British Academy Film Awards on Sunday 10 February 2019 at London's Royal Albert Hall. They received the following goodies from our official partners and the chance to mingle with the best in the film industry, with VIP seats at the awards ceremony:
- An overnight stay at The Savoy with Champagne Taittinger and Villa Maria wines in the room on arrival.
- A private chauffeur to the ceremony in an Audi A8
- Hair and make-up appointments from Paul Edmonds London and Lancôme
- Atelier Swarovski loaned jewellery to complete your red carpet look
- The official Nominee Gift Bag given to award nominees which includes a Nespresso VertuoPlus coffee machine, Bottletop tote and magnum of S.Pellegrino water
Meet Dan and Iain as they're interviewed by Edith Bowman on the red carpet at the EE British Academy Film Awards: