11 July 2014
BAFTA Cymru/Jon Pountney
Cardiff, 11 July 2014: The British Academy of Film and Television Arts (BAFTA) in Wales, BAFTA Cymru, has announced Ludus by Cube Interactive/Boom Kids as the winner of this year's British Academy Cymru Award for Games & Interactive Experience, supported by Glyndŵr University.
About Ludus
Developed for iOS and Android by Cardiff-based Cube Interactive and Boom Kids, Ludus was published by the BBC for the play-along game show on CBBC. Children can use the app to play along with its on-screen contestants while they watch, whether it is live on TV or on catch-up via the BBC iPlayer service. The app works by listening out for signals embedded in the broadcast, inaudible to viewers, to help it synchronise its seven games with the ones being shown on the television. The app gives players the chance to outdo the on-screen contestants.
Presentation of the Award
In a ceremony hosted by BAFTA Cymru on Friday 11 July at the Wales Millennium Centre, Cardiff, as part of the Wales Games Development Show and Digital Innovation Week Wales, the Award and three commendations were presented by BAFTA Breakthrough Brit Mitu Khandaker-Kokoris. Mitu is a game designer, programmer and founder of one-woman indie studio, The Tiniest Shark. Mitu was also named one of Develop magazine's Top 30 Under 30 upcoming developers in 2012.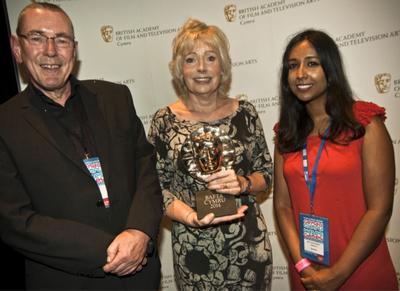 BAFTA Cymru/Jon Pountney
---
Commendations
The three commendation certificates presented during the evening acknowledge excellence within the following areas: Technical Achievement, Artistic Achievement and Gameplay Design.
Award + Commendation winners in 2014
British Academy Cymru Award for Games & Interactive Experience
LUDUS – Cube Interactive / Boom Kids
---
Gameplay Design Commendation
RED REMOVER BLAST – Gaz Thomas Media Ltd
---
Artistic Achievement Commendation
MASTER REBOOT - Wales Interactive Ltd
---
Technical Achievement Commendation
REVERIE – Yello Brick
---