Bobby Warans, prop master, was honoured with the Special Award at the 2017 British Academy Television Craft Awards
---
The following is an extract from the official here.
Bobby Warans, recipient of the BAFTA Special Award at the British Academy Television Craft Awards in 2017, has dressed the sets of television's biggest hits for more than five decades.
Today's viewing audience can see his props adorn Strictly Come Dancing; older viewers will recall the production buyer's sterling work on The Two Ronnies and The Young Ones.
I took to [props] like a duck to water – I loved it
Having studied at art college in Kingston, Warans joined the BBC as a clerk in 1968, "to get a foot in the door", which led to an attachment to the props department. "I took to it like a duck to water – I loved it," he recalls.
Warans' first jobs were as an assistant on long-running cop series Z-Cars and Dixon of Dock Green before he took charge of props on The Carnforth Practice, a short-lived BBC Two drama about a solicitor.
A career in serious drama beckoned, until The Morecambe and Wise Christmas Show offered a glimpse of a different future: "The other prop buyers looked down on light entertainment – all they wanted to do was drama. But I did the Christmas special and thought, 'I'm getting paid to do something I really enjoy – it's all glitter, glitter, glitter and lots of Hollywood.'"
[Mr Blobby] was a thing possessed – we had lovely antique tables smashed to smithereens
He added sitcoms to his roster of shows, including the anarchic The Young Ones and Bottom, in which Rik Mayall and Adrian Edmondson frequently destroyed his props. Mr Blobby, the bulbous pink figure from Noel's House Party, proved even more destructive: "He was a thing possessed – we had lovely antique tables smashed to smithereens."
Warans left the BBC in the late 1990s, setting up his own business, Bobby's Props, and remains a busy man in the industry. He has worked on every series of Strictly Come Dancing, one of his favourite shows, and recently provided props for The Royal Variety Performance on ITV and two BBC shows, the sitcom Episodes and the revived Tracey Ullman's Show.
We gutted this room, wallpapered and carpeted it, and brought in furniture all in pink. She spent the whole time in a crappy dressing room next door… it was bizarre.
It is the lot of the production buyer to deal with odd requests, and the shows he has worked on have frequently asked for some strange objects. But some of the weirdest requests didn't even feature in the shows. For instance, Warans recalls being asked to refit US comedian Joan Rivers' dressing room entirely in pink when she filmed her 1986 BBC show, Joan Rivers: Can We Talk? "We gutted this room, wallpapered and carpeted it, and brought in furniture all in pink. She spent the whole time in a crappy dressing room next door… it was bizarre."
Most television practitioners have experienced working on their fair share of 'whatnot' shows – among the great and the good – but a quick glance at Warans' credits reveals just how many genuine classics he's provided props for over the decades. It's really quite an extraordinary list, each show made all the better by Warans' talent for his craft, and why he's a worthy recipient of one of the Academy's highest honours. He also knows how to tell a good tale or two…
---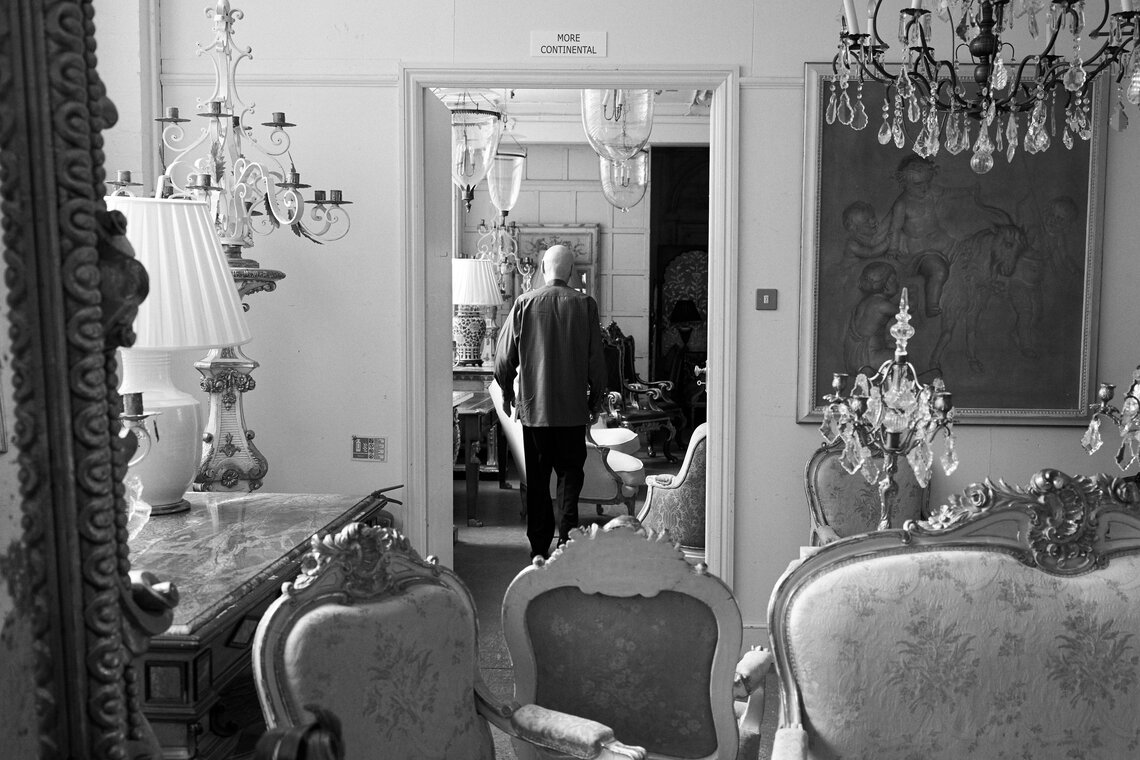 BAFTA/Cat Garcia
Words by Matthew Bell | Portrait by Cat Garcia/BAFTA