19 November 2019
BAFTA Scotland aims to bring the very best work in film, games and television to public attention and support the growth of new talent in Scotland.  We do this by celebrating, inspiring and nurturing emerging talent throughout the year with our comprehensive learning and new talent programme. 
In 2019, BAFTA Scotland held 48 membership screenings in Glasgow and 21 screenings in Edinburgh, including preview screenings of Just Mercy, The Irishman, Mystify: Michael Hutchence, The Personal History of David Copperfield, Little Women and 1917. 
A particular highlight of 2019 was the launch of BAFTA Scotland's Industry Insights programme. This new strand of events is aimed at career starters, these sessions consist of small roundtable sessions in which new entrants to the industry can talk with established practitioners.
On top of that we also hosted numerous television previews, masterclasses and several networking receptions for career starters and students. 
Take a look at some of BAFTA Scotland's events highlights from 2019:
---
FESTIVAL PARTNERSHIPS

BAFTA/James Gardiner
---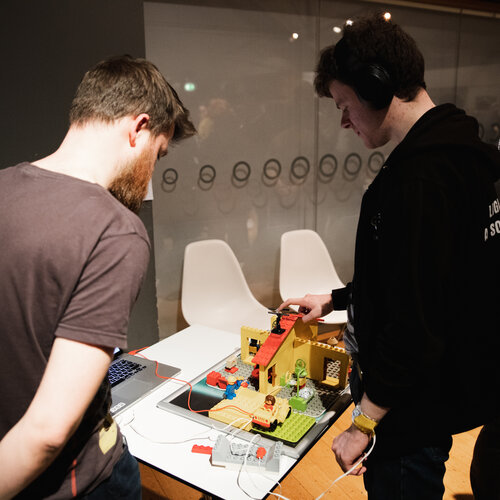 BAFTA/Carlo Paloni
GAMES
BAFTA Crew Games Townhall Meeting - This networking opportunity provided the BAFTA Crew Games cohort to meet and discuss future events and networking in Scotland and the North.
Mike Bithell in Conversation - this event was hosted at Abertay University in Dundee in association with SDGA. Mike discussed his newst game John Wick Hex, and many other aspects of the behind the scenes of video game development. 
Play Party at Guru Live Glasgow - To celebrate the amazing work and creativity of game jammers in Scotland, the winners of the three IGDA Scotland Play Parties across Dundee, Edinburgh and Glasgow were available for attendees to play at the networking drinks after Guru Live Glasgow 2019
---
GURU LIVE GLASGOW 2019
BAFTA/Carlo Paloni
Guru Live Glasgow returned in March for the third year. The festival welcomed over 400 students, industry practitioners and career starters to the Lighthouse for a jam packed day full of panels, masterclasses and workshops with the very best in the creative industries. 
Get on Track: Casting with line-producer Clare Kerr and casting director Simone Pereira Hind - hosted by director Michael Hines 
In Conversation with Reece Shearsmith hosted by broadcaster and writer Muriel Gray
Telling Stories: TV Drama with Louise Ironside, Paul Logue, and Sarah Phelps - hosted by Sarah Brown
Get on Track: Budgeting your Short Film with producer Stuart Condy and director Tim Courtney - hosted by Sara Putt 
Telling Stories: Factual with director/producer Jack Cocker, director/producer Becky Read, and commissioning editor Hamish Fergusson - hosted by Mick McAvoy 
Masterclass: Directing TV with Douglas Mackinnon hosted by Carolynne Sinclair Kidd
Get on Track: Pitching with Louise Thornton (Digital, Social and Youth Commissioner, BBC Scotland), and Claire Zolkwer (Managing Director, Thunderclap Media) - hosted by Toby Stevens, Head of Objective Media Scotland
Masterclass: Creating Happy! with Luke Smith and Friedl Jooste - Axis Animation
Masterclass: Stan & Ollie with director Jon S. Baird and editor Úna Ní Dhonghaíle ACE  hosted by Sanjeev Kohli 
Masterclass : Scot Squad with creator Joe Hullait; director Iain Davidson; actors Julie Wilson-Nimmo, Sally Reid, and Manjot Sumal - hosted by Grant Stott
---
BAFTA Scotland/Tessa Buchanan
INDUSTRY INSIGHTS
Curfew with Frith Tiplady (Executive Producer), Suzanne Reid (Co-Producer) & Tom Sayer (Production Designer)
The Victim with Sarah Brown (Executive Producer, Head of Drama, STV Productions), Rob Williams (Writer) & Niall MacCormick (Director)
Wild Rose with Nicole Taylor (writer) & Faye Ward (producer)
Inside the Operating Theatre with Jacqueline Hewer (Creative Director of Brown Bob Productions), Audrey Neil (Executive Producer) & Hilary Rosen (Head of Factual & Factual Entertainment, UKTV)
Sigma Films with Danny McGrath (1st Assistant Director) & Brian Coffey (Producer)
Guilt with Neil Forsyth (Screenwriter), Jules Hussey (Producer) & Robert McKillop (Director)
Traces with Amelia Bullmore (Screenwriter) & Val McDermid (Executive Producer, Writer)
Elizabeth is Missing with Andrea Gibb (Screenwriter), Aisling Walsh (Director) & Chrissy Skinns (Producer)
---
TV PREVIEWS

BAFTA/Carlo Paloni
Curfew + Q&A with Suzanne Reid (co-producer), Tom Sayer (production designer), & Frith Tiplady (executive producer)
The Bay + Q&A with actor Morven Christie, Sophie Bicknell (Script Executive), and Patrick Schweitzer (Tall Story Pictures Executive Producer)
The Victim + Q&A with Kelly Macdonald (actor), John Hannah (actor), Rob Williams (writer) & Sarah Brown (executive producer)
Good Omens + Q&A with director Douglas Mackinnon
Guilt + Q&A with Neil Forsyth (writer), Robert McKillop (director), Jules Hussey (producer) and Mark Bonnar (actor)
Traces + Q&A with writers Val McDermid and Amelia Bullmore, executive producer Juliet Charlesworth and actor Laura Fraser
Elizabeth is Missing + Q&A with director Aisling Walsh, writer Andrea Gibb and producer Sarah Brown.
---
SCREENINGS WITH Q&As

BAFTA/Carlo Paloni
Yuli + Q&A with director Icíar Bollaín (Glasgow)
Yuli + Q&A with writer Paul Laverty (Edinburgh)
Wild Rose + Q&A with writer Nicole Taylor and producer Faye Ward 
Harry Birrell Presents + Q&A with director Matt Pinder and producer John Archer
Shaun The Sheep: Farmaggedon + Q&A with producer Paul Kewley and Directors Will Becher and Richard Phelan
Eminent Monsters + Q&A with director Stephen Bennett
---
Visit the BAFTA SOUNDCLOUD PAGE to listen to podcasts from our events in 2019. 
---