8 October 2015
On 24 September 2015, BAFTA New York honored the 2015-2016 Scholarship recipients at BBC America. 
It was a beautiful morning, full of sunshine with a lovely September breeze, on the terrace at 11 Penn Plaza at the offices of BBC America, the site of the 3rd Annual BAFTA New York Media Studies Scholarship Program. 
In attendance were the scholars, Amina Ebada, Salomeya (Sally) Lomidze, Jeremy Norris, and Lamont Baldwin, all studying at Brooklyn College; Charlotte Wells and Giuliana Monteiro at NYU Tisch School of the Arts; Matthew Marquez at Hunter College, and Melisande Bliss at City College of New York.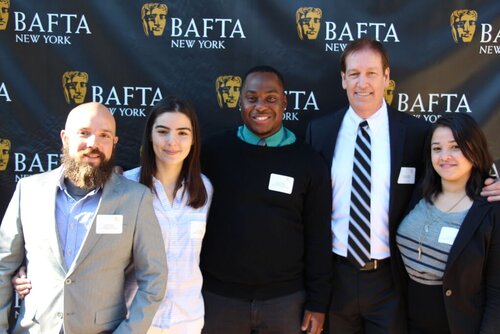 Sponsors included host Jo Petherbridge of BBC America, Don Taffner, Jr. and Jeff Cotugno (also a member of the Outreach Committee) of DLT Entertainment, Doug Schwalbe (also a member of the Outreach Committee) of Dreamworks Animation, Sarah Kozak of Discovery Communications and Susan Margolin of Cinedigm (also Co-Chair of the Outreach Committee).  
Also in attendance were representatives from the participating schools including Stuart MacLelland of Brooklyn College, Andrew Uriarte of NYU Tisch School of the Arts, Theoni Angelopoulos and Jorge DeJesus from Hunter College, and Andrea Weiss, Deidre Fishel and Jerry Carlson from CCNY.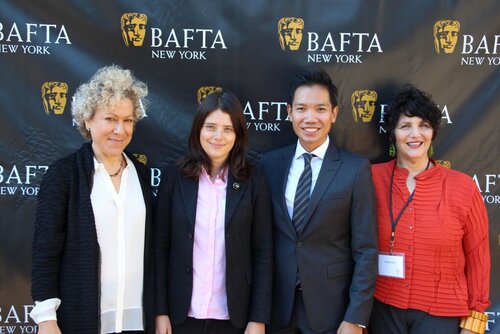 Many BAFTA New York board members  attended, including Chairman Luke Parker Bowles, Chairperson of the Outreach Committee, Linda Kahn, and Patrick Connolly.  Outreach Committee members were there to cheer the scholars on as well, including Nelsa Gidney, Heidi Klamitz, and Bruce Rabinowitz, to mention a few.