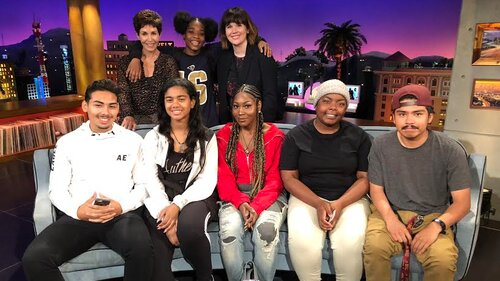 BAFTA Los AngelesHow were you originally connected to BAFTA? 
After being my husband's plus-one at many BAFTA events and screenings for over 30 years, it was the BAFTA Outreach Program, part of BAFTA's Access for All initiative, which motivated me to become a professional BAFTA member. That was approximately 10 years ago.
What motivated you to work with the Access for All programs?
What inspired me was learning that BAFTA members were taking time out of their busy professional lives to mentor under-served students in an inner city high school. Being a mom of 2 young adults and a film editor, I felt perhaps I had something to offer.
What makes your volunteer time meaningful?
From the first day that I walked into the classroom, I saw that the need was great.  I returned often and worked closely with students as they developed the skills and confidence to tell their stories.  Their honesty was extraordinary and at times heartbreaking.  Friendships and trust were created.  Witnessing those, "Ahaaaaa" moments when a student's story began to work or when they began to grasp the concepts of film editing, and witnessing their pride and confidence begin to grow because their classmates and teachers celebrated their accomplishments, have been some of the most satisfying times in my life.
What is the best thing about your experience with these programs?
The commitment can be daunting at times, but the deep satisfaction and pure happiness when a young person from a challenged background and community, who has been told most of their lives that they won't and can't make it, reaches out to me with a success story, makes it all worthwhile.  We are the bridge to those students who have the talent and desire to be in the film business, through the internships and jobs that BAFTA Access For All works hard to provide, along with the connections, support and friendships developed within our organization.  I am proud to be a part of this inclusive program and of the lives of the many young people whom we have mentored, and whose lives we have touched.