19 August 2014
The Inner City Cinema project, one of BAFTA Los Angeles' outreach initiatives, has continued this summer with a series of sports-themed film screenings.
Amidst the height of excitement for the 2014 FIFA World Cup in Brazil, BAFTA Los Angeles came to Roosevelt Park to present a special screening of AFRICA UNITED, the work of former BAFTA Brit to Watch director Debs Gardner-Paterson.
The event included a special Soccer Challenge hosted by LA Galaxy, with special prizes and giveaways for the best soccer skills on display.
Later in August, BAFTA Los Angeles returned to the park to bring popular Baseball film THE SANDLOT along with stars James Renna and Chauncey Leopardi and the film's cinematographer Anthony Richmond.
Beginning with one city park in 2005, BAFTA Los Angeles' Inner City Cinema program has grown to bring films and filmmakers to the city's most underprivileged areas. Since that time, the success of the program has seen screenings expanded to Athens Park, Ted Watkins Parks and now Roosevelt Park.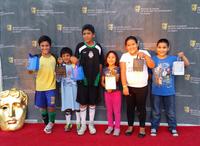 The Inner City Cinema project has had a tangible, positive effect on an area in which gang-related crime was very prevalent. The response from the local community has been considerable.
"Roosevelt Park's staff and community would like to thank BAFTA for giving our families an opportunity to fellowship as a community with activities and movies" said Recreation Services' Charlotte Robinson-Perkins. "This community is truly appreciative of BAFTA creating memories for the children and sharing the filming world with us".
BAFTA sincerely thanks our Outreach Committee and its Members for all their hard work in making our Inner City Screening projects so successful.
To our Members, do YOU have a film you would like to bring to our Inner City Cinema program? Please get in touch. We are looking for fun and inspirational films suitable for all ages, and in particular those with a strong positive message. We would love to hear from you, so please contact us.