23 May 2012
In celebration of our 25th Anniversary, BAFTA Los Angeles proudly co-presented a complete retrospective screening series of every official James Bond 007 film.
2012 marks not only the 25th Anniversary of BAFTA Los Angeles but also the 50th Anniversary of the legendary film series, which begin back in 1962 with Dr. No.
Teaming up with our friends at the American Cinematheque, BAFTA Los Angeles co-presented a special public series: 007 AT 50: THE COMPLETE JAMES BOND RETROSPECTIVE.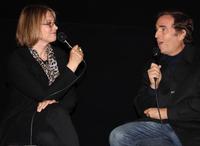 Lee Christian/American CinemathequeHeld throughout June at the Egyptian Theatre (Hollywood) and Aero Theatre (Santa Monica), the series included screenings of every single installment in the James Bond 007 series and included appearances by stars including Maud Adams (Pictured), Gloria Hendry, Diana Lee Hsu and Robert Davi as well as two-time director Martin Campbell. The series also included clips from the BAFTA Los Angeles Heritage Archive project, with interviews from Roger Moore, Ken Adam and Michael Apted.
BAFTA Los Angeles was thrilled to be partnering with the American Cinematheque on this tribute to one of the UK's most iconic film series.
007 AT 50: THE COMPLETE JAMES BOND RETROSPECTIVE.
Friday, June 8 – 7:30 PM
The Egyptian Theater, Hollywood
Double-Bill
DR. NO
FROM RUSSIA WITH LOVE
Saturday, June 16 – 7:30 PM
The Aero Theater, Santa Monica
Triple-Bill
FOR YOUR EYES ONLY
OCTOPUSSY
A VIEW TO A KILL
Saturday, June 9 – 7:30 PM
The Aero Theater, Santa Monica
Double-Bill
GOLDFINGER
THUNDERBALL
Sunday, June 17 – 7:30 PM
The Aero Theater, Santa Monica
Double-Bill
THE LIVING DAYLIGHTS
LICENCE TO KILL
Sunday, June 10 – 5:00 PM
The Aero Theater, Santa Monica
YOU ONLY LIVE TWICE
ON HER MAJESTY'S SECRET SERVICE
Friday, June 22 – 7:30 PM
The Aero Theater, Hollywood
Double-Bill
GOLDENEYE
TOMORROW NEVER DIES
Thursday, June 14 – 7:30 PM
The Aero Theater, Santa Monica
Double-Bill
DIAMONDS ARE FOREVER
LIVE AND LET DIE
Saturday, June 23 – 7:30 PM
The Egyptian Theater, Hollywood
Double-Bill
THE WORLD IS NOT ENOUGH
DIE ANOTHER DAY
Friday, June 15 – 7:30 PM
The Egyptian Theater, Hollywood
Triple-Bill
THE MAN WITH THE GOLDEN GUN
THE SPY WHO LOVED ME
MOONRAKER
Sunday, June 24 – 7:30 PM
The Aero Theater, Santa Monica
Double-Bill
CASINO ROYALE
QUANTUM OF SOLACE