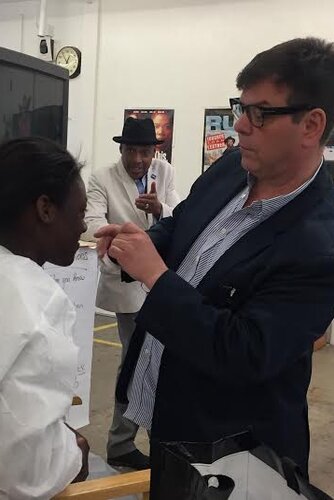 Tell us a little bit about you.  
By occupation I'm a HOD make-up designer – make-up, hair, prosthetics – a bit of everything. I've been working for 30+ years – I've given up counting! I became a BAFTA member back in around 1989 and have become more involved over the last 10-15 years.
What most interested you about the Access for All programs?
People talk about diversity and having people participate, but we actually have to be the ones to start that process. For me, that comes from young people having opportunities. What I found with BAFTA LA was it was specific to people who don't have those connections or opportunities. That interested me, because I came into the industry not knowing anyone, so I think I developed a strong sense of wanting to help other people because I know how difficult it is.
What motivated you to get involved?
What I noticed right away is any time you deal with young people, everything's about acting, directing, writing. And yet we didn't see people being interested in the art department, which is a huge area – it covers props, set dressing, art direction, production design, make-up, hair, costume, music, editing, sound, cinematography. That's when I first reached out to get involved with students at Washington Prep [one of BAFTA LA's partner high schools]. I really wanted to talk, not just about make-up, but other areas I have enough knowledge about to say: well, have you thought about this?
Do you have a standout experience from your time as a mentor?
BAFTA brought one of the students to Warner Bros after I got permission to bring him on the set on a job I was working on. The look on his face was like it was Christmas day and it made me quite emotional. He now works in a make-up effects shop in Hollywood after I called a colleague and asked if they would consider hiring him. You could go to film school upon film school upon film school. All you ultimately want, if you're interested in making movies, is to get your first job.
I've had a number of experiences with BAFTA's programs which left me feeling not only emotional, but like we really need to do this.
What would you say to a fellow BAFTA member who was considering volunteering their time with any of the Access for All programs?
I think it's very important to give of yourself to people. I never liked the expression 'give back', because really you learn a lot about yourself. When you meet these kids and do a demo and they love it – it's fantastic. We lose that in ourselves - that bit of magic. Something gets lost in our own drama of life and the stress and the paperwork. So, I've found it very beneficial, not just for the young people but for me.
I would say to other BAFTA members: if you feel you have something to offer, you should do it. Even if it's just a couple of hours, you will make a difference.