16 October 2013
BAFTA LA/ Kevin Winter
Idris Elba was honored with a BAFTA Los Angeles Britannia Award in 2013 at the awards show hosted by Rob Brydon.
Idris Elba
Idris Elba received the Britannia Humanitarian Award, presented previously to Richard Curtis, Don Cheadle and Colin Firth. The award recognizes colleagues who have used their status in the industry to highlight humanitarian causes.
"Idris Elba has used his success in Film and Television to turn the spotlight towards a very deserving cause. His work with the Princes Trust for disadvantaged youth is highly commendable, and in complete accord with BAFTA Los Angeles' own work in the inner city," said Gary Dartnall, Chairman, BAFTA Los Angeles.
Elba is being honored for his work with the UK charity The Prince's Trust, founded in 1976 by HRH Prince Charles to help disadvantaged youth. The recipient of a grant from The Prince Trust himself, Elba was able to attend The National Youth Music Theatre at the age of 16; something he credits with changing his life. Starting his work with the Trust as an anti-crime ambassador, Elba helped launch campaign, aiming to help young people caught in the recession.
---
Rob Brydon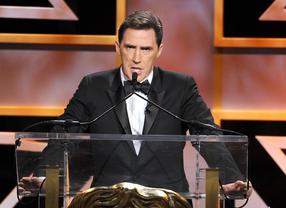 BAFTA LA/ Kevin WinterIn 2013, the Britannia Awards were hosted for the first time by Rob Brydon. Brydon is an award winning actor, writer and producer including five BAFTA TV Award nominations, two British Comedy Awards, and a Royal Television Society award.
>
---
About the Britannia Awards
The Britannia Awards are BAFTA Los Angeles' highest accolade, a celebration of achievements across the film, television and video games industries.
honoring individuals and companies that have dedicated their careers to advancing the entertainment arts.
---