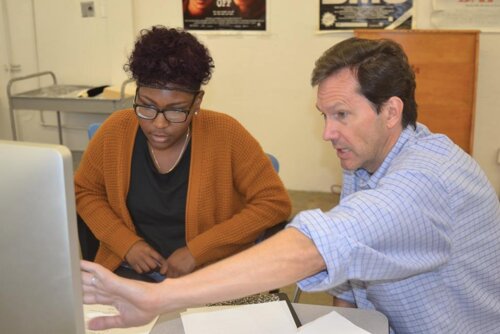 BAFTA LATell us a little bit about you.  
I'm a television writer/executive producer/showrunner with 24 years in the business... so I guess that makes me a "showbiz veteran"?  I've written for both comedies (like Frasier) and dramas (Desperate Housewives) and co-created the series Superior Donuts for CBS.
How were you first connected to BAFTA? 
Before I was a member, my friend Sharyn Ross told me about her work with BAFTA's Access for All programs -- the opportunity to join her in that work is what prompted me to apply for membership. (It wasn't the parties or the free screeners, I swear!)
What motivated you to work with the Access for All programs?
I still remember, with incredible gratitude, the people who helped me break into the business when I moved to LA, and I've always tried to pay that forward.  Also, I'm the father of two kids who are fortunate to have many opportunities in life... and it's important to me to do what I can to help young people who were not born with those same opportunities.
What makes your time as a mentor meaningful?
Seeing those "AHA!" moments when young people realize they are absolutely smart enough and talented enough to do the work required to have a career in Hollywood.  I put together a simulated writer's room for students at Washington Prep High School, where we came up with ideas for a short film, then broke the story down into scenes -- it's something I've been doing for 24 years, but watching them figure it out, and come up with such cool, interesting ideas, was incredibly rewarding.  It also made me look at my own work with a fresh perspective, and with gratitude that I get paid to do it.
Can you share a standout moment from your work with BAFTA's programs?
I've been lucky to be able to offer jobs/paid internships to a couple of BAFTA students, and I can tell you -- there's nothing more fun than giving people their first job in Hollywood.  Especially people who are so capable and deserve to be represented in our industry.