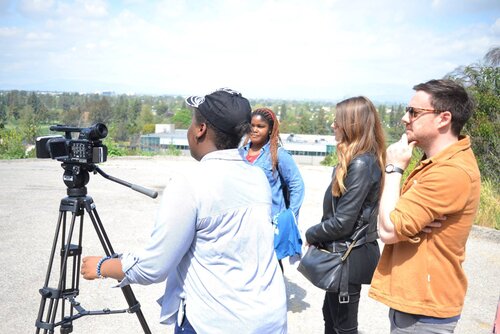 Tell us a bit about you and what you do for a living.
I'm a writer, director and editor, born in the Isle of Man, living in LA since 2015. I direct and edit commercials and feature films and specialize in character-driven drama, often using improvised dialogue. I released my first feature film in 2014, in 2019 I completed a 1-hour TV pilot and in early 2020 I produced and directed a theatrical adaptation of a screenplay I'd written. I'm currently in pre-production of my second feature 'Malcolm's Mountain' to be filmed in and around Asheville, NC, in 2021.
How did you first become involved with BAFTA?
I was lucky enough to be chosen to join the 4-year Bafta LA Newcomers program from 2016-2020, now I'm a Newcomer Alumni.
What motivated you to work with the Access for All programs?
As part of the BAFTA LA Newcomers Program we had the chance to visit George Washington Prep to work with Darryl McCane's film class, as part of BAFTA's outreach program. I visited a few times and absolutely loved Darryl's approach and ethos, and saw how much of an impact Sharyn [BAFTA's Head of Outreach] had made on the kids. I then took part as a mentor in BAFTA's yearly filmmaking program in partnership with NYFA. Since then I've volunteered for a few other events and programs with Sharyn and I'm the directing mentor on the BAFTA LA Filmmaking Collective.
What has been most rewarding about your volunteer time?
Equally rewarding and enjoyable was taking part in the BAFTA/NYFA program shoot on the Universal Studios backlot, seeing the Washington Prep high school students who I'd worked with put those skills into practice on the backlot, then being present for the editing process to help them shape their shorts into finished pieces.
Any advice to other people who might want to get involved?
Get involved, you won't regret it. The program is run by great people who give up so much of their time. Seeing what the Access for All participants create is always inspiring and a great reminder to just get on with making something, anything. This program has given so many unbelievable opportunities to young people from underrepresented backgrounds and to see them flourish in professional roles years after taking part in one of the programs is hugely satisfying.