Time is a precious commodity and giving up yours is one of the most generous ways that you can support us in achieving our charitable ambitions around the world.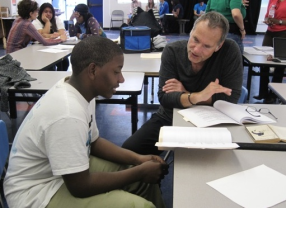 We are looking for BAFTA members, award winners and industry organisations to put themselves forward for roles within our mentoring and educational programmes. Share your expertise with the next generation of talent from one-to-one mentoring, to giving a lecture to students, to discussing your career during a live-streamed online Q&A, to helping us find and support the BAFTA winners of the future.
We are particularly keen to sign up mentors based outside of London who specialise in SFX, cinematography, production design or animation.
---
Ways You Can Get Involved...
Careers Talks
Mentoring
Guest Lectures
Identifying & Showcasing New Talent
---
Careers Talks for Young People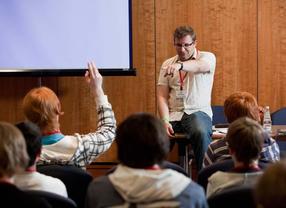 BAFTA/ Mike WilkinsonOur industries may be popular career choices but, for some talented young people, knowing how to use their skills to best advantage can be a challenge. We work with partners to enable industry professionals to talk to schools and youth groups in the UK and US about the breadth of roles available, the routes they might consider and the realities of working in a professional capacity.
Recent examples include: intimate careers surgeries and online Q&As for 16-19 year-olds participating in the BFI Film Academy; games design workshops for 11-16 year-olds at schools and games expos; and school visits in partnership with Into Film, Speakers For Schools and STEMNET.
BAFTA members, award winners and nominees are speaking in schools and youth groups across the country about their craft skills and career experiences. The activity is in partnership with education charities Into Film, Speakers for Schools and STEMNET. See here for more info >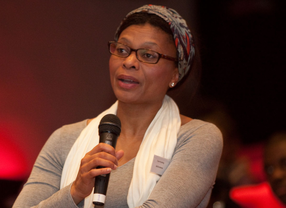 Dan Pearce learnt about the BAFTA Young Games competition at an expo in 2010, and went on to win the competition the same year. Now studying games design at university, Dan was recognised as a BAFTA Breakthrough Brit, in partnership with Burberry, in 2013 - one of 17 talented newcomers who are making a name for themselves within film, television or games.
"The talks were inspiring and I thoroughly enjoyed doing this - now I will definitely think about joining the business" - Aimee, aged 13
---
Mentoring Talented Newcomers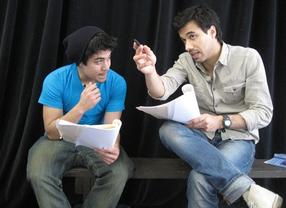 For newcomers without family connections to the industry, mentors are a valuable source of personalised advice and insights. BAFTA Mentors work with mentees at various stages in their career, from those in their teens who have taken part in a recognised industry course, to postgraduate students in receipt of BAFTA scholarships, to winners of initiatives that award up-and-coming talent. In the States, BAFTA mentors help those who have transferred from the UK to the US with the transition. The mentoring relationship is often one-to-one, but can be one-to-many, and can last from a few months to a full year.
Luke Stapleton who received a BAFTA scholarship to study an MA Screenwriting, is mentored by BAFTA-winning screenwriter Peter Moffat. Luke said of the relationship:
"I have received very valuable feedback [from Peter] on a script of mine that I am adapting, and I have been to a BBC script meeting for the new drama series that he is writing, with the prospect of experiencing many of the other stages of pre-production ... It has been a great experience for me so far, and I am looking forward to what may come."
BAFTA Mentor Peter Moffat added: "It has been a great pleasure mentoring Luke. BAFTA provides a really useful structure within which to build an effective working relationship."
---
Guest Lectures for Students on Accredited Courses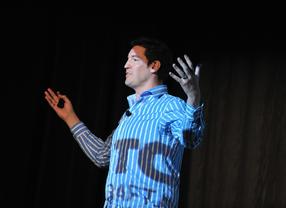 Angela Weiss/Getty Images for BAFTA Los AngelesBAFTA runs an extensive Guest Lecture Programme, in partnership Creative Skillset, consisting of a series of lectures that bring the brightest creative and technical professionals from the worlds of film, television and games, together with the next generation of talent.
The lectures in 2013 have been delivered across a range of creative and technical fields including games design, animation, screenwriting, production and post-production.
In January, Neil McKay gave a masterclass on screenwriting to students at Liverpool John Moores University. John Maxwell, Lecturer in Screenwriting at the university's Screen School, commented: "Visits such as this are invaluable for our students, enabling them to learn first-hand from leading professionals. The wealth of experience that Neil has to draw upon is truly inspiring for anyone beginning their career in this industry."
---
Identifying and Showcasing New Talent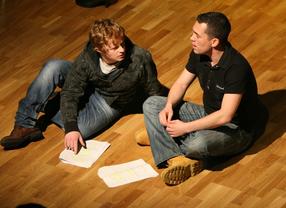 BAFTA/ Jim CorrBy identifying and showcasing new talent, we aim to support and encourage the potential BAFTA winners of the future. To do this, we have a range of initiatives where individuals can respond to an open call for applications for the chance to have their work showcased by BAFTA, receive mentoring support, and free access to BAFTA events around the country.
These initiatives, which include BAFTA Breakthrough Brits, BAFTA Young Game Designers and the BAFTA Rocliffe New Writing Forum, rely on panels of industry experts who volunteer their time to identify the most deserving candidates.
Writing team Anne-Marie Draycott and Charity Trimm were selected to take part in the BAFTA Rocliffe New Writing Forum in 2011, which involved industry introductions in the UK, and a performance of their script at the New York Television Festival. This resulted in a commission to write a sitcom pilot for the BBC. Anne-Marie and Charity said: "Winning the 2011 Bafta Rocliffe Comedy Scriptwriting Competition has had a massive impact on our writing career. Then the icing on the cake, was being taken on as writers and performers by United Agents."
---
Can you help?
If you think you can help, fill in the form below and a member of the BAFTA team will be in touch.
Please note, there are limited spaces available and we may not be able to find a role for every applicant.