26 July 2018

BAFTA recently asked its games members to look into their crystal balls and share their predictions for the immediate future of the industry. Responses were varied, but one of the most common themes was the emergence and acceptance of Virtual Reality (VR) and Augmented Reality (AR) to enhance player experiences. Here, Dave Ranyard, founder of Dream Reality Interactive, member of BAFTA's Games Committee and deputy chair of BAFTA's Immersive Entertainment Advisory Group, offers his thoughts on where these sister technologies may take us in the not too distant future... Words by Dave Ranyard.
---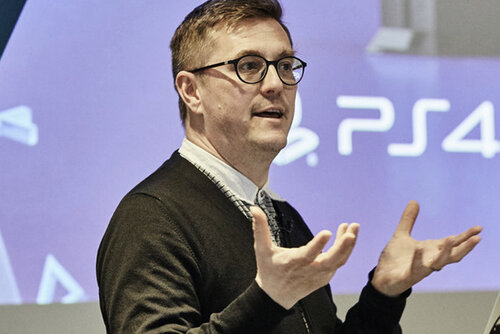 BAFTA/Stephen Butler
---
Probably two of the hottest buzzwords of the past decade are 'Augmented Reality' (AR) and 'Virtual Reality' (VR) (along with 'blockchain/AI/' and 'Big Data', but let's stick to the immersive world for now). But what do these really mean? What is the current state of these burgeoning sister technologies and where are they headed next? Here, I hope to answer these questions and shed a little light on these future-facing innovations both from a consumer and a creative viewpoint.
I first worked on AR back in the early 2000s on a game called EyeToy: Play for PlayStation 2. The basic idea was that you plugged a webcam into your console and you could see yourself on screen and interact with games, characters and more. Super simple, but engaging and fun nonetheless. Fast forward to 2018 and AR is probably one of the most important innovations for the big tech companies right now.
AR has been incorporated into our phones (by phones, I mean the highly advanced connected computers we carry around in our bags and pockets) as ARKit in iPhones and ARCore in Android. It is pretty common knowledge that both these tech giants see AR as the new platform to engage the world's consumers. And note that there are already 500 million phones (20-25 per cent of smart phones) that are AR ready.
Microsoft is also a big player, but from a different angle: its hololens is a head-mounted AR device aimed at business and productivity. And, we also have new players, such as Magic Leap. This company has attracted around $2.3 billion investment to make a wearable AR headset, which is oft quoted as the biggest mystery in the immersive space. The first headset is due out later this year, or perhaps early next.
---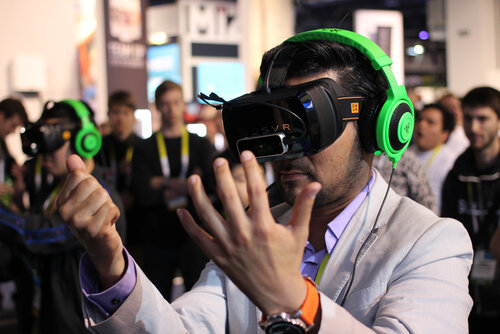 Maurizio Pesce
---
This is a great segue into VR. I have had the great fortune to also work in this field since 2011. Unlike AR, VR only works with a head-mounted display (HMD) or headset. But, just for clarity, here is the main difference between AR and VR: AR adds or 'augments' the world we are in – for example, in a game we made for PlayStation 3, EyePet, a pet was added to your environment – while VR transports you to a different reality, a virtual one. I think most people are aware of the different experiences and may well have tried both by now. One point of commonality is that the quality of experience can range hugely. From sliding a low power phone into a cardboard box and seeing something similar to View-Master with moving images, to full high-end room-scale VR, transporting you to the deep sea in such experiences as Wevr's theBlu.
A high-quality VR experience is a step change in engagement for people. I have dined out many times on a video of my mother being 'attacked by a shark' in VR – she was truly engaged and took part in the kind of deep sea diving experience that she would never have attempted in real life.
So, it's clear to those who are in this industry that VR is coming, but, as some people think, what is the delay? Well, it's hard. Technically, creatively and commercially.
Most of the VR headsets out there today are what I would call 'Beta 0.9', ie we haven't seen the first tech to have real mass consumer appeal just yet. We do have high-end PC headsets, which give great experiences, but they have a hefty price tag and, let's be honest, you need a small IT department to run them as well.
Then we have the mid-level headsets. The PlayStation VR headset is the most consumer-friendly, but it still has some issues – lack of coherent control systems, only front facing and so on. There are some alternative hand controllers too, but it mainly uses the traditional game controllers, making this experience really targeted at gamers. Although, it's worth noting, that PlayStation probably has the most engaged, purchasing audience.
Finally, there are the mobile headsets. Great price, especially if added to your existing phone, but they tend to be clumsy and prone to overheating. (There is a new generation of standalone headsets coming soon that will solve quite a few of these problems.) The biggest benefit is that these require no high-end PC, so the entry price point is more affordable and they are ready to work just by turning them on. My belief is that version 2.0 of all of these, coming in approximately 2020 or 2021, will be the moment for much broader consumer adoption of the technology.
Meanwhile, we have another VR trend: location based VR. In essence, VR experiences are being made available in shopping centres and the likes. Just as with the coin-op arcades I used to frequent back in the 1980s, VR arcades and out-of-home experiences are gaining significant investment and pilots have been very successful (look at The VOID, Dreamscape VR and others). At this stage, these allow consumers a high-quality VR experience at a cinema ticket price and, perhaps more importantly, will help educate the public as to the benefits of VR. We will also start to see more VR being used in education and health, but that's another story...
---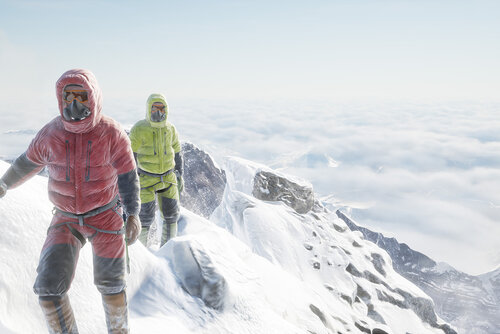 ---
Immersive tech (AR/VR) offer two significant creative opportunities. First, the opportunity to experience stories first-hand. Traditionally we must fall in love with the protagonist before we can feel the jeopardy they later find themselves in. Think of Harold Lloyd hanging off the clock face in Safety Last! (1923) – we need to care for Harold first to fear for his life in this moment. In VR, we can experience that first-hand, and it's not Harold in danger but ourselves.
The second opportunity is to share these experiences with our friends and loved ones. The day my mum met with a great white shark was the same day my son (then aged 10) underwent the same experience just a couple of minutes apart. They talked about it all day and well into the evening. This shared experience is a key part of being human.
As the install base of headsets increases, so do the opportunities for concurrent shared experiences. Indeed, one of the big attractions of location-based VR is the ability to share the experience with friends. I also took my son (by now 13) to The VOID's Star Wars: Secrets of the Empire VR experience in Westfield last Christmas. We had a blast – literally, as we got to shoot Darth Vader, among other very cool experiences. Plus, I recently tried Dreamscape VR's Alien Zoo in LA. Another great experience, targeting families rather than Star Wars fans.
So, what does this all mean going forward? Well, we are on the verge of a major paradigm shift in storytelling and entertainment. It is both challenging and exhilarating work. My advice: keep an eye on it or dive in with both feet. Our world will be very different in 10 years, so don't get left behind and do take part in the wonderful journey.