13 February 2011
BAFTA/Richard Kendal
At the 2011 Film Awards BAFTA paid tribute to esteemed actor Sir Christopher Lee, honouring him with the Academy Fellowship .
On Sunday 13 February the British Academy of Film and Television Arts presented Sir Christopher Lee with the Academy Fellowship at the Orange British Academy Film Awards ceremony at London's Royal Opera House.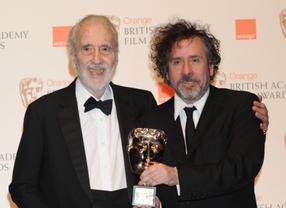 BAFTA/Richard KendalAwarded annually by the Academy, the Fellowship is the highest accolade bestowed upon an individual in recognition of an outstanding and exceptional contribution to film. Previously honoured Fellows include Charlie Chaplin, Alfred Hitchcock, Steven Spielberg, Sean Connery, Elizabeth Taylor, Julie Christie, John Barry, Stanley Kubrick, Anthony Hopkins, Terry Gilliam and Judi Dench. Last year's recipient was Vanessa Redgrave.
Tim Corrie, Chair of the Academy said: "I am absolutely delighted that the Academy is recognising Sir Christopher Lee. He has entertained me over many years and is a bastion of British filmmaking around the globe".
Knighted in 2009 for his services to drama and charity, Sir Christopher Lee has appeared in nearly 200 films. He first became a star in the mid-50s playing Frankenstein's creature, then the title role of Dracula in a pair of high-class Hammer Horrors. In a career spanning over eight decades, he has starred as Mycroft Holmes in Billy Wilder's The Private Life of Sherlock Holmes, as Lord Summerisle in cult classic The Wicker Man, as Scaramanga in The Man with the Golden Gun, and as Jinnah, the founder of Pakistan.
"It's a very unexpected but very great honour to find myself in such distinguished company to receive the fellowship".
Sir Christopher won a new worldwide audience when he starred as Saruman in the BAFTA and Oscar-winning Lord of the Rings trilogy and appeared as Count Dooku in the Star Wars prequels. He has also worked extensively with Tim Burton, including Charlie and the Chocolate Factory and distinctive voice roles in Alice in Wonderland and Corpse Bride.
Future projects include the highly anticipated Martin Scorsese film Hugo Cabret which sees Sir Christopher appear alongside Jude Law, Chloe Moretz and Sacha Baron Cohen.
More Information:
* The Full list of BAFTA Fellows