23 December 2011
BAFTA / Camera Press
In 2008, Matt Greenhalgh was awarded the Carl Foreman Award which champions the most promising talent in film.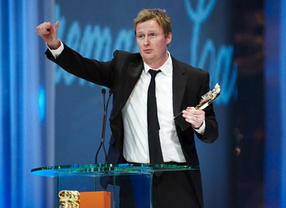 BAFTA / Camera PressWords: Anwar Brett
The Carl Foreman Award recognises of remarkable achievement in first-time feature filmmaking. The nominees in 2008 included a producer, writer-director, director, screenwriter and documentary filmmaker. Immediate past winners include Andrea Arnold, JoeWright and Amma Asante.
Yet while the Foreman, named in honour of the blacklisted American screenwriter and producer based in the UK from the early 1950s, identifies individual achievement, each of those nominated last year was quick to recognise wider implications in their being honoured in this way.
"It was really great to be recognised as a producer," explains Mia Bays, nominated for Scott Walker: 30 Century Man, "because we are not generally recognised as the 'talent'."
It's all about peer recognition. In a way, awards and festivals are like a filtering process...
Bays, who won an Oscar two years ago for her short film Six Shooter, knows from personal experience how a nomination can raise the profile of her and her work.
"It's all about peer recognition. In a way, awards and festivals are like a filtering process. When you're someone who has passed through that filter with a shiny star attached to you, albeit for a small amount of time, it does really help of course."
For Andrew Piddington, writer-director of The Killing Of John Lennon, being nominated was a vindication of the dogged four-year journey he took bringing his film to the screen.
"This is a totally optimistic story – every aspiring filmmaker should take heart. If you pursue something and have the talent and are driven to make it happen then, eventually, somehow it will. All you ever want as a director is to be able to complete a film and launch it and let it have a life of its own, before moving on to something else."
All of these filmmakers recognise that they have reached something of a watershed in their careers now, that the Foreman recognition is a plateau to build upon for subsequent projects. And these projects may, in turn, be a little easier to realise thanks to the positive effect of a BAFTA nomination.
"It's early days," notes Brick Lane director Sarah Gavron, "but it's really encouraging for the work to be acknowledged at this stage in my career, and it's good for the morale of the team. It shines a light on the film and the filmmakers and the British film industry, which is really helpful. Anything that raises public awareness on a project is incredibly helpful."
"I've been producing low-budget indie films for about eight years, but the Carl Foreman nomination has definitely help put me on the map," agrees Chris Atkins, writer-director of the documentary Taking Liberties. "It was a huge honour just being nominated and I've got no complaints losing out to Control, which is an amazing film. If I'd been on the jury, it would have got my vote."
Which, in true awards show fashion, brings us to the winner in 2008, Matt Greenhalgh, screenwriter of Control. His day was made by winning the Foreman, which includes a £10,000 cash prize, but the auguries were already good for the football-mad, Manchester City fan.
"We flew to London, got into the car that was waiting for us and I asked them to put 5Live on," he recalls. "The presenter said they were going back to Old Trafford where City were leading 2-0. I turned to my wife and said 'listen, this BAFTA's mine!' There was no way there could be a score like that and I would lose anything. It was surreal.
"I was nominated for a Best New Writer BAFTA in 2003, for Clocking Off. It seemed like I'd done my TV bit and graduated. Now the first thing I've done in film actually wins something. So there is a sense of going in the right direction, I think, and I'm full of confidence and gratitude for where I am at the moment."