11 February 2012
Drive: Love and ultra-violence rule the streets of neon-soaked Hollywood. Jamie Russell puts the peddle to the metal in praise of Drive.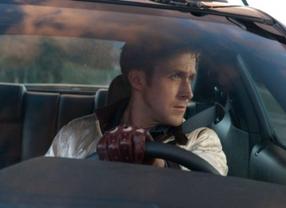 Film history will note 2011 as the year every critic fell in love with Ryan Gosling. "There is hardly a male pundit or columnist in Britain under 70 who hasn't declared a simpering man-crush on him," noted The Guardian's Peter Bradshaw. He was only half-joking. When Drive's director Nicolas Winding Refn shared a passionate man-kiss with his star on the Cannes Croisette, many hearts skipped a beat.
"I am a fetish filmmaker," says Danish-born Refn, whose movies include the Pusher trilogy (1996-2004), Fear X (2003) and Bronson (2008). "I just make films based on what I like to see, on what arouses me, and not try to analyse them, because if I do, then I can destroy it."
Car movies traditionally let their cameras glide over buffed up bodywork. In Drive, though, the camera only has eyes for Gosling's enigmatic stunt driver turned wheelman, transfixed by his tooth picks, leather driving gloves and satin scorpion jacket.
Despite its robustly macho premise and outrageous violence, Drive is a surprisingly tender movie centred on a chaste love affair between the Driver and his married neighbour Irene (Carey Mulligan). The Michigan cinemagoer who sued the US distributor for false advertising, because there was "very little driving in the motion picture," had a point, but Refn's more interested in what drives , not cars.
Drive's pink neon palette and electro-pop soundtrack give events a dreamlike, out-of-time feeling.
The propulsion isn't petrol but a promise: after Irene's ex-con husband puts his wife and son in danger, the Driver steps up to protect them, delivering bloody beatings with his bare hands. Mulligan, whose performance is so delicately vulnerable it's like catching sunbeams in a bottle, defines his quest. "When she walked in," says Refn of his first meeting with the actress, "I realised, 'Oh my God, this is what I was looking for.' I wanted to protect her... And I knew that was the Driver's motivation."
Visually Drive is a delight, its achingly cool style a throwback to the '80s and the hardboiled urban thrillers of Michael Mann and Walter Hill. The pink neon palette and bubblegum electro-pop soundtrack give events a dreamlike, out-of-time feeling. It's something complemented by the brilliantly off-kilter editing by Refn's long-time collaborator Mat Newman.
"When I edit the movie the first thing me and Mat do is cut the film into inconsistent, non-chronological storytelling," the director says. "You suddenly begin to discover what you can do – for example, starting a language that jumps in time. The dinner scene cuts together with the crooks in the park and the Driver stealing a car. What you're actually suggesting as a director is, 'Is this happening or not?'"
Refn suggests the movie is a Los Angeles fairy tale. Yet the genius of Drive lies in its ambiguity, as the director stages set-pieces – like an elevator kiss that ends with a head-stomping – that are equal parts brutal and beautiful. If Driver really is a knight, his armour is soon tarnished. Defending the purity of love, in this vicious netherworld, requires you to get your hands dirty.
---
Related Content