28 June 2018

Just as children's media develops and evolves, so too must BAFTA's Awards to best reflect and represent the industry. This year, there have been some marked changes to the Children's Awards, including the addition of a new craft category, as detailed below...

Words and interviews by Toby Weidmann
---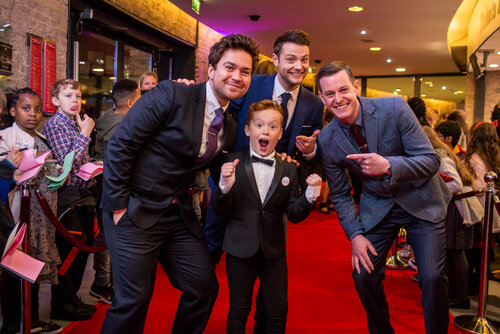 BAFTA/Thomas Alexander
---
As per usual, this autumn, BAFTA will be hosting the Children's Awards, our annual celebration of the very best in children's media. However, regular attendees might note several major changes afoot this year. Following an annual review of the categories and eligibility criteria, a raft of changes has been announced for the Awards that reflect developments within the industry, and in particular how young audiences consume their media.
"The Awards have recognised and celebrated the very best in children's media since 1996," says Emma Baehr, BAFTA's director of awards and membership. "We wanted to make the Awards more inclusive and to recognise what's happening in the environment, while addressing the viewing habits of the next generation, too... Ultimately, we want the Awards to be fit for purpose and we think these changes reflect what's happening both in the industry and with the audience."
So, what are the changes? First, let's review the tweaks:
Channel Of The Year has now become Channel, to be more inclusive of digital platforms;
Animation, Comedy and Drama are now Animated Series, Comedy Series and Drama Series, to reward episodic series over one-off specials;
and Interactive has become Digital, with an emphasis on creativity and user engagement through the moving image.
Then there are the categories that have morphed into something new. For instance, the existing Learning categories have been combined into one award, Content For Change, which rewards content that goes beyond entertainment and infuses learning and/or social issues at its core. In response to the increased output and impact of non-British children's programming, the International category has been expanded into three separate categories: International Animation, International Live Action and International Pre-School.
And lastly, there are the all-new categories. Single Programme has been added to recognise animation, live-action and scripted work one-shots, separating this form from episodic series. BAFTA has also added Young Performer, which is eligible for performers under the age of 18, while the existing Performer category will be for 18s and over. Supporting new talent is at the heart of much of BAFTA's work, so adding this category specifically reinforces that aim at the Children's Awards (the Film, Television and Games Awards all have existing breakthrough or debut categories). As Baehr notes, "It's a really important addition, because it's everything BAFTA stands for... It gives us the opportunity to highlight the incredible contribution young people themselves are making to children's programming."
The final new category is Director, the second above-the-line craft to be recognised at these Awards alongside Writer. The introduction of the latter has been well received by the very creative talents the new category seeks to benefit.
"I'm delighted that directing is being celebrated at the Children's Awards," says Delyth Thomas, who has twice been a named nominee in the Drama category (Hetty Feather, The Story of Tracy Beaker). "It brings it in line with BAFTA's other Awards and it's recognising talent that has been a little bit invisible in the past."
I think this move is fantastic. Anything that puts directors in the spotlight, I'm in favour of it
"It's a huge thing," adds Dez McCarthy, who won a BAFTA in 2014 in the Comedy category for Diddy Movies 2, alongside producers Steve Ryde and Annette Williams. "It's a personal acknowledgment of the effort and work a director puts in and recognises that, without that talent, the show wouldn't look as good or be as successful as it is. That's not to ignore the huge number of people who contribute to a show's success, but I think this move is fantastic. Anything that puts directors in the spotlight, I'm in favour of it."
 It doesn't matter where you go, being a BAFTA-winning director, regardless of the show, is a huge step up
Jermain Julien, who has directed episodes of BAFTA-winning series The Dumping Ground and Wolfblood, notes: "The craft, work and dedication of a director has been overlooked previously. When a show is nominated, the director can take a little bit of credit for that because it's the director that takes the script and delivers it visually. But, it is time that directors get recognition for what they do and are given the opportunity to claim their work. It's a big stepping stone for a director... It doesn't matter where you go, being a BAFTA-winning director, regardless of the show, is a huge step up. It will definitely bolster CVs and get you into meetings that might have otherwise slipped you by. It's about letting others know that you can deliver the goods."
Providing greater visibility for the craft of direction is something that all the directors interviewed for this feature agreed was vital. The nature of modern children's media distribution, where it's almost entirely consumed by its young audiences via digital channels, platforms and devices, has meant that it can be often ignored by the wider industry. This has led to a large pool of creative British talent being underutilised.
"What's most valuable about this change is it identifies talent," says Beryl Richards, a named winner of two BAFTAs in the Drama category (My Life as a Popat, The Ward). "That's particularly important for people who often aren't first choice for productions, such as BAME directors and women directors, who just find it much harder to be recognised and noticed. This visibility will be a really important part of changing that. It's a significant move."
"The bigger picture is about raising the profile of children's media, full stop, by raising the profile of directors," adds Thomas. "This is BAFTA saying to the industry, 'Look at the talent we have in this country. Look at how skilful these people are. Look at how brilliant this area is. We're adding this category to remind you that all these award-winning shows also have directors.'"
Notably, Julien, McCarthy, Richards and Thomas were all in agreement that children's television is often more challenging for a director than its adult counterpart. Restrictions in budget and the working hours of its young performers are just two additional worries that a director must consider, alongside all the usual challenges that go into making award-winning television. As Richards notes, "Your craft skills have to be pretty sharp working in this area."
The young audience can be very discerning, too – the current young generation's influences are the likes of the Harry Potter films, the Marvel-verse and the new Paddington movies, so children's television needs to be as engaging as these often huge tent pole theatrical titles. And there's the added challenge of attention span – as Thomas says, "if you don't get them straight away, you've lost them."
Perhaps to counter this, directors of children's television are usually allowed to be more expressive, essentially giving them a platform to showcase their individual creative skills.
"It's an area where directors are really encouraged to put their creative stamp on the work," says Julien. "And this is embraced by the audience, too. They are keen to see different camera angles or stories being told in a different and unique way. They like to be surprised... You can't go completely wild, there are still rules, but there is a little more freedom to move the camera in a manner that might emotionally signify what's going on. The audience allows the director to push the envelope stylistically."
[Children] are a great audience to create for, because when they do get behind a show they are very loyal
Richards adds: "They are a great audience to create for, because when they do get behind a show they are very loyal. When you're a kid, everything burns into your memory. You remember the dramas or comedies you saw when you were a kid like it was yesterday, because it's part of the growing up experience. So, it's really nice to honour that for today's young audience."
The introduction of this award, alongside the other new and tweaked categories, is certainly a move worth celebrating. And it will be fascinating to see who will become the inaugural nominees come October, when this year's Children's Awards nominations are likely to be announced. Children's media continues to be a hotbed of creativity and talent, but it is also an area that has been marginalised. The Children's Awards go some way to trying to counteract that and celebrate the extraordinary talent working in this field.
"I think the standard of children's television just goes up and up each year," says McCarthy. "The talent in this country, in all areas, is exceptional. It never ceases to amaze me... [But] I've worked in both adult and children's television and I'm always amazed by the number of people who look at a CV and say, 'Oh, you've only worked in children's television,' because I happen to think it's one of the hardest disciplines to direct. You have no time and no money, so you have to be incredibly creative to get what's in the script and put it on the screen."
This is a sentiment shared by all four directors. "There are many, many things that a director can bring to a show," concludes Julien. "The visuals are what you tend to be judged on, but those visuals are gained by alchemy – there are a lot of people involved and they all have thousands of questions a day that need to be answered by the director before you can move forward. If you manage to capture that lightning in a jar and everyone is working perfectly in a collaborative manner, and bringing 110 per cent commitment, that's when the magic happens on the screen. And that's when a director's work is award-worthy, because they've managed to deliver something that looks flawless and slick but you can't see the mechanics of it. That's something worth recognising."
The British Academy Children's Awards will take place on Sunday 25 November 2018.
All of the new rules and guidelines for the Awards can be found here.