BAFTA is celebrating International Women's Day with BAFTA Connects, a unique new opportunity for women to get amazing advice from leading female figures in the film, games and television industries.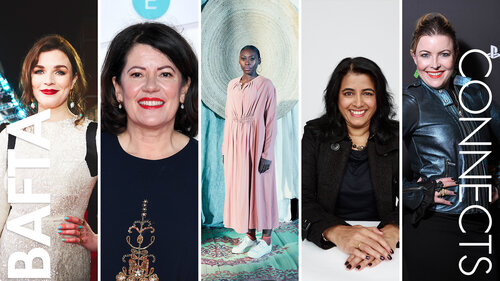 BAFTA Connects matches women interested in a career in film, TV and games with women at the top of these industries—like Bond producer Barbara Broccoli; actress, writer and comedian Aisling Bea, Ukie CEO Jo Twist and many more—for a once-in-a-lifetime conversation. This is a fantastic opportunity to pick up some useful insights from some truly inspiring women.
IS THIS FOR ME?
The ideal BAFTA Connects candidate is someone who would love to work in film, games or television and who could benefit from a one-to-one conversation with a titan of the industry in the form of a a video chat or phone call.
---
HOW TO ENTER
All entrants must fill out the entry form below and submit a short video (under 2 minutes).
In the video, you must answer the following:
What is your full name?
What do you love about film, games or television?
What is your ideal role in the industry and why?
If possible, please change the video file name to your name (e.g. sallysmith.MP4). Production value will not be a factor of selection; feel free to submit videos recorded on smartphones, web cameras, etc.
BAFTA Connects closes for entry on THURSDAY 16 APRIL AT 10:00AM. 
If you're having problems with the entry form below, please contact [email protected].
ENTRY FORM