The following interview appeared as an extract in BAFTA's official 2023 Awards brochure, which is now available on Issuu.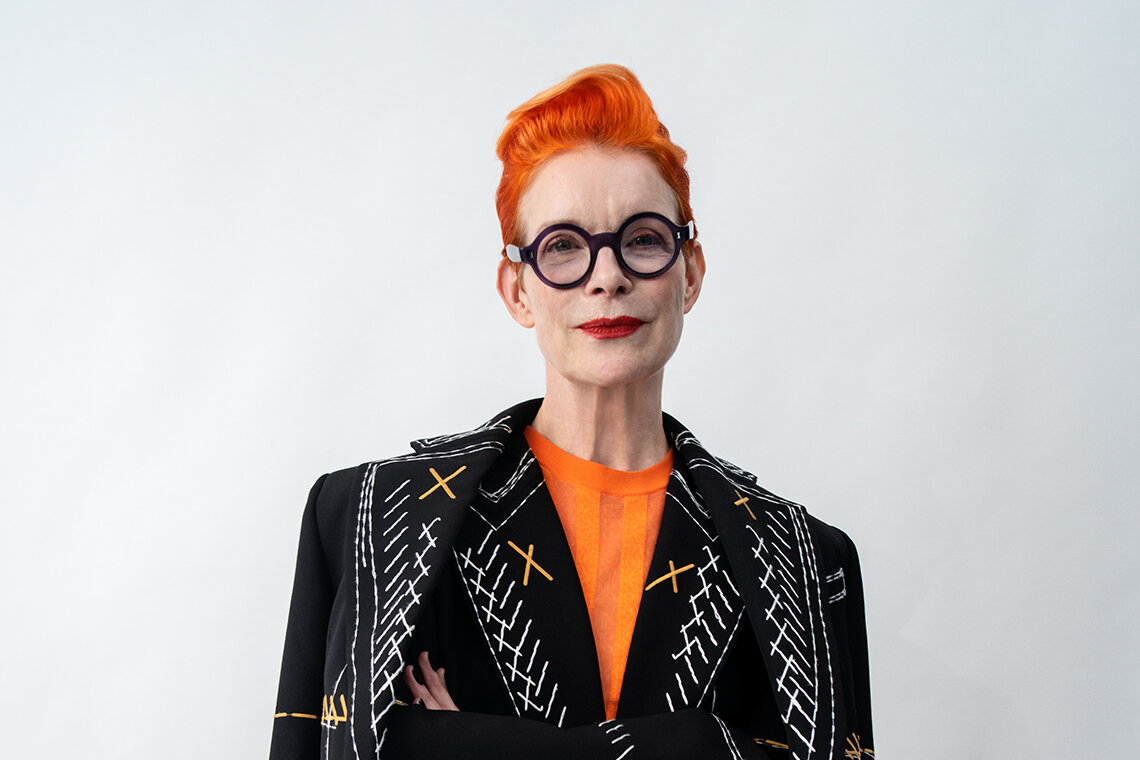 BAFTAImage: BAFTA/Tim Walker
After making her feature film debut on Derek Jarman's Caravaggio (1986), perhaps it shouldn't come as a surprise that British costume designer Sandy Powell OBE revels in taking risks. Jarman, the iconic auteur, artist and provocateur, and his hugely collaborative style of filmmaking, was clearly an excellent launch pad for Powell's trailblazing career, which has spanned four decades and included collaborations with Todd Haynes, Stephen Frears, Neil Jordan, Sally Potter, Martin Scorsese and many more.  
She has won numerous awards, including three BAFTAs, for Velvet Goldmine (1998), The Young Victoria (2009) and The Favourite (2018), and three Academy Awards, for Shakespeare in Love (1998), The Aviator (2004) and The Young Victoria. Among her other credits are such varied films as The Crying Game (1992) Orlando (1994), Interview with the Vampire (1995), The End of the Affair (2000), Gangs of New York (2003), The Aviator (2005), The Other Boleyn Girl (2008), Carol (2017), The Irishman (2020) and this year's Living (2022). 
Now, Powell can add the Fellowship to her trophy cabinet, the first costume designer to receive BAFTA's highest honour.  
BAFTA: Were you into fashion as a child?  
Sandy Powell: I had a young mum, who would make all my clothes and my sister's clothes. I was always around her, choosing the fabrics, looking at patterns and watching the process. I don't remember how old I was, but I learnt to sew as soon as I could and started making clothes for my dolls and drawing clothes. I did that from a very young age and really enjoyed it... I just enjoyed clothes and wanted clothes, so I started making my own. I remember cutting out triangles of purple paisley fabric and inserting them into the side of my straight leg jeans to make them into flares. 
I also enjoyed painting and drawing things. I think I have always enjoyed making things. I was always given books, both picture books and story books, and I remember being taken to the theatre and the cinema at an early age, so I had all of that visual inspiration.  
Were you thinking about costume design or fashion as a possible career at a young age? 
Costumes came much later. I was always interested in it, and since my early teens I noticed I was enjoying films because I liked the clothes. There were certain films that really inspired me. I went to see Death in Venice (1971) multiple times just because it was so glorious. I really appreciated the make-up in that too, especially on Dirk Bogarde, with it running down his face, just the theatricality and drama of that.  
At school, I was encouraged to do subjects that were more academic to get into university. At one point, I was doing all sciences, believe it or not. I was told I could keep art as a hobby and should stick with the serious subjects. Fortunately, I didn't take any notice and chose the arts for A-Level, and then realised I wanted to go to art college. But I wasn't thinking beyond art college. As much as I love fashion, I don't remember ever thinking that was what I wanted to do. But I started at art school on a foundation course. [Powell attended Saint Martin's School of Art, which is now part of Central Saint Martins. – ed] 
Before art school, I had become aware of the work of Lindsay Kemp. I'm a huge [David] Bowie fan and had read that he learned mime from Lindsay Kemp. I went to see him perform in a show called Flowers in the Roundhouse in the mid 70s and it was really a transformative moment. I was still at school and found it mesmerising. I'd never seen anything like it and knew then that I wanted to be part of that world somehow, but I didn't really know what or how. By the time I got to my foundation course, I had a tutor there who recognised something and suggested I should apply for a theatre design course, which is what I did. 
Had you done much theatre before then? 
When I was a kid, I was involved in theatre productions, so I guess I always had that interest. At college, I learned a bit of everything, sets, costumes. When I started fringe theatre, I realised I preferred costumes to sets. 
I dropped out of college at the end of my second year [after] I met Lindsay Kemp, who had pretty much changed my life. I instigated a meeting with him: I attended a dance class that he was giving in London and accosted him at the end, and said, 'I love your work, take me on.' We became friends and he asked me to work for him in Italy and Spain. So, I told my college I wasn't going back that year and went to work with Lindsay Kemp instead. My first job out of college was in Milan at the studio Teatro alla Scala designing costumes for a show with Lindsay Kemp. I really had no idea what I was doing but I learned a lot. I learnt more in the first three weeks out of college than I had in college. It was fantastic. 
How did you then make the transition to film? 
When I came back to London, I worked in fringe theatre with a company called Rational Theatre. Back in the early 80s, there was a lot of money in the Arts Council funding all this experimental, avant garde visual theatre, most of which performed at the ICA at some point. So I spent several years doing shows at the ICA. By that point, I had thought about going into film and I had seen Derek Jarman's work – Sebastiane (1976), Jubilee (1978), The Tempest (1979) – and I just thought, 'Well, I'll start there.'  
I found his phone number and invited him to come see a show at the ICA called Rococo, which I'd done the costumes for. He duly came and, rather like Lindsay Kemp, took me under his wing. The rest is history. I was very, very lucky.  
What was that first experience like, working on Caravaggio? 
When I started with Derek Jarman, like with Lindsay Kemp, I didn't really know what I was doing. It did feel like a very natural progression from theatre, but, as it turned out, the way that a Jarman film was set up was unlike any other. It was only when I moved on to work with other directors that I realised the Derek Jarman way was unique. All filmmaking is a collaboration, but with him it really was collaborative, everybody was doing everything. And that started at the top – Derek would ask anyone their opinion about what the next set up should be.  
My assistant, Annie Symons [now a BAFTA-winning costume designer in her own right – ed], and I were making all the costumes at one end of this warehouse in Canary Wharf and they were shooting the film at the other end. I didn't even know that you were supposed to watch what was happening on set. After about two weeks, the script supervisor came over and asked if somebody could come and have a look at the costumes for continuity. I was like, 'What's continuity?' I was just making things that looked nice on the actors and on the set.  
I had Nigel Terry [the film's lead] ironing his own costume. Nigel would actually hide his costume because he thought we were so chaotic he'd never find it the next morning. [Co-star] Michael Gough's wife wrote a note to us asking if we could possibly wash his stockings because he'd been wearing the same pair for three weeks. I hadn't thought about laundry. [Laughs] 
But it was all good fun and came very naturally from being an art student to being in theatre with Lindsay Kemp, who was also pretty anarchic, to working with Derek Jarman, with everyone mucking in. It was an amazing experience.  
After Derek, I did a few music videos and then I moved onto more mainstream films. The first time I worked with a supervisor more experienced than myself things changed... Stormy Monday (1988), with Mike Figgis, was a more grown up movie. I had a supervisor called Sue Honeybourne, who pretty much told me what I should be doing, when I needed to do it, the order that it ought to be done, that sort of thing. It was a much more structured way of working and I learned a lot. You learn on every job. I'm still learning. 
What's the most exciting part of the process? 
One of the most exciting parts of the job is actually getting the job, especially if it's one you really want and are excited about it. Nothing's more exciting to me than knowing I'm starting work on something new and I have no idea where it's going to take me. I like not knowing... It could be anything.  
Then you have that moment of insecurity when you think, 'What if I don't have any ideas? I don't know where to begin.' But, really you do know where to begin. The very earliest stage of research is looking at images. You read the script, talk to the director, learn as much from them about their vision, and get as much information from them, especially visual information if they already have it. Then, I just bury myself in books, sometimes to do with the subject matter or the period but sometimes just books I like. You sort of go into a meditative state – you don't know what you're looking for, you're just looking. An image might grab you and that might make you think of something else, or a colour combination on a page will be interesting. I wait for things to jump out at me.  
So, I start very vaguely. Then I get specific, researching a [historical] period, and then getting even more specific about the costumes. It depends on the nature of the project, whether it has to be absolutely historically accurate or whether it's a film that can be more inventive. That bit is really great. That's the bit where you're on your own.  
You've been nominated for BAFTAs for two films in the same year three times now, namely The Favourite (2019) and Mary Poppins Returns in 2019; Carol and Cinderella in 2016; and Velvet Goldmine and Shakespeare in Love in 1999. As pairs, these are wildly different films in terms of budget, profile, release and so on. Is it pleasing to get recognition for such varied work? 
It's always pleasing to get recognition. I do make an effort to do different things. I wouldn't like it if I was just doing an epic or films on that scale the whole time. It would be exhausting actually, because they take up months of your life. The luxury of those films is I'm given the funds to produce what's in my head. Of course, it doesn't matter how big the film is, there's never enough time.  
On smaller projects you most often find that the films take more risks. I enjoy working with directors who are prepared to take risks, who want to break boundaries, that excites me the most. That usually only happens on the lower budget ones, which is why I really enjoy doing them... I like to keep the balance, as one supports the other.  
What does it mean to you to receive the BAFTA Fellowship? 
The first thing you think of with a lifetime achievement is, 'Oh, is that it now?' [Laughs] I was working it out and think I could almost get another lifetime in. It's been 37 years; my first film was in 1985 so I could almost get the same in again, although I'd doubt I'd have the energy. 
It's amazing to have that recognition for a body of work. It's a completely different feeling from the Awards race... So, I'm thrilled. And terrified, because I know I've got to get up there and do a proper speech. Before, there's only been a one-in-five chance of making a speech, but this time there's no getting out of it. [Laughs] 
Finally – and this is the biggie – have you decided on what you're going to wear to the ceremony yet? 
I'm not telling. [Laughs] I have an idea, and I have some options. But it's a lot of pressure. 
---
INTERVIEW & WORDS: Toby Weidmann