The following interview appeared as an extract in BAFTA's official 2022 Awards brochure, which is now available on Issuu.
Samaira Iqbal won BAFTA's Young Presenter 2021 competition, supported by Sky Kids' FYI. As part of her prize, she was given the opportunity to interview her dream sports personality.
INTERVIEW & WORDS: Toby Weidmann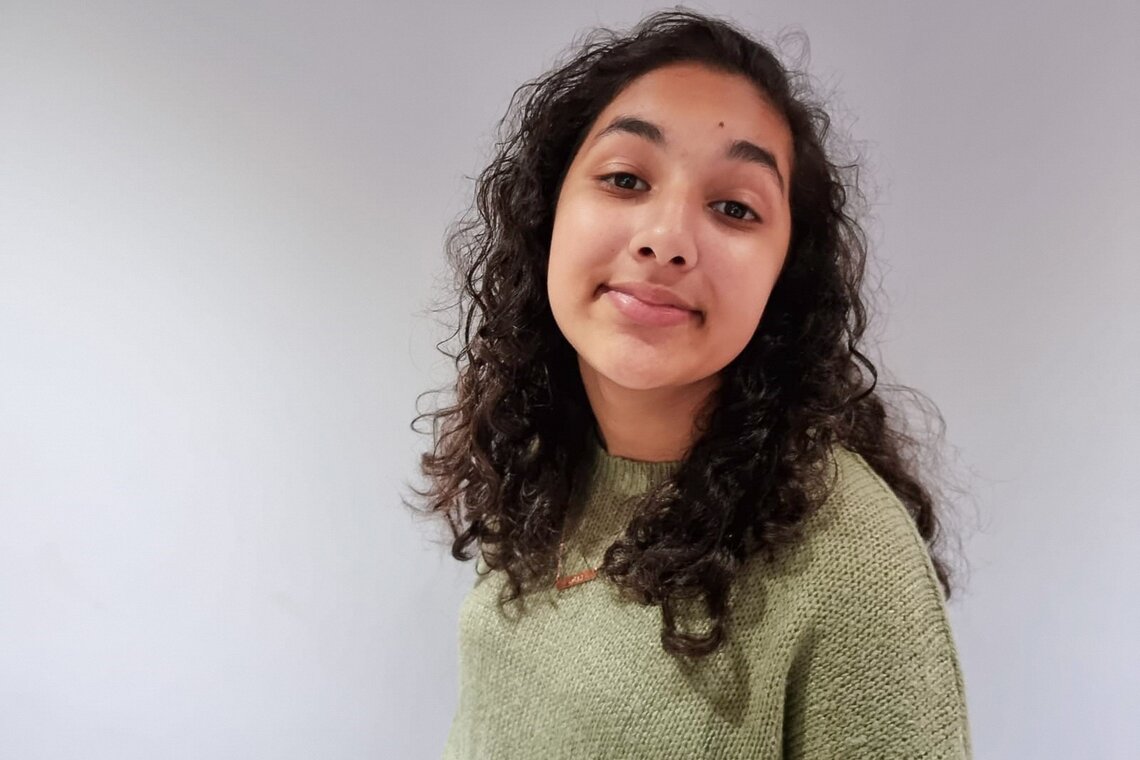 BAFTA
"OMG! I'm interviewing Jesse Lingard!"
That's exactly the right level of excitement you would expect from any football-mad teenager. And so it was with 15-year-old Samaira Iqbal, running up and down the stairs of her house and repeating this over and over again when she learned that the Manchester United and England player was to be her first interviewee after winning the annual BAFTA Young Presenter competition. Not a bad way to (ahem!) kick off a year of BAFTA presenting opportunities and support as part of her prize.
Samaira is the fifth young presenter to win the prestigious award and was chosen from more than 200 entrants by a panel of BAFTA experts, including presenters Elle Osili-Wood, Inel Tomlinson, Kerry Boyne, Nathan Connor and Naomi Wilkinson, as well as First News editor-in-chief, Nicky Cox MBE.
We decided to enter, just for a laugh. We thought there was no way we would win.
She says she first became interested in presenting as early as year six (around age 10) and had already done a few "presenting bits and bobs", but entered the BAFTA competition more on a whim. "I got home from school one day and was looking for some presenting opportunities and saw that there was a competition going on," she explains. "I told my sister about it and we decided to enter, just for a laugh. We thought there was no way we would win, but may as well give it a go. The theme was 'express yourself', so we decided to do it about British Sign Language (BSL), to just spread a bit of awareness about it, because it is not really considered a language."
She mentions that she gets on really well with her little sister, Rubi – "she's like a mini-me," she laughs – so the idea of interviewing her seemed like a fun thing to do. "It was partly her idea too and she was really up for it and excited," Samaira continues. "Just a little sisterly bond caught on camera. [But] there was no point doing it in English as she wouldn't understand what I was saying."
There's an important detail missing here. Good communication is vital in Samaira's world because her sister, as well as her parents, aunt and uncle, are deaf. BSL was the first language she ever learned. "My brother has hearing, but growing up I learned English from other family members, my school and the environment around me. So, I learned two languages growing up," she explains, adding with a chuckle: "My Grandma is here at the moment and she speaks Punjabi, so there are three languages in the house right now."
Being in front of the camera is just what I want to do.
Samaira's laugh is infectious, indeed her whole personality screams both joy and confidence. Just a few minutes talking to her and it's clear she also has a keen mind with an instinctive and genuine enthusiasm to learn and discover. All priceless traits for a presenter.
"Being in front of the camera is just what I want to do," she notes. "I did a presenting course in Pinewood Studios and I enjoyed that a lot. It really pushed me and gave me confidence to keep aspiring to do more." She adds with an astuteness way beyond her years: "Obviously, it's a long and slow process, you don't get given everything you want immediately, you have to work hard for it."
I know how big this could be. This is BAFTA and BAFTA is massive.
Winning the Young Presenter competition is seemingly just the start of Samaira's journey. She has already completed her first presenting opportunity for BAFTA, interviewing the BAFTA-winning creator and cast of CBBC's new comedy, Lagging. "I know how big this could be," she says. "This is BAFTA and BAFTA is massive. It's already opened a lot of doors."
And one of those doors was, naturally, the opportunity to interview her footballing hero, Jesse Lingard. "I love football. It's tattooed into my head," she jokes. "The day I found out I'd won [Young Presenter] was crazy – it was the same day as the England vs Germany game in the Euros. I was in my room watching on my laptop, because no one else in my family are really into football. England had scored, so I was really excited, and at half-time my Dad runs into my room. I thought he was coming in to tell me the score, so I was like, 'Yeah, I already know.' And he was like, 'No, you don't.' He took me into his office and told me to close my eyes. When I opened them, I saw the email from BAFTA and my jaw just dropped." Cue more stair running and screaming.
As for that Lingard interview, well, Samaira just took it in her stride. "I don't think you could enjoy something more. He's such a chill guy, it was easy to make a connection. Hopefully, it's the first of many. Can you imagine?"
---
Find out more about the Young Presenter competition here.