The following interview appeared as an extract in BAFTA's official 2022 Awards brochure, which is now available on Issuu.
Alesha Ledeatte-Williams had held a number of jobs, from teaching abroad to event management, before realising her love for film and hair and make-up could offer the perfect combo career. But the road ahead had one major barrier...
INTERVIEW: Toby Weidmann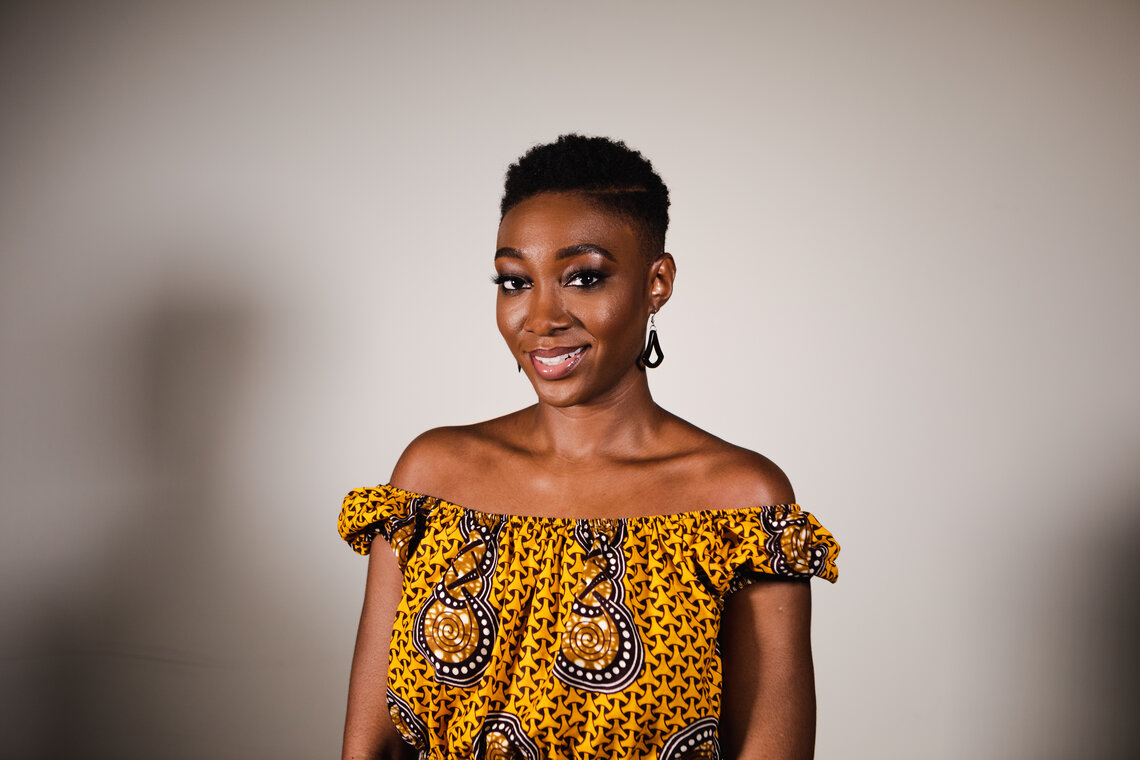 BAFTA/Jordan Anderson
"I just wanted to do something creative," explains Alesha Ledeatte-Williams, when asked what it was that first attracted her to working in hair and make-up. After a series of jobs – ranging from teaching in Japan on the JET programme to marketing, partnerships, accounts and event management for the president's office at London's Imperial College – Alesha realised it was in hair and make-up that she felt most fulfilled. It started out as a hobby at weekends, but soon that interest grew into something more professional. To learn more, Alesha took a maternity cover job at the internationally renowned M·A·C Cosmetics.
"I wanted to be freelance," she notes, "doing bridal and fashion, because that was the only make-up I had access to... I thought I'd learn what I needed to at M·A·C and then go it on my own. When I got into it, I realised how much I enjoyed it. But the market was so saturated. There was so much competition."
This led her to explore what other opportunities were out there in the world of make-up, which in turn brought her to such industry sites as StarNow. Combined with a healthy love of film and television – "I watch a lot of it" – Alesha realised that there was work available in the film and television spheres, but with that insight came a series of obstacles.
I didn't know anybody who worked in film and television, so I set off to find schools that were teaching those skills.
First, there was the matter of training. "When you're doing prosthetics, for instance, you're working on people's skin, you're using chemicals, and some can be quite harmful, so I wanted to be qualified and know what I was doing," she notes. "You don't learn that stuff in retail and it's not something you can teach yourself easily. I realised I had to get more education if I wanted access to those kind of jobs... Personally, I didn't know anybody who worked in film and television, in any department, so I set off on an adventure to find schools that were teaching those skills."
After extensive online research, Alesha found that various courses did exist, split between vocational and educational, but these presented their own barriers. Educational courses work like any other degree, taking several years to complete with exams and so on. This was 2019 and Alesha was 31 years old, so felt she couldn't afford to pass up three or four more years in education before launching her new career. On the flipside, the shorter vocational courses – which were more hands-on and practical – were private, meaning no state funding was available. For instance, at that time, Alesha's first choice, the 30-week advanced course in Make-Up and Hair Artistry at The Iver Make-Up Academy, cost £20,000. "The vocational courses are the best ones because they are all practical and are taught by people who have worked in the industry," says Alesha. "It was just I couldn't afford it."
With her situation as it was, a crippling bank loan was seemingly the only option facing Alesha – not the most attractive of prospects. Fortunately, while further exploring the Iver Academy's website she stumbled upon the BAFTA scholarship. Spurred on by the Academy's principal, the BAFTA and Emmy nominated make-up artist, Liz Tagg-Wooster (who also happens to be a BAFTA member), championing the scholarship – "she really was integral" – Alesha decided to give it a shot.
An in-depth application process followed, which ultimately resulted in Alesha being awarded a Prince William Scholarship in Film, Games and Television, supported by BAFTA and Warner Bros, which is awarded to only three students a year. Alesha was given £12,000 towards completing her course at the Iver Academy.
"When I applied for the BAFTA scholarship there wasn't anything else available for hair and make-up specifically," she adds. "So it took a huge burden off my shoulders and I came out of it without the level of debt that some of my fellow students have had. Also, as a mature student, it felt really encouraging that BAFTA would choose to invest in me, because I'm sure there were other candidates who were both talented and younger. I guess they saw something in me."
Without the BAFTA scholarship, I wouldn't be working in the industry and that's the truth.
Alesha is brutally honest about what would have happened if she had not won the scholarship. "I actually cried in my interview," she explains. "It was one of those times when you think to yourself, 'This is my only opportunity,' because it was the only way I could have afforded to go to school. It would have been the end of the road for my make-up career, I reckon. It would have been back to desk jobs. Without the BAFTA scholarship, I wouldn't be working in the industry and that's the truth."
In order to meet the rest of her fees, Alesha had to continue working throughout, but was proud that she finished her course with a 100 per cent attendance record: "I worked so hard. I was going to school and then I was going to work afterwards. For the first four months I didn't have a day off at all, but I was so determined to do that because I felt BAFTA had given me this money, they believed in me, so I couldn't waste the opportunity." She laughs: "I worked my arse off!"
That dedication has paid dividends. Since graduating, she's already landed jobs on the BAFTA-winning television series Sex Education and 2022 blockbuster No Time To Die. More work is sure to come.
To be able to say, 'I'm a BAFTA scholar,' and put it on my CV, makes people look twice.
"[The Prince William Scholarship] is the first thing on my CV. I'm very proud of it," she says. "The scholarship is so essential and needed, because it not only gave me the access to study, it also gave me credentials. BAFTA is a big brand, so to be able to say, 'I'm a BAFTA scholar,' and put it on my CV, that opens doors and makes people look twice."
In terms of her future aspirations, Alesha wants "to go as far as I can", perhaps even head up her own make-up department one day, for which her previous management experience would serve her well. Right now, she's enjoying the process of learning her craft. "I'm very interested and invested in all areas of the production, which feeds back into my work in hair and make-up massively," Alesha concludes. "Going to school helps you develop a skill set but you hone your eye through the art, by watching films and being exposed to experiences... It's incredible to work on sets with people who have won BAFTAs and Oscars. It really gives you something to aspire to."
---
Click here for more on BAFTA scholarships.