Thursday, 15 November 2018 - 4:00pm
Belfast Media Festival, The MAC, 10 Exchange Street West, Belfast BT1 2NJ
The team behind the BAFTA award-winning comedy entertainment show share their insights into developing and producing this unique format.
Described as "a mash of reality show, prank show, sitcom and crime spoof", Murder in Successville has become a breakout hit for BBC Three.
The team from Shiny Button Productions will talk through creating the style and look of the show, delve into the writing process and the process behind casting celebrities, as well as the complexities and challenges of filming an improvised show.
Speakers:
Tom Davis, actor, writer and comedian (BAFTA Breakthrough Brit who is most well known for playing D.I. Sleet) Other credits: Judge Romesh, Plebs, Keith Lemon Sketch Show, The Morgana Show and  Paddington 2
Andy Brereton, Managing Director of Shiny Button and Executive Producer. Other credits: Murder on the Blackpool Express, Crackanory, Drunk History
James De Frond , director, writer and producer. Other credits: Bo' Selecta!  The Morgana Show, Very Important People
With thanks to Belfast Media Festival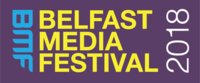 To find out more and register for the festival go to www.belfastmediafestival.co.uk