22 May 2017

Find out more about this year's Fellowship recipient, Joanna Lumley OBE. Words by Matthew Bell.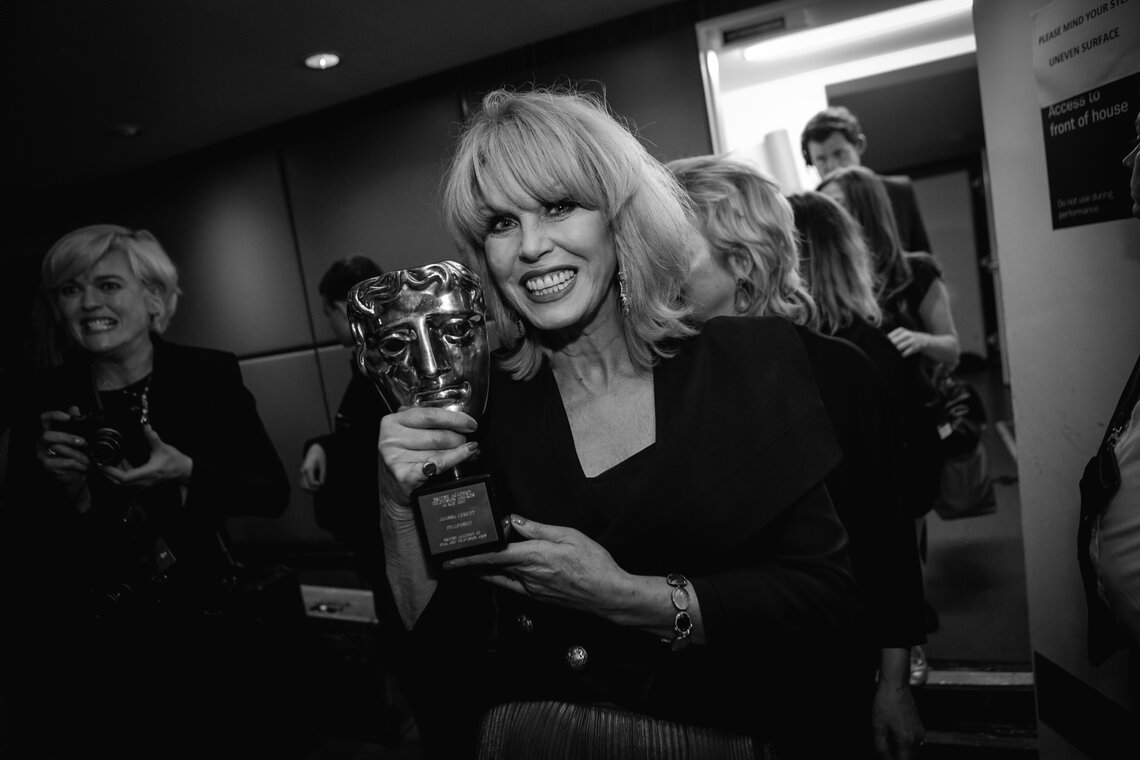 BAFTA/Jonny Birch
---
'National treasure' is an overused term but not when it applies to the recipient of this year's BAFTA Fellowship, Joanna Lumley. 
Creating Patsy and Purdey – two of the most iconic female characters on British television – would surely be enough on its own to merit the award, but they are only a part of Lumley's almost 50-year career in the moving image arts.
"It's extraordinary – completely unexpected and therefore even more thrilling," she says. "The Fellowship is an honour that you think of going to other people."
Lumley was smitten by acting as a young girl after appearing in a play at her Army school in 1950s' Malaya. "Although it was terrifying being on stage, I had an instinct that this was where I would be, like it or not, in the future," she recalls. "I was always a great show-off and, as I grew up, it seemed a better job than working."
Following boarding school in England, Lumley found work as a model in the giddy swirl of swinging London. "I just fell into it," she says, adding, in typically self-deprecating fashion: "It was London in the 60s and, quite honestly, everybody was a model. I was quite good at it, but I didn't want to do it at all."
---
The Fellowship is extraordinary – completely unexpected and therefore even more thrilling.
---
A chance meeting at a party with the Royal Shakespeare Company and film actor, Richard Johnson, led to a small role in 1969 spy spoof, Some Girls Do. Lumley recalls she had just three words in the film – "Yes, Mr Robinson" – but they were enough to earn her an Equity card. 
In the same year she made her first small screen performance in The Mark II Wife for BBC One's long-running The Wednesday Play, shot in extraordinarily long takes. "I don't think I've ever been so scared in my life – it was done like a filmed play. That was a baptism of fire," she notes.
The early 1970s were tough, partly, Lumley feels, because she was saddled with a past as a model. For TV producers, she says, "that meant you couldn't speak, it meant you had no brain.
"I was very skint at the time; I couldn't get arrested as far as work was going. I was playing a tiny part in Steptoe and Son or The Cuckoo Waltz; just one episode here and there at £60 a go." 
Coronation Street offered some respite: "I was in eight episodes and I hoped they would keep me on for longer. But the [producers] told me I was a 'device – Ken Barlow asks you to marry him, you say no and then you're gone.' I loved doing Coronation Street I was as proud as punch."
Less redoubtable characters would have had enough by now, but Lumley stuck with it and was rewarded when ITV revived The Avengers in 1976. "The idea was that there would be a young man-woman team who would assist Patrick Macnee's John Steed. Gareth Hunt and I auditioned together and they thought the chemistry was good. It was a heck of a thing to get into – the queue for wanting to be The New Avengers girl went around the block," Lumley recalls.
---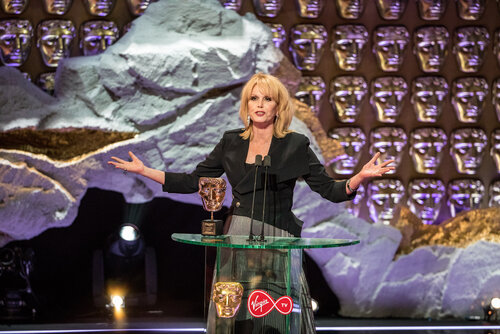 BAFTA/GUY LEVY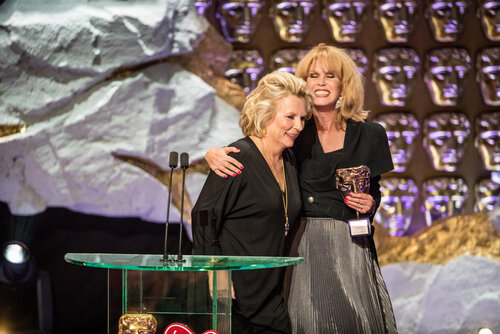 BAFTA/GUY LEVY
---
Following in the footsteps of Honor Blackman, Diana Rigg and Linda Thorson must have been intimidating, but Lumley made the role her own, sporting a much-imitated chic pudding-bowl haircut and stylishly dispatching villains. The haircut was Lumley's idea: "I thought Purdey was a tough cookie: I wanted to be a tomboy and cut my hair." But the producers hated it: "They said, 'We don't have heroines with short hair. If it goes wrong, you've got to pay for a wig.'"
Moving deeper into the realms of fantasy, Lumley's next big role saw her paired with David McCallum, playing an alien in ITV's sci-fi series Sapphire & Steel (1979-1982): "David, the great Ilya Kuryakin from The Man from U.N.C.L.E., was a joy to work with. It was a very spooky and imaginative show – people loved it."
Then, in the early 90s, came perhaps the role Lumley was born to play. Patsy Stone was simply a gift for an actress of Lumley's comic gifts. "I was sent the script for the pilot episode of Absolutely Fabulous, written by Jennifer Saunders, and I'd never read anything so funny," she recalls. The Bolly-swigging, drug-snorting comic grotesque that appeared on the screen, however, had yet to take shape. "I got the part and I thought the thing to do was to try to make Jennifer laugh – she did and it caught fire," Lumley notes. "Jennifer is so perceptive and generous that she sees what you're doing and writes for it."
---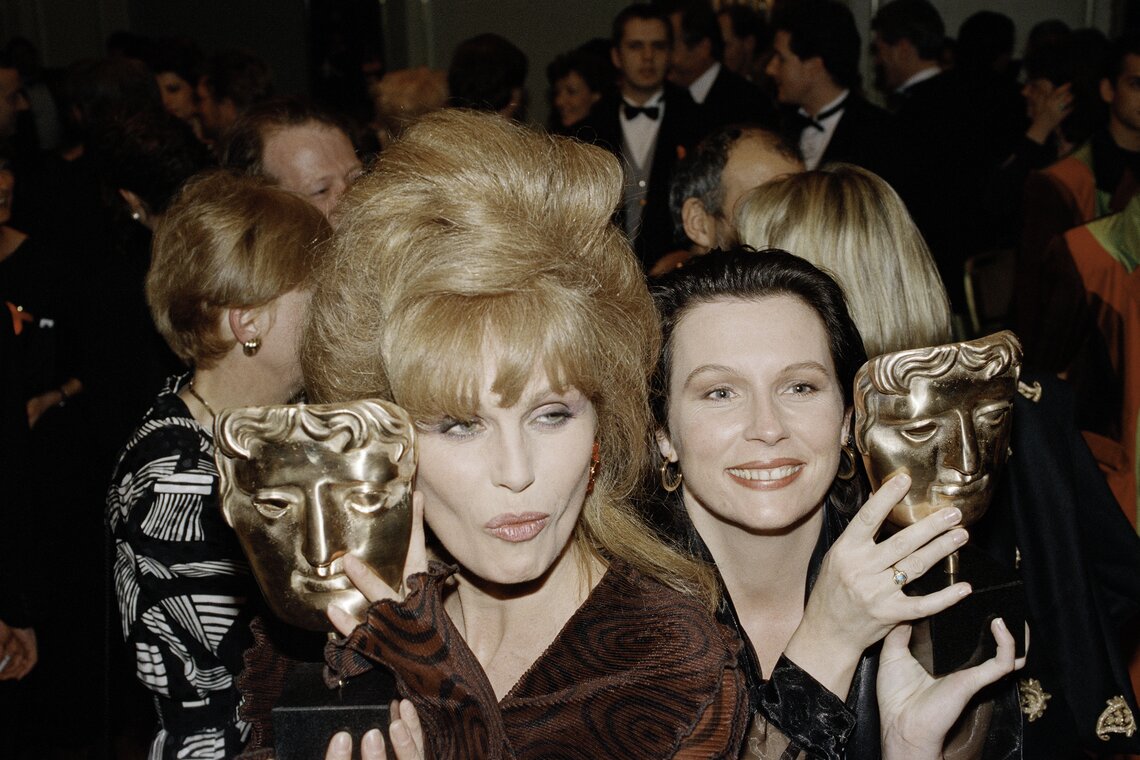 BAFTA/Doug McKenzie
I was sent the script for Absolutely Fabulous and I'd never read anything so funny.
---
Lumley is a past recipient of BAFTA honours, winning two awards for her performances in Absolutely Fabulous and a Special Award in 2000 – along with Blackman, Rigg and Thorson – for The Avengers. She was also nominated for a BAFTA in the Actress category for performance, alongside Tom Courtenay and Albert Finney, in 1998's A Rather English Marriage. This is one of Lumley's favourites and she is also fond of her work in the comedy-drama Class Act (1994-95), Cold Comfort Farm (1995) and Hugo Blick's bittersweet sitcom, Sensitive Skin (2005-07). 
More recently, Lumley has roamed the world making travel documentaries; her latest series on India, her birthplace, airs later this year. These shows exhibit Lumley's natural empathy and insight, bringing out the similarities between people, not the differences: "As the late, gorgeous [Labour MP] Jo Cox said, 'We are far more united and have far more in common with each other than things that divide us.'"
Lumley has no truck with presenters who despise or ridicule the food and customs of a place they are visiting. "I always show the greatest courtesy when I go to a country. If you're open to what's happening and admire, embrace and inquire, then you find people open up like flowers."
---
If you can't do without acting, then stick with it – never give up if it is your destiny.
---
Running alongside her television career – and it is a wonder how she packs it all in – are forays into film (including a recent theatrical outing for Ms Stone) and London's West End, as well as writing and political campaigning. It must be exhausting being Lumley, but she's not finished with the small screen just yet.
"I'm always looking forward. The first thing I look for is the script – if it's not properly written, there's nothing you can do with it. Very, very low on the list comes the money – if it's good, actors will do anything; if it isn't, you have to bribe them," she says.
Looking back, Lumley picks Purdey as her defining role: "That was the part that got me noticed. Most of the difficulty as a young actor is people looking up at you with dead eyes, asking what you've done." Offering advice to young actors, she says: "Unless you can't do without it, do without it. It's the diciest job to get into, you'll be heartbroken and poverty stricken. But if you can't do without it, then stick with it – never give up if it is your destiny."
Was Lumley ever close to giving up? "No, never – I only ever really wanted to act. I wanted to entertain; that's the truth of it."
---
Joanna Lumley Credits
Select television and filmography:
2016 Me Before You
2016 Joanna Lumley's Japan
2015 Joanna Lumley's Trans-Siberian Adventure
2014 She's Funny That Way 
2013 Gangsta Granny
2012 The Making of a Lady
2011 Late Bloomers 
2010 Joanna Lumley's Nile
2010 Mistresses
2009 Boogie Woogie 
2008 Joanna Lumley in the Land of the Northern Lights
2006-2008 Clatterford
2005-2007 Sensitive Skin 
2004 Agatha Christie's Marple
2003 Posh Nosh
2002 Up in Town 
2002 Born to be Wild: Giraffes on the Move
1999-2000 Foxbusters
1999 Mad Cows 
1998 A Rather English Marriage 
1998 Coming Home
1997 Joanna Lumley in the Kingdom of the Thunderdragon
1996 James and the Giant Peach 
1995 Cold Comfort Farm
1994-1995 Class Act
1993 Cluedo
1992-2012 Absolutely Fabulous 
1991 In Search of the White Rajahs
1989 Shirley Valentine
1986 Starting Out
1979-1982 Sapphire & Steel
1976-1977 The New Avengers
1976 The Cuckoo Waltz
1973 Coronation Street
1972 Steptoe and Son
1971 Comedy Playhouse: It's Awfully Bad for Your Eyes, Darling
1969 On Her Majesty's Secret Service