24 October 2017

Breakthrough Brits Charlie and Daisy Cooper share their journey to success with BAFTA's Katie Campbell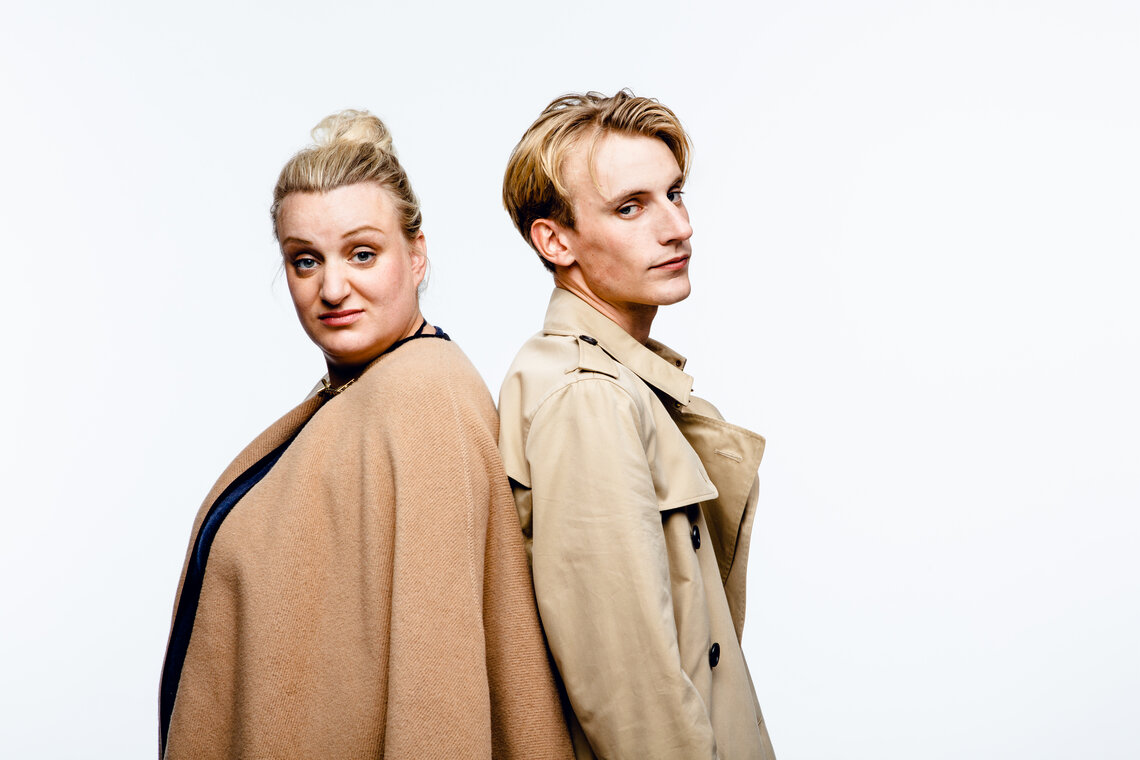 BAFTA/Charlie Clift
---
2017 has truly been 'breakthrough' year for siblings Daisy May and Charlie Cooper.  They are the co-creators and stars of mockumentary This Country, which debuted on BBC3 in February and went on to find a million-plus audience in its BBC One slot. After wrapping on a second series, they have just been chosen to be part of BAFTA's 2017 cohort of Breakthrough Brits.
Set in a fictionalised Cotswold's village, This Country has deadpan opening credits, setting it up as an exploration of isolated rural youth. It follows cousins Kerry and Lee 'Kurtan' Mucklowe (played by Daisy and Charlie respectively) as they fill their empty days with petty quarrels, thwarted ambition and local dramas. It is small town life writ large; in one scene Kerry explains just how far her reputation goes: "I got enemies in South Cerney, I got enemies in North Cerney, I got enemies in Cerney Wick. I got enemies in Bourton-on-the-Water."
Their symbiotic relationship is key to their comic chemistry on screen and this extends to their creative dynamic off screen: writing and performing together, and in person often finishing each other's sentences. As Daisy explains, "we always fight but we are best friends. I can't imagine writing with anyone else. Everything we write is observational so we have to be close, to come out of a situation and say 'did you hear what that guy just said?' But you have to have massive fights". "To clear the air" adds Charlie.
---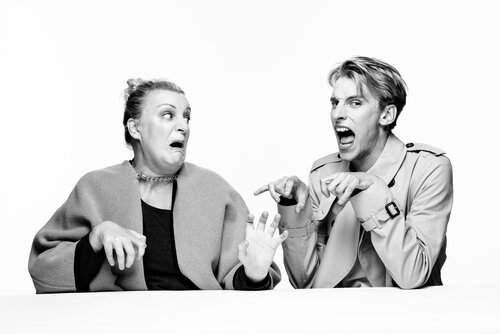 BAFTA/Charlie Clift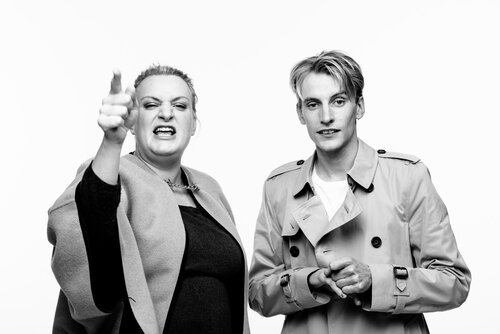 BAFTA/Charlie Clift
---
Their creative collaboration started when, post-university, they found themselves sharing a bedroom back at home with their parents in Cirencester. Daisy had been to RADA but in her own words, "didn't really fit in at drama school. It wasn't my thing really. There was no real outlet for comedy. Being there pushed me more towards comedy." She did a term of improvisation for just one hour a week for one term. Although her formal improv training was limited. its impact is clear in what has subsequently followed. "That's where our best work comes from", Daisy stresses.
She roped Charlie in to help because "Daisy was too lazy to type her own scripts", which eventually evolved into collaboration. They focused on the character of Kerry, and YouTube teasers followed. Daisy is quick to add – "We didn't get many views or anything like that. It was more that people liked our writing but didn't know me as a performer, so it was to show I could do the character." Charlie agrees, "they helped us create something that felt real and authentic."
This approach evidently worked, as Charlie explains, "we were picked up by a production company quite early on and we did two separate tasters. One was good, one was bad. Then we did a pilot and we made loads of mistakes. It was shot conventionally. It wasn't the right vehicle for the show." Although a tough experience for two newcomers, they found the pilot a useful process of "finding out what was good about the show. It was an apprenticeship."
They moved on – and took it to BBC Comedy. Here they found a home and two collaborators to help them shape their idea; Producer Simon Mayhew-Archer and director Tom George. "When we got to the BBC we started again. We threw everything out aside from Kerry's character. Tom George came in to help advise on how to do a mockumentary but then ended being so good. He would sit with us and help us storyline."
---
---
Daisy adds "a lot of our cast are non-actors. A lot of the people we've cast are just playing themselves. He found a way of giving them notes, which is extraordinary." This helped hone their improvisation-style on set, as Charlie explains "we get the scripts as good as they can be, we'll do 10 takes of the scene, the more it goes on, the looser it gets. Then there is always a chance to improv it and always the best stuff comes from improv because you are relaxed. When it works, it is so magical and so much fun to do."
"When you are doing a mockumentary it is so important. It's got to be real life and when you are improvising you don't know what the next line is going to be, and you are reacting in the moment."
They've wrapped on their second series, a process they describe as a bit 'harder' and they are feeling pressure, as Daisy tells me: "letting people down is our biggest fear." Recently one of their comedy heroes Armando Iannucci approached them to contribute to his stint as Guest Editor of The Big Issue. "That was mental", Charlie explains, "We love everything he's done". While musing on their comedy heroes and inspiration they list Brass Eye and Alan Partridge. Daisy, considering the contemporary landscape of new British writing/performing talent, notes "Michaela Coel and Chewing Gum, Phoebe Waller-Bridge and Fleabag. There are so many amazing people. It's a really exciting time."
And how can the industry continue to unearth and nurture these distinct new voices? Daisy thinks about their experience; "if an exec is attracted to someone, a certain piece of work, don't try and make it like another show just to get it greenlit. Don't kill the originality."
---
Words by Katie Campbell, BAFTA's Skills Development Manager