22 May 2017

Debs Paterson, BAFTA Brit to Watch and director of Africa United and Strike Back, shares her thoughts on BAFTA's latest initative Elevate which seeks to address the challenges facing female directors.

While recent years have seen some outstanding female directors making waves across film and television, the shortage across the board is striking. Research by Directors UK in 2016 revealed that between 2004 and 2014, just 13.6% of working directors were female– despite the fact that that women make up 50% of film school graduates. Clearly, the problem is not simply a lack of female directing talent – but a shortage of female directing hires. If female directors are, for arguments sake, only getting 13% of early hires, then the experience gap starts there and is compounded as time goes by.

My own experiences reflected this wider industry issue. I made my first feature in 2010, which opened to standing ovations in Toronto and London, and had a global theatrical release - but this didn't lead to job offers. The same shared frustrations were coming up time and time again in conversations with other female directors.

Happily, the prevailing attitude in the industry is that this shouldn't be happening. Having had a brilliant experience as a BAFTA Brit to Watch in 2011, I was introduced to Mariayah Kaderbhai, Film Programme Manager at BAFTA to see if we could put together an initiative that would offer a practical approach to supporting and raising the profile of female directors in the industry. Together with Pia Pressure, a film and television production company that champions new, emerging and under-represented talent, and producer Ivana MacKinnon, whose knowledge of up and coming directing talent in the UK is unparalleled, we got to work.

We spent several months having off the record conversations with commissioners, executives, agents, union bodies and, of course, directors themselves to try and understand what the 'real' barriers are to high-end female directing hires. A number of factors seemed to be recurring -  that despite producers' desire to hire female directors, they are often hard to find, that hiring a female director is seen as 'risky, and that, because of the perceived scarcity of female directors, female directors themselves were missing out on wealth of peer advice and support. This was echoed in the findings of a research report, published in February by BAFTA and Creative Skillset with the BFI, which looked at the career success factors of individuals from under-represented groups in film, television and games.

We concluded we could practically address these issues by putting together a group highlighting the number of experienced female directors ready to work and promoting them to the wider industry. At the same time, a peer-to-peer network would be created, based on support and shared knowledge.

We offered an open application with a high barrier for entry - either a recognised and released feature or experience in continuing drama with award-winning authored shorts. We were overwhelmed by nearly 250 applications from talented female directors. This cohort was ultimately whittled down to 15 - thanks to the energies and experience of a committee of execs and commissioners - ready to present to the industry.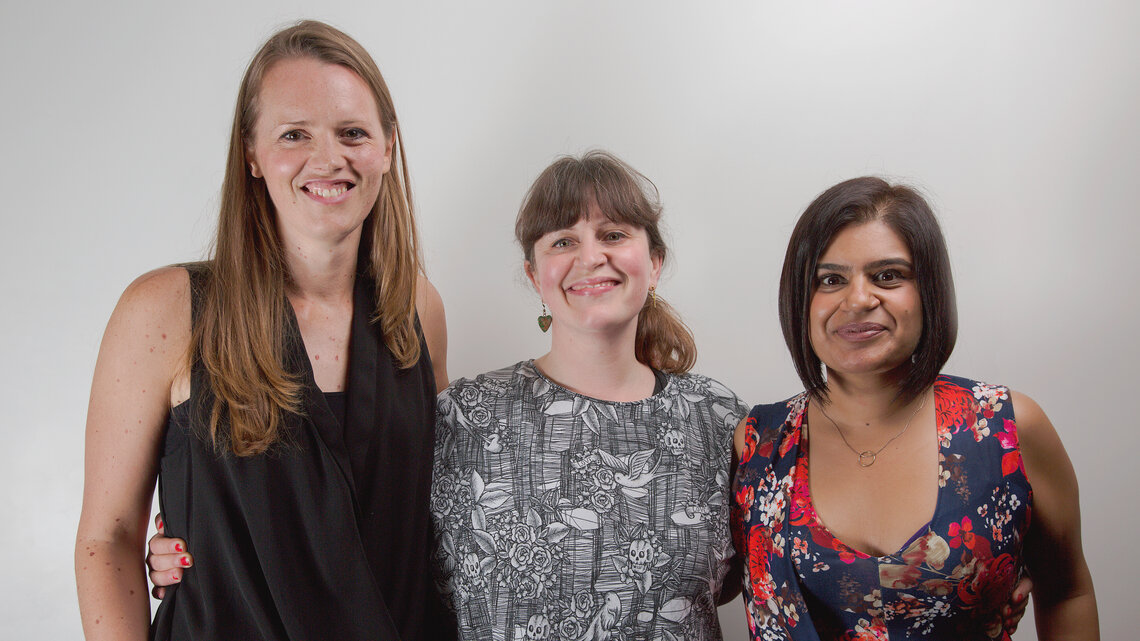 BAFTA/Jamie SimondsDebs Gardner-Paterson, Ivanna Mackinnon & Mariayah Kaderbhai 
As a result, BAFTA, with the consultation of myself and Ivana, will lead a year-long initiative which will include tailored panel discussions, masterclasses and workshops that will build peer support relationships, address cutting edge technical advances, and showcase this fantastic group of strong and experienced female directors to the industry-at-large. The aim of BAFTA Elevate is not to 'teach' directing – all of these directors are phenomenal and have proven their talents already. The initiative exists to raise the profile of these talents in the industry and  the small subconscious factors that affect hiring in a big way.
It's took seven years since making my first feature to get my first high-end TV hire. I'm now proud to be working with Left Bank, Sky and HBO on the reboot of action series Strike Back as their first female directing hire. I look forward to the day when a woman in the director's chair is the norm, a day when we don't have to have conversations around the subject - but in the meantime, I am beyond excited to be working with BAFTA Elevate to show there is female directing talent out there in spades.