21 September 2017

Kam Kandola Flynn, BAFTA's Television Programme Manager, shares her highlights from BAFTA's autumn television calendar and learning activity 

We're in October, in the thick of Autumn. A time to indulge in and look forward to the best TV on offer: the excitement of drama launches, the return of big entertainment and factual juggernauts, as well as the glittering promise of new shows with teams working hard to push through and resonate with viewers.  For me in my role at BAFTA, it's also a chance to take stock and reflect on some of the themes pre-occupying the industry and share with you how BAFTA is part of the picture.
---
 Content is King
Thinking back to the Edinburgh International Television Festival in August, and since then at other industry conversation platforms, including Broadcast's Commissioning Forum and Mipcom in Cannes, the notion that content is king continues to be a common talking point amongst our creative community.  With more content than ever before being made and consumed, many a session has stressed that the best, most authentic ideas will continue to be commissioned and that, fundamentally, this content will reach audiences - however they choose to engage and on whichever platform. 
This idea also applies to the creative community BAFTA serves. You may have seen that BAFTA has recently announced the introduction of a new Short Form Programme category for 2018's Virgin TV British Academy Television Awards, through which BAFTA will celebrate the stories being told in new and innovative ways.
BAFTA works to recognise, celebrate and award excellence in content through both our Television and Television Craft Awards, as well as through our learning and new talent activity. Here, our television events programme aims to illustrate how essential storytelling is for creative people.
---
---
One of the biggest joys of my job in the Learning and New Talent team is hearing the people who make some of the most talked-about shows reveal how they approach their work and sharing these insights with our audiences of people who work in television: whether it's being bedazzled by the prosthetic and special-effects secrets of Game of Thrones; learning about the innovative and tech-savvy campaign behind BAFTA-winning series Humans; getting the inside track on the art of improv comedy from the creators of  Murder in Successville; 'fanning out' on BAFTA-winner Tim Roth's performance in Tin Star; reflecting on the director's vision from the team behind BAFTA–winning National Treasure or hearing leading lights in television talk about their worst career moments and what they learnt from them.
---
---
Discovering and Nurturing Talent
In his MacTaggart Lecture, veteran broadcaster Jon Snow talked about the industry living in both the best and worst of times. In the wake of Grenfell Tower, Jon posited that never before have we been more connected yet, at the same time, more socially disconnected from the audiences we serve. Jon stressed the need to diversify the media industry to best reflect the world we live in.
This is why supporting talent is so important to BAFTA.  By both identifying and rewarding emerging talent and connecting them with established practitioners, we work throughout the year to help ensure that the most talented individuals are able to succeed in the industry – regardless of their background. Our widest reaching example of this principle in practice is BAFTA Guru, our online learning resource, which boasts a wealth of must-see content and shares advice and inspiration from the best creative minds in the business, accessible to all.
---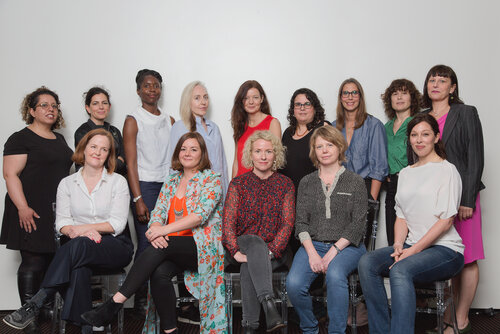 BAFTA/Jamie Simonds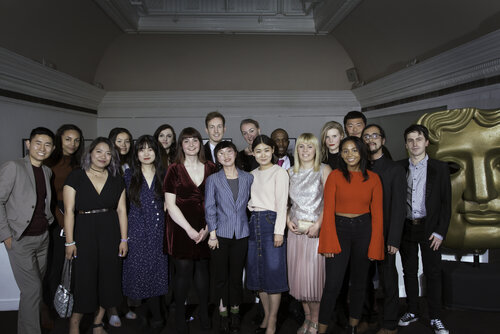 BAFTA/Jamie Simonds
---
Our work with those who are new to the industry is highly rewarding, and our programme of events and initiatives allows us to connect and support people at many different stages of their careers.  Our two day festival for career starters, Guru Live, connects emerging talent to BAFTA winners and nominees. This year, the festival took place in both London and Scotland in May, and received fantastic feedback from delegates.  BAFTA Elevate, a new bespoke annual programme created to elevate individuals from under-represented groups to the next stage of their career, continues to support female directors, the focus in 2017.  Our professional network and masterclass programme BAFTA Crew connects emerging talent to BAFTA winners and nominees, supporting above the line and below the line talent.  Our talent showcasing work enables new voices to punch through; one example of this is our New Writing Competition, a year round script showcase platform for TV Comedy, TV Drama, Film, and Children's media. BAFTA's Scholarships Programme awards students in need of financial assistance to take a post-graduate course related to a career in film, television or games.
We hope some of these initiatives can support you in diversifying your talent pool.
---
Continuing the Conversation
So what's coming up at BAFTA over the next few months?  We are excited about our Television Lecture for 2017, which will be delivered by BAFTA-winning producer and executive Jane Featherstone. Jane's years of experience at the heart of brilliant storytelling, combined with her extraordinary reputation for attracting and developing top flight and emerging talent is sure to make an exciting lecture.  I hope you can join us for our flagship event that strives to drive debate around creativity and excellence, which this year will respond to the dominant powerhouse that is storytelling in scripted.
We've also just announced our 2017 Breakthrough Brits cohort, 20 talented newcomers selected by a stellar industry jury, who will take part in a year-long mentoring and guidance programme. Past Breakthrough Brits taking the television industry by storm include actor-writer Kayode Ewumi (#HoodDocumentary) and BAFTA-nominated writer Vinay Patel (Murdered by my Father).
---
BAFTA/Charlie Clift
---
Our events programme continues to share the best insights from nominees, winners and experts.  From upcoming masterclasses with the team behind People Just Do Nothing and factual storytelling over at the Belfast Media Festival, to Meet The Controllers, you can check out what's coming up here. If you miss any of our eventS, they're usually available as podcasts on BAFTA Guru.
Part of BAFTA's role is to facilitate the discussion between industry experts so they can learn from each other, and this is not just about the people we invite to speak on stage; it's also about the audience. I always try to foster this atmosphere of dialogue and debate throughout our programme of television activity.  We are committed to sharing insights into the crafts of the people who work in our industries by staging over 250 public events a year across the UK, the US and beyond – If you haven't already, I hope you'll come to a BAFTA event soon and join the discussion. 
---
Words by Kam Kandola Flynn, BAFTA's Television Programme Manager