26 May 2010
BAFTA/Steve Finn
In 2010 BAFTA paid tribute to Coronation Street's behind-the-camera talent with a Special Award, as the much-loved soap approached its 50th year.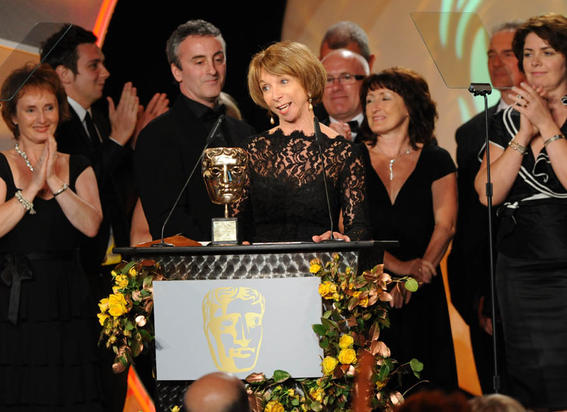 BAFTA/Steve Finn
In December 2010, Coronation Street clocked up its 50th year. Along the way, the show has hired writers, directors and crew who have gone on to become some of the biggest names in television and film. The Academy's Special Award, presented at the British Academy Television Craft Awards on Sunday 23 May, recognised the behind-the-camera talent nurtured by the much-loved ITV soap.
Before the Television Craft Awards ceremony, Matthew Bell talked to some of the key players from the show's history.
From the very first episode on 9 December 1960, Coronation Street has been attracting TV hopefuls. "The show went out on a Friday evening. On Monday morning, I had a call from Jack Rosenthal, wanting to know if we'd be needing other writers. Of course, Jack was a massive asset," recalls Coronation Street creator Tony Warren. Rosenthal, who later wrote the BAFTA-winning Bar Mitzvah Boy, penned more than 100 episodes.
Three-time BAFTA winner Michael Apted directed Coronation Street for nine months in 1966, having originally provided holiday cover for Mike Newell, who later conquered Hollywood with Harry Potter And The Goblet Of Fire¬. "It was a great experience," recalls Apted. "In many ways the show ran itself – it was extremely well organised. It had great writers and crew, and you couldn't really go wrong.
Many of the greatest writers of British television drama have cut their teeth on soap," - Paula Milne (Writer)
"I learned how to work with actors. It had a mix of some of the biggest stars of British TV as well as newcomers," he recalls. "It was also a golden period for writers," adds Apted, who directed scripts by Corrie legends Rosenthal, Peter Eckersely and John Finch.
Paula Milne, who won a BAFTA for The Politician's Wife in 1996, wrote for Coronation Street in the late 1970s. "It was the natural training ground for writers and also directors. I wanted to write it to learn from my stuff being produced, not write plays which might never get made. I also felt that shows like 'The Street' were the true theatre of the people. Actually I still do," she says.
Coronation Street is more than a TV institution; it's an industry. It takes 60 cast members, a writing and editorial team of 30, and hundreds of crew and post-production staff to produce five shows a week, 52 weeks a year. "The demands are extraordinary – there's a hell of lot of perspiration that goes into making Coronation Street but the real key is to keep the creative and technical excellence at the highest possible level," says current executive producer Kieran Roberts.
He says tonight's Special Award is "particularly exciting for all the people who've worked so hard over the years behind the scenes. There's a tremendous loyalty. We have people who've been with the crew for 20-plus years."
"There's a tremendous loyalty. We have people who've been with the crew for 20-plus years," - Kieran Roberts (Exec Producer)
Peter Whalley has been writing for the soap for the past 31 years, penning over 500 episodes – more than any other writer. Paul Abbott and Frank Cottrell Boyce both wrote some 50 episodes, while other renowned scribblers, such as Jimmy McGovern and Kay Mellor, dropped in, wrote an episode and moved on.
"I wouldn't go as far as to say that a writer has to work on a soap, and specifically Coronation Street, to make it," says Roberts, "but many of the greatest writers of British television drama have cut their teeth on soap.
"Coronation Street is very much a writer-led show. It gives a huge amount of respect to the writer and the writing process. That was something that was laid down by Tony Warren from the very beginning."
Though he notes that "pride's a sin," Warren is still enamoured of his creation 60 years later. "It's the nearest thing I'm ever likely to have to a child," says the gay writer. And is he amazed the show is still with us? "I'm delighted it's lasted so long. By the time the first episode went out I was 24. At 24 you don't think about next year, let alone 50 of them."
| | |
| --- | --- |
| ITV Picture Archive | ITV Picture Archive |
| ITV Picture Archive | ITV Picture Archive |
| ITV Picture Archive | ITV Picture Archive |