23 May 2010
BAFTA/Steve Finn
In 2010 BAFTA recognised young talent with the BBC Blast & BAFTA Youth Screen-Skills Award. Sam Shetabi was announced the winner at the 2010 Television Craft Awards.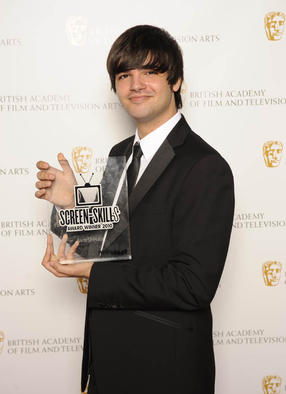 BAFTA/Steve FinnSam Shetabi was announced as the winner of the BBC Blast & BAFTA Screen-Skills Award at the British Academy Television Craft Awards in May 2010.
The young Director of Photogrpahy was presented with the inaugural award at this year's British Academy Television Craft Awards on Sunday 23 May.
Speaking backstage after accepting the Award from Skins actress Kaya Scodelario and Shameless star Elliot Tittensor, Sam expressed his excitment at receiving the honour: "After submitting my intitial film and thinking I would never hear back... Here I am, at the BAFTAs, winning the big prize!"
[LIGHTBOXIMAGE:7465|CAPTION:View Screen-Skills nominees at the Awards]
[LIGHTBOXIMAGE:7559|CAPTION:Sam receiving the Award on stage]
[LIGHTBOXIMAGE:7510|CAPTION:With presenters Elliott Tittensor and Kaya Scodelario]
About the Award
In 2009 BAFTA and BBC Blast joined forces united by a single vision: offering young people an opportunity to break into the world of television.
This collaboration resulted in the new Screen-Skills Bursary which was set up to showcase fresh talent of 16-19 year olds across the UK.
After entries were submitted to BBC Blast over the summer, a judging panel of industry experts selected eight individuals to qualify for the bursary. Each received £3,000 and the opportunity to work with industry mentors to produce a new piece of work within their chosen field.
In November 2010, the eight bursery winners showcased their final creations at an event held at BAFTA's headquarters in Piccadilly London. Click here to view the Screen-Skills bursary winners work
In January, four of the bursary winners were put forward by a Super Jury as nominees in the all-new BBC Blast & BAFTA Youth Screen-Skills Award.
The four finalists
Screenwriter: Harriet Beaney
Director of Photography: Sam Shetabi
Editor: Jack Croker
Composer: Joe Reed
What Next?
Each Award nominee will now produce new pieces of work over a six moth period, with the help of the BBC and external production companies. All of the finalists have already been linked with many other young film makers and professionals to encourage them with their work and each will have an inspirational session with BAFTA winners and experts in their chosen field.
The scheme was developed to provide young British talent with the opportunity to showcase their work and get that all important first foot in the door.
Category Mentors:
Writer - Peter Moffat (BAFTA winner - Criminal Justice, 2009)
Director Of Photography - Neville Kidd (BAFTA winner - A History of Scotland, Photography Factual, 2009)
Editor - Joby Gee (BAFTA winner - The Fallen, Editing Factual, 2009)
Composer - David Arnold (BAFTA Council member, Composer of the Little Britain theme tune and BAFTA nominee for Casino Royale).
The eventual winner of the Award will be mentored by BAFTA for a further six months and the final work of all nominees and bursary winners will be showcased at a special Screen-Skills event at BAFTA in November.
John Willis, Chair of BAFTA's Television Committee:
[PHRASE|The high standard of our four finalists is testament to the young talent out there... This bodes very well for the future of British television.]
| | |
| --- | --- |
| Jack Crocker with Editor Joby Gee | Joe Reed with Composer Tim Saul |
!! Nominee Details:
Harriet Beaney
At 16 Harriet is the youngest nominee, currently studying her A-Levels in Sheffield. She was nominated for her script, Goodbye Goblin. "I've always been a big film-watcher because I am inherently a couch potato – my big ambition is to write successful feature films and television series".
Sam Shetabi
Sam is a second year TV Production student at Bournemouth University. His nominated work is his music video, The Cubicle. "For as long as I can remember, I've wanted to work in telly. I've gone through phases of what I want to do when I graduate, but I see myself working in production roles, hopefully one day climbing the ladder to Exec Producer and maybe even Channel Controller when I'm old and grey!"
Jack Crocker
Editor Jack Crocker was nominated for his short film, From Choice To Change which he wrote, filmed and directed. He is currently studying for his A-Levels in his home city of Bath. "I've been making films since I was 14 and the dream is to become a director one day. Winning the Editing bursary has given me the chance to tidy up my storytelling ability, obviously a key part of directing – and will make me a better filmmaker all-round".
Joe Reed
Joe Reed also comes from Bath and, alongside Jack Croker, was nominated for the short film, From Choice To Change, for which he composed the music. He is currently studying for a BTEC in Music. "Composing on From Choice To Change was the first time I had composed for the moving image and it was the most creative and fun time I've ever had with composition, realising the power of music when written for a scene. My ideal job would be composing for an independent film: working with the director from very early on so all the elements of the film can be shown in my score".
*Find out more at www.bbc.co.uk/blast/screenskills